Octo & Sevatec to join forces in merger of equals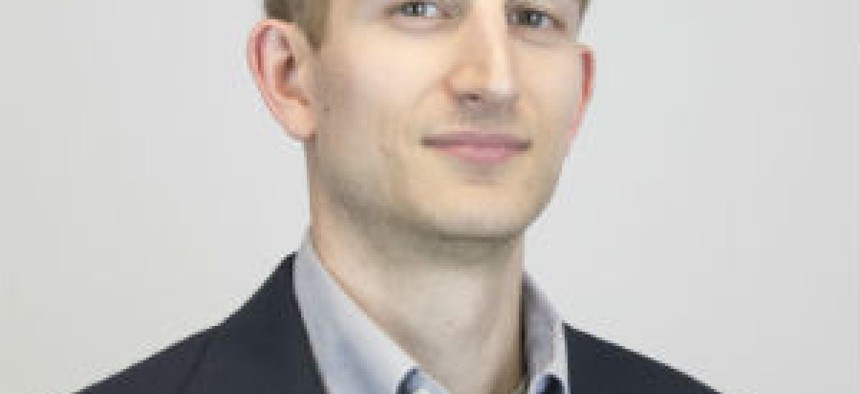 Mergers of equals are rare events in the government technology market, but Octo and Sevatec are breaking the mold Tuesday in announcing their deal to combine and create a larger middle-tier federal IT player.
Worth pointing out at the outset is both companies could highlight successes in their own journey on that path.
Reston, Virginia-based Octo scored in the national security and health domains, while Fairfax-headquartered Sevatec created a footprint with NatSec too and civilian clients like the Homeland Security Department and General Services Administration.
Some of those wins were a case of head-to-head victories. In a joint interview with his Sevatec counterpart, Octo founder and CEO Mehul Sanghani said Sevatec even "consistently beat us on a few opportunities at joint customers" such as GSA.
That is certainly part of why Octo had Sevatec "at the top of the list," as Sanghani put it, for potential transaction opportunities when the former received backing from Arlington Capital Partners in Spring 2019. Octo's first deal with Arlington's assist was of Connexta later that year.
"Early in our partnership with Arlington, we talked about the fact that we also wanted to invest in capabilities that we felt were going to be part of modernization going forward to include open source software development, artificial intelligence and machine learning," Sanghani told me.
Now in the self-touted Octo 3.0 phase of that strategy, Octo's combination with Sevatec puts to the market a competitor of at least $300 million in annual revenue with around 1,100 employees.
"The combination of our skillsets (is) very powerful, I think it really does make a pure-play digital modernization company in this market at a size and scale that arguably probably doesn't exist today," Sevatec founder and CEO Sonny Kakar said in the same interview.
Sanghani will continue as CEO, while Kakar and his Sevatec colleagues will be part of the combined leadership team.
Kakar will be vice chairman of the board and one of his duties will be to oversee the cultural integration aspects. Sevatec Chief Growth Officer Tim May will hold the same title for the combined entity. Sevatec Executive Vice President Chuck Schefer will serve as EVP to manage programs with customers such as GSA, DHS and Patent and Trademark Office.
Creating a larger company gives those staffers more career development opportunities given the wider set of customers to work with, Kakar told me.
"If they're in the Sevatec portfolio right now and they wanted to go into the Department of Defense or intelligence, those opportunities exist," Kakar added.
One big piece of Sevatec's own story in pursuing and winning business opportunities is seen in its footing with GSA, which arguably gives companies a multiplier effect to showcase modernization skills given what that agency does for its customers in other agencies.
Sevatec secured its place on GSA's COMET vehicle for broad IT modernization work in 2019 -- as did Octo -- and has translated that position into multiple wins since. One task order with a $116 million ceiling value sees Sevatec helping GSA's Federal Acquisition Service move into a secure cloud-centric platform.
Kakar said Sevatec's approach to GSA first centered on sharing lessons learned from prior and similar modernization efforts with national security agencies. COMET is now GSA FAS' main mechanism to acquire those services, from which the results can spread out to other agencies.
"We call them basically the 'Amazon of the federal government.' They bridge all of the vendors, and all the commercial service and product providers through a common portal, then offer that throughout the rest of the federal government," Kakar said.
The combination of Octo and Sevatec will seek to introduce analytics capabilities as part of their broader modernization offering to GSA, particularly with its contract management functions and applications.
Bringing together the people who provide those offerings, and currently physically dispersed given COVID-19, is an item Sanghani has given much thought to and seeks to draw lessons learned from the Connexta integration.
Connexta's employee base is primarily based in metropolitan regions like Phoenix, Denver and Boston. That playbook of integrating a business spread out in different locations is what Octo will lean on this time.
"When you look at a pandemic situation like we have right now and you look at this combination, we are dealing with a workforce that is distributed, but we are able to engage with through mechanisms like Zoom," Sanghani said.
"We'll look to creative means of ensuring that we can stay connected to our employees as we push integration forward."
Sheppard Mullin served as legal advisor to Octo on this transaction. Pillsbury Winthrop Shaw Pittman LLP served as legal advisor, and Baird served as exclusive financial adviser to Sevatec.