LMI's new CEO charges ahead with board's blueprint for growth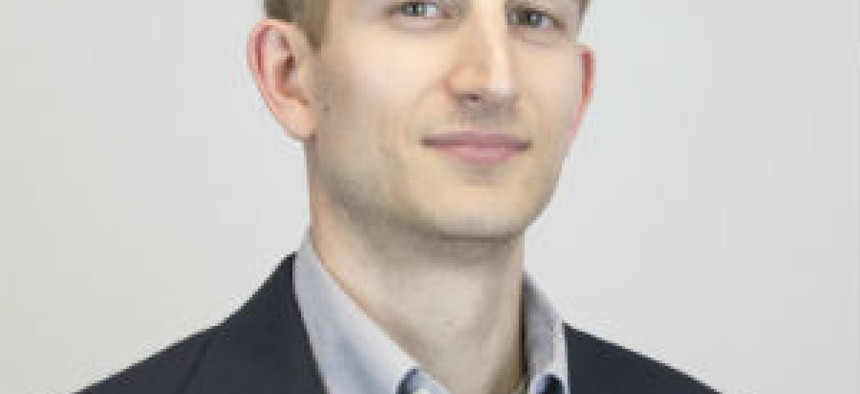 LMI's board of directors put in place a five-year strategy with the idea that whomever became the next CEO would carry that blueprint out as is. Doug Wagoner explains to us both the strategy itself and why he is not looking to put his own stamp on what the board came up with.
LMI's board of directors largely had a new five-year strategy plotted out as it conducted a search and interview process over the spring and summer to identify the government services firm's next chief executive.
Nearly three-decade government IT veteran Doug Wagoner started as CEO in August. During that interview process, he heard all the details of "LMI 2025" -- the company's push to become a $750 million-annual revenue organization by doubling down on data analytics and other IT-enabled capabilities, plus connecting them to LMI's heritage logistics and consulting work.
Part of Wagoner's self-imposed mandate for his first two months at Tysons, Virginia-based LMI has been to both introduce himself to employees and clearly state this point: He agrees with what the board came up with.
"Employees, I think, they're always worried a new CEO's going to come in and 'Oh my gosh, he's going to change this, he's going to change that,'" Wagoner told me.
Rewind to one of Wagoner's first town hall with employees in the week before he officially started at LMI.
"The first thing I said was just to calm the nerves to say: 'Look, this is a great organization, this is a great leadership team from whom I met, it's a phenomenal board and you have a great strategy,'" Wagoner said while recounting his message. "We're going to keep the strategy the way it is, so I've reiterated that a lot over the past 60 days."
A key component in how LMI sees the world is the concept of what Wagoner described as "Not your grandfather's logistics."
In essence: federal agencies are looking for much more of a digital component in their logistics operations ranging from the storage piece to the movement of mission-critical items. That in turn means more focus on data science and data analytics with an eye toward the future.
"Logistics when you get back to it has always been a science of data, but the tools and capabilities that we have now, we can do predictive (analytics)," Wagoner told me.
Rarely has there been more attention on logistics and supply chain across all markets than during the ongoing coronavirus pandemic, particularly regarding resiliency and adaptability. But some of that increased scrutiny does predate the COVID-19 crisis given concerns about IT and communications products coming out of or have connections to China and other countries of concern to the U.S. government.
"We have great ability now using data to realize that the company we think is providing one board from Sweden really is owned 50 percent by the Chinese or some other potential bad actor," Wagoner said. "The data analytics capabilities now really make supply chain resiliency and logistics much more exciting."
The Defense Department is one of those agencies asking more questions about its own and the U.S.' logistics and supply chain functions as a whole in light of COVID-19. LMI is one of the companies supporting Operation Warp Speed -- the White House's broad effort to combat and end the pandemic.
Wagoner said LMI has worked with DOD on assessing its ventilator inventory, how many the agency needs and whether some should be deployed into general public health settings. Here again enters the broader logistics and supply chain resiliency topic that substantially all organizations wrestled with in the pandemic's first few months given various stay-at-home orders worldwide and the virus' spread.
"There are so many aspects of logistics that can trip you up and that's what we're working on," Wagoner said. "We're trying to build repeatable solutions around that to do that predictive analytics: look at all those components and try to say 'This is the weak link in your supply chain, this is where you want some redundancy of suppliers, redundancy of shipping.'"
"We've been focused on in the last 20 years is that lean logistics -- let's nail the exact amount of something that we need and get it there real time," Wagoner added. "The pandemic, weather and everything else has told us we may not get it there real time like we thought."
Regarding LMI itself, the nonprofit company both put in place the five-year plan and a slightly new structure before Wagoner officially started. LMI the parent is still nonprofit, but it has created a for-profit subsidiary that houses most of the firm's operations. The nonprofit entity is where LMI houses its research work "for the good of government," as Wagoner put it, and that "sometimes ends up coming back to us as an offering. Partnerships with universities and the fellows program also are in the nonprofit entity, he said.
Why create a for-profit piece? LMI used its own cash for previous acquisitions, but wants more financial flexibility including borrowing capacity in the event a large and complex deal could be in the works. What Wagoner called "employee equity" to eventually share the returns with staffers is also something potentially on the horizon.
LMI is at around $400 million in annual revenue and close to 1,800 employees today.
No details yet from Wagoner on what types of acquisitions could make sense for LMI, other than they will be to either gain new market access or capabilities to bring in that way versus through its own research-and-development investments. But that's more because the information gathering phase is ongoing.
"Right now, the leadership team is doing the homework for me and they're going to come to me over the next few weeks," Wagoner said. "I'm going to get that in front of (the board) in November."
One item LMI paused at the start of the COVID-19 crisis but has restarted is its venture capital fund to partner with and invest in emerging technology companies whose offerings may interest government clients. LMI Ventures was also something Wagoner told me he both was "really delighted" to learn about in joining but also knows the risk factors.
"Those are long-term bets that you're making," Wagoner said. "You have to have five, six, seven of these hoping for that one Palantir. .. What I really like about it is staying in touch with that community: what are the new technologies, how are people doing delivery different."