TOP 100: Inside BAE's big bet to ride GPS upgrade wave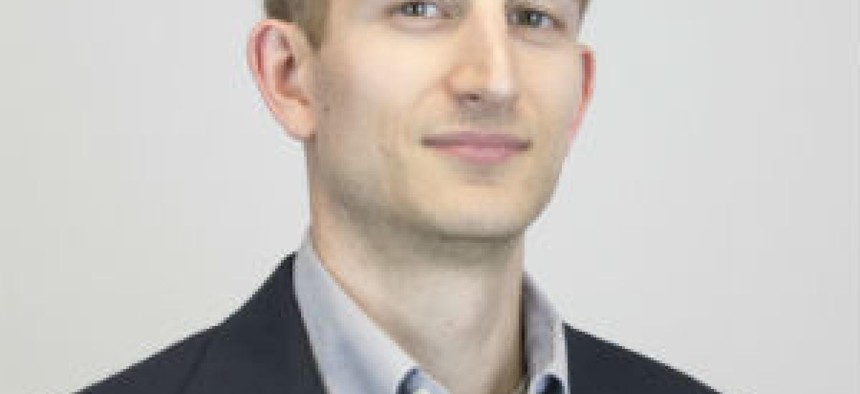 Among blue chip defense hardware companies, BAE Systems' U.S. subsidiary was arguably an outlier in terms of making the kind of big-ticket  acquisitions that other large primes have made in recent years.
Then came the creation of Raytheon Technologies and concerns voiced by federal antitrust regulators. The new company would have to find a buyer, or buyers, for both a military GPS business and an airborne radio division.
"Our interest was immediate upon finding out that as part of the Raytheon-UTC merger that they would need to spin off these businesses," BAE Systems Inc. CEO Tom Arseneault said. "We jumped right on it."
BAE became that buyer, and for almost $2.3 billion combined is now the owner of both the UTC-Collins Aerospace military GPS business and Raytheon airborne radio division. Close to 1,000 new employees also enter the fold of BAE through these deals.
Those acquisitions helped push BAE Systems Inc, No. 26 on the 2020 Top 100 with $1.3 billion in prime contracts, to 43 percent share of overall sales for its parent BAE Systems plc. Going forward, the acquisitions will likely push that representation higher
BAE eyed the GPS unit as one positioned for growth given that all such military equipment, new and in the field, must be upgraded to a new encrypted signal starting in October.
That standard mandated by Congress goes beyond just location and navigation systems. Weapons and other platforms with GPS technology are subject to the standard known as M-Code.
Systems falling under that standard are intended to be more "anti-jam (and) higher resiliency" going forward, Arseneault said.
"As we look at the National Defense Strategy and the priorities and the kinds of technologies that are… important today and will continue to be important, the word precision comes up again and again," Arseneault said.
Having the radio business in tow is intended to align with another one of those priorities in autonomy and networked systems, such as aircraft flying in groups.
"Covert communications is going to be very important, and so we saw that (business) as an excellent add to our data links portfolio," Arseneault said.
Five years ago, the publicly-traded BAE considered selling its services and systems integration business known as Intelligence & Security. BAE looked at the inbound interest, decided to keep the business and has a confident air about it.
"I like what the leadership team of that business has done," Arseneault said. "We're not of the mind that one needs to be huge to be successful in services. We think that if you pick your spots and hone your skills and align with those spots that you can do well. "
Arseneault pointed to this $495 million Air Force range support contract BAE announced in August as an example of that alignment and the group's ability to extend its franchise programs., in this case one it has supported for 35 years.
"It's been that presence and tenacity, and making sure we presented a high-value proposition to our customers, to enable and position us in that business," Arseneault said.
I&S has also embraced both partnerships with commercial technology outfits and related to that a broader tech scouting function. BAE's annual report also mentions that business' pursuit of cyber hardening and other similar modernization jobs for national security agencies.
Arseneault did say "it's not a natural thing" for a software-oriented business like I&S and its product sectors focused on larger hardware to see each other as similar, but added that BAE's functional councils are the means by which the company approaches collaboration and sharing best practices.
One of those areas of best practices I&S has and that Arseneault pointed to as an example for the rest of BAE is in systems engineering.
"The services side of the business, I think, has got a really good handle on how to stitch together tools and skills in order to present an industry-class capability there," Arseneault said.
BAE's product sectors have been working on modeling, simulation and systems engineering approaches in their own right, but was different versus what has gone on in I&S.
"I don't think they (products) had stepped back and looked at it as a whole as much as the services side, because they were presenting that as something for use as a turnkey solution for their customers, so that is being shared," Arseneault said.
Also being shared across the BAE Systems Inc. enterprise is what everyone is learning about work given changes brought on by the coronavirus pandemic. The company is one of several that continue to hire and onboard new employees, plus supporting affected partners in the supply chain.
One change seen today is that 60 percent of the nearly 36,000 employees work remotely with the other 40 percent in either secure facilities or factories.
COVID-19's permanent changes to the future of work are still very much to be determined, but BAE has established multiple working groups and one charged specifically to examine that subject.
The idea is to incorporate new characteristics of work the company is more comfortable about and re-examine some processes that have been in place for years.
"If we can demonstrate this kind of flexibility in times of challenge, what can we carry forward and what elements of it make sense to do so," Arseneault said.
The future of work group "will be coming forward with their recommendations but I think key to it and a common denominator will be flexibility," he said with these questions as ones they will look for answers on.
"Do we need everyone in the workforce (coming in) every day? Do we need to have everyone traveling to the hardware? Can we be doing more remote testing, more remote validation?" Arseneault said. "I think there are some real opportunities there for us as a business, us as an industry and industries like us."