Hiring marches on during pandemic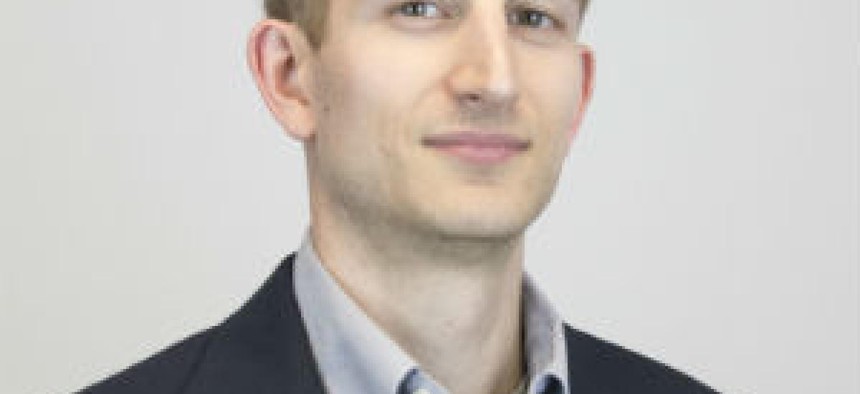 Labor Department figures released this peg the country's number of unemployment at an all-time record of 36.5 million -- a stark reversal from the once-hot job market of eight weeks ago before the coronavirus crisis took hold.
But many government contractors we reached out to over the past week have told us that their hiring plans are full-steam ahead, while some described changes in process to adapt to a world of remote work and social distancing.
Here is what some of them told us.
Amentum
"Our headcount has increased since the beginning of the fiscal year by more than 3 percent. We currently have 600-plus openings -- we are actively hiring," Bob Rusidin, executive vice president of human resources, said via email.
BAE Systems Inc.
The British defense company's U.S. subsidiary says it has filled more than 2,500 roles so far this year and has more than 3,000 open positions.
"During the COVID-19 pandemic we have not stopped our hiring, but we have modified our hiring practices," a BAE Systems Inc. spokeswoman said.
BAE is looking at hiring requirements to identify the positions that are essential to operations and the ability to deliver to.
"For now, we are only hiring for these essential positions and are putting all other hiring on pause temporarily," she said.
The company has moved interviews and meetings online where possible and they are enforcing strict social distancing measures during the on-boarding process, including training. The moves are to protect current and prospective employees, the spokeswoman said.
Boeing Defense, Space & Security
"To prepare for a smaller post pandemic market, we've also made tough decisions to reduce our commercial airplane production rates and reduce staffing levels across the enterprise," said a spokesman for the company's defense segment.
"However, as we take difficult action, we also continue to hire in certain areas to meet key customer commitments. For example, we expect to fill more than 4,000 positions in support of our key defense, space and government services programs this year."
Booz Allen Hamilton
The firm has about 2,500 open requisitions to continue "to support and are "hiring to meet that demand -- especially for cleared technical professionals and particularly in areas like analytics, cybersecurity, digital, and engineering," a spokeswoman said.
"We're using a combination of phone and video interview platforms so that candidates can feel connected with our teams. We've also shifted to an all-virtual onboarding experience, including an immersive day-long remote orientation where new hires are introduced to our culture, their colleagues, and receive guidance on how to have a successful start at Booz Allen."
CACI International
"CACI has optimized our virtual recruiting and onboarding strategy fueling the company's continued growth. Candidates have readily adapted along with our recruiting team to what is now our main stream approach to building our workforce of tech talent that is critical to national security," Chief Human Resources Officer Angie Casper said via email.
"Our expanded internship program, the largest in the company's history, is building our workforce of tomorrow. These students and early-career professionals will help CACI add the talent to increase the expertise and invent the technology our customers need."
CGI Federal
A CGI Federal spokeswoman said the IT services firm's federal subsidiary is averaging more than 300 open positions each week in the Washington, D.C. metropolitan region for experienced-level roles.
CGI saw its number of hires made rise by 42 percent on a sequential basis in the January-March quarter and sees that continuing into the April-June period, she added.
General Dynamics
General Dynamics is advertising on its careers page roughly 2,800 open positions for the IT services segment, while the Mission Systems business focused on hardware and other products has 340 job advertisements.
Officials for General Dynamics IT said the business "continues to hire talent at healthy and consistent levels despite the crisis" and that with virtual hiring processes in place, "our ability to hire and onboard talent has not been impacted by the pandemic.
"GDIT remains committed to early talent development and despite COVID-19 will launch a virtual internship program in June," they added.
A spokesman for GD Mission Systems said they currently have 463 open requisitions and 582 new employee starts since March 1, with 230 interns slated to begin onboarding Monday.
GD Mission Systems has also launched an FAQ page for job seekers that explains how the company is replacing many in-person interviews with phone or video interviews, but with some exceptions where that in-person interview is "critical for the position."
If the exception is the case, social distancing and other cleanliness practices are encouraged but shaking hands is discouraged.
Telecommuting is also being highly encouraged for positions whose responsibilities can be carried out remotely. But some positions do require on-site work and GDMS will make candidates aware of that during the interview process.
Huntington Ingalls Industries
"We look to hire over 3,000 people by the end of the year across the enterprise," a company spokeswoman told us, adding that its Technical Solutions business focused on government services has more than 300 open positions.
Technical Solutions recruiters are engaging in virtual career fairs and are using the hashtags "TSDisHiring" and "TSDCares" for a LinkedIn campaign.
Many new hires to TS are working from home until the time comes to transition back to the office.
ICF
"ICF is actively hiring across divisions given our diverse client base and various markets we serve. In response to the global health crisis, we've also implemented a completely virtual interview and onboarding process," a company spokeswoman told us.
"We've extended over 600 offers from January-April 2020. As of this week, we have over 500 job openings."
L3Harris Technologies
An L3Harris spokesman told us the plan is to hire 6,000 new employees this year, while 2,500 have already been brought on this year so far. In addition, the company has 1,400 open requisitions and anticipates 2,100 new openings.
"The new hires are to address growth in existing programs, as well as to back-fill for normal attrition at locations around the globe," the spokesman added. "New L3Harris hires include experienced professionals and new college graduates, primarily in technical, manufacturing and administrative positions. The company has 825 new college graduates starting this summer and more than 740 interns sponsored this year."
L3Harris is headquartered in Melbourne, Florida. But the company also touts the Washington, D.C. and Dallas metropolitan areas, plus those of Salt Lake City and Rochester, New York as major locations.
Leidos
A Leidos spokesman told us the company is advertising 3,737 open positions, with 2,521 of them being in an actively working state and 1,215 having accepted a future start.
Total of 5,659 new positions from January 2020 through last Friday 5/8.
CEO Roger Krone touted the company's hiring trends and pre-pandemic changes in approach as key to its continued growth and success in a May 5 earnings call.
"To support our businesses' continuing growth, our talent acquisition efforts continue to attract and hire 100 or more new employees each week," Krone said. "We hired over 1,800 in the first quarter. This result is made possible by our recruiting and onboarding programs, which adopted a number of virtual practices well before the current COVID-19 crisis."
Lockheed Martin
In a May 8 statement, Lockheed said it has hired more than 2,365 new in the U.S. since the COVID-19 crisis began and is actively recruiting for more than 4,600 roles. Lockheed has also allocated $320,000 in new funding to transition 13 existing apprenticeship programs into virtual ones.
ManTech International
A ManTech spokesman told us the company is using virtual means for continuing for interview and hire, while also using telework to conduct virtual new hire orientations. In addition, ManTech's online learning programs are going full-steam ahead.
"We currently offer all employees free access to Skillsoft's more than 40,000 business and technology courses, which has been used by all 9,000 employees," the spokesman said. "We also offer tuition-paid degree programs in cyber, cloud and analytics through our partnership with Purdue University Global. These initiatives are a major driver of employee satisfaction and loyalty, and a key selling point with prospective new hires."
Maximus
A Maximus spokesman said the company has hired 19,263 new employees so far this year with March showing the highest rate with most of that having been the works for some time to ramp up staff for the contract in support of the 2020 Census.
Maximus also expects to hire an additional 15,000 staff by the end of this year when factoring in current contract awards, new work pipelines for those programs and normal hiring cycles, the spokesman said.
New hire orientations are conducted via video conference and equipment is being shipped to them. For positions where that work cannot be done remotely, Maximus said it is "taking every precaution to ensure a safe work environment" under guidelines by the Centers for Disease Control and Prevention and other government entities.
"Equipment distribution is done in a way that supports social distancing, in many cases involving the use of a cart or distribution window to have the equipment placed by an IT professional, where they can then walk away and have the new hire collect their equipment without having to interact with one another," Maximus added.
"Training classes have been thinned out to support social distancing. Trainers are using video conferencing and other technology tools to provide support to new hires from a safe distance."
Northrop Grumman
In an April 29 earnings call, CEO Kathy Warden said Northrop is actively recruiting for 10,000 new positions and hired more than 3,500 new people in the first quarter with 1,300 hires in March alone.
The company has also "moved virtual as you might expect to accommodate most of that hiring," Warden said.
Open positions are both to support the company's current contracts and in anticipation of future awards, although the latter category only sees hiring if Northrop does receive those awards.
"The labor market was very tight at the beginning of this year. As we were working through the last two months, we're seeing that attrition is dropping, as you might expect, as other opportunities are becoming more scarce," Warden said. "We are in the process of looking at what that may present as both challenge and opportunity for us going forward."
Even with that backdrop, Warden said the company does "expect significant headcount growth this year because of the program volume increases that we have, the sales growth as well as the anticipated awards in the latter half of this year."
PAE
A PAE spokesman said they have hired 1,186 new employees so far this year, while the company has approximately 1,120 openings.
"PAE's work supporting the U.S. government is never done and we're recruiting in this unprecedented time," Chief Human Resources Officer Patricia Munchel said. "We've successfully transitioned to both hosting and participating in virtual career fairs and have implemented several other innovative approaches to hiring to reach our target audiences around the globe."
Parsons
In an emailed statement, Parsons Chief People Officer Deb Fiori said the company has nearly 2,000 open requisitions across its federal and critical infrastructure businesses.
Ninety-percent of Parsons' 16,000 employees began to work remotely on March 16. For hiring and onboarding, Fiori said Parsons is conducting interviews via video conferencing and nearly all phases of onboarding have gone virtual as well.
The company has also begun to deliver IT and other employee assets directly to their homes rather than out of a central office. They also have added enhanced IT support for virtual setup.
Offer letters also now contain qualifying language due to tentative start dates and location flexibility as the COVID-19 situation evolves, Fiori said.
"We are pulsing employees through Waggl in various parts of our business to obtain inputs on their work experience with COVID and using this data to improve the experience weekly once onboarded," Fiori added. "We are providing additional support to employees via virtual tools on overall employee well-being due to anticipated increased stress and anxiety once onboarded.
The company also is training managers on virtual assimilation, engagement and management of team members including new hires.
Peraton
A Peraton spokesman told us the company has hired 126 new employees over the COVID-19 crisis' two months so far and has 447 current openings.
Primary job categories of interest include software engineer, systems engineer, network engineer, project and program engineer, field engineer, plus full stack developer and engineer.
"Peraton is conducting interviews via phone and video, and has moved to virtual Skype new hire orientation to effectively onboard new employees," the spokesman added.
Science Applications International Corp.
An SAIC spokeswoman told us the company has hired roughly 2,000 new employees so far this year and that with 700 funded openings, "we have not paused or slowed down our hiring efforts."
"With a largely dispersed workforce prior to COVID-19, we already maintain an infrastructure that accommodates the virtual onboarding of our employees," the spokeswoman added. "During the first quarter of this calendar year, we hosted six virtual hiring events and for the second quarter, we have 29 events scheduled, and we will continue to host virtual meetings throughout the year.
"We are very pleased with the outcome of these events, and building on this success, we've shifted to virtual recruiting events only through the end of the calendar year.
Raytheon Technologies
An RTC spokesman told us the company currently has more than 2,700 openings across its defense businesses and many for engineering-related positions. Given the commercial aerospace market turmoil, the company is working with its employees on that side of the house to shift those with the necessary skillsets into those positions when possible.
Additionally, the company has significantly changed hiring, internship and onboarding programs through virtual interviews and virtual career fairs.
"Some of our businesses are also hosting full virtual interview days, consisting of a virtual company overview by an RTX executive, followed by multiple virtual interviews with several hiring teams and approximately 125 candidates attending," the spokesman said.