What 3 IT contractors' earnings calls tell us about the market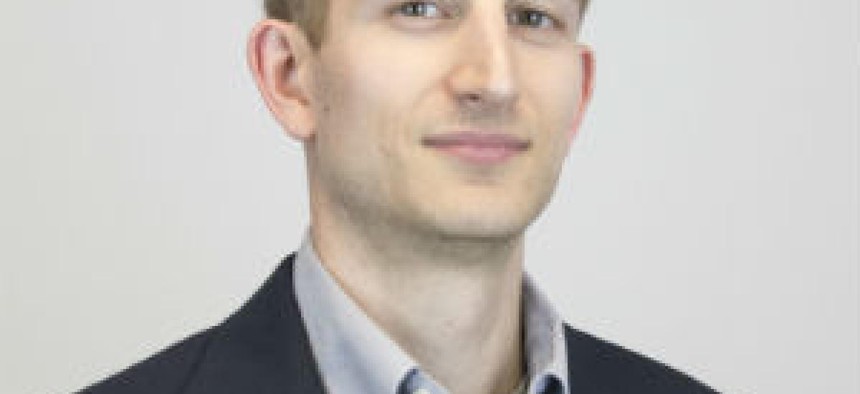 Publicly-traded government IT and professional services companies took their turn this week in reporting quarterly numbers to Wall Street. Themes for today and tomorrow have emerged that are worth unpacking.
Typically in the week after the "Big Five" defense primes, many government technology and professional services companies take their turns in reporting and discussing their quarterly financial results and outlooks with Wall Street.
This week's round of reports from Leidos, CACI International and ManTech International were all warmly received by investors and also have common threads to pull about the current state of play and what lies ahead.
Acquisitions in the future?
Jacobs Engineering Group's acquisition of KeyW Corp. for $815 million including debt is the latest example of a consolidating industry and acquirers willing to make aggressive bets in technologies and markets they see as offering growth prospects.
Leidos, which reported positive results Tuesday, sees that and the deals by Jacobs' peers such as KBR have done as partly validating the rationale behind their own big merger with the former Lockheed Martin IT services business three years ago.
"It really speaks to the excitement around our strategy… we're not surprised that others want to be here," CEO Roger Krone said. "We think it's an attractive market, it's got both long-term positive aspects for top line and bottom line."
Krone said Leidos has also "used the word 'M&A' more" recently in strategy discussions. Leidos has indicated in previous investor events that a product-oriented company would be of interest to them.
"If we find something that enhances our strategy and provides capability or access to our customer that we don't have, then clearly we have the balance sheet to be able to play," Krone said.
Integrations in the here and now
CACI International, whose $3.6 billion in third quarter revenue was 9.5-percent higher over last year, is at work on integrating both LGS Innovations and Mastodon Design, the defense technology integrators acquired for almost $1 billion combined.
Those transactions are the latest example of how CACI sees itself as more of a solutions provider that blends services with higher-end technologies as part of a broader managed service.
"We want to see software-defined everything: any platform upgraded by software is going to advance our warfighting capabilities faster than waiting on a procurement cycle of some advanced weapon," CACI CEO Ken Asbury said Thursday.
ManTech International, whose $502 million in first quarter revenue was 6-percent higher organically, is likewise bringing the Kforce Government Solutions business purchased for $115 million into the fold.
That deal grows ManTech's footprint with the Veterans Affairs Department and is targeted at nondefense work the company sees as less subject to broader budget fluctuations and political uncertainty.
"We are continuing to focus on select federal civilian agencies, as well as the federal health care agencies as well because those are going to be high demand areas regardless," CEO Kevin Phillips said Wednesday. "We think we're in a good position to grow through any changes either direction from the Congress in the next few years."
Budgets uncertain, but some concepts certain
Neither Leidos, CACI nor ManTech know whether a new full budget agreement will be reached before the government's fiscal year ends Sept. 30.
Leidos for their part seems certain there will be a continuing resolution. Krone said that because the Defense Department is a "fairly mature organization in getting things purchased," they are an example of an entity that can get contract spend out the door. Civilian agencies are "a mixed bag as to how fast they're moving," he added.
Asbury also sees the current environment as more settled under the current two-year budget deal versus wrestling with "all of the alligators" over the past decade: a reference to the constant cycle of one stopgap spending bill after another.
"Having more money, having a very cogent National Defense Strategy, being very clear about the things that are important, maybe restoring some of the service's responsibility for the things that they wanted in terms of priorities, I think that all of those are a big part of this picture," Asbury said.
Defense spending proposals put forth by the White House do lay out a basic framework for priority areas regardless of the exact numbers. ManTech's Phillips did point out that DOD's unclassified cyber request has gone up to $17 billion for next fiscal year.
"Cyber as a domain warfare will continue to be an increasing focus along with space," Phillips said. "Also, there's desire for rapid innovation, and if you think about the stated desires within the FY 20 budget, I think those are going to be favorable."
The contracts are flowing
There is a certain link between the current fiscal year's budget in place and how companies like Leidos are reporting stronger award activity in what is typically a slow start to the year industry-wide.
For CACI, that and a shift to bidding fewer contracts but ones larger in value paid off in their fiscal third quarter.
CACI booked $2.7 billion in awards for the quarter and its book-to-bill ratio is 1.7 on a trailing 12-month basis. Their total backlog is $14.9 billion with $2.9 billion of it funded, roughly 51-percent higher than last year.
ManTech also saw growth in net awards and in their backlog of work. First quarter awards were $556 million and their trailing book-to-bill ratio over 12 month is 1.8 -- a bullish sign for their continued resurgence.
Here comes GovCon's "Sixth Prime"
One more thing that needs to be mentioned: this week's earnings calls by L3 Technologies and Harris Corp. are likely their last as standalones before their merger to create "L3 Harris Technologies" and fulfill L3 CEO Chris Kubasik's ambition to create the defense industry's "Sixth Prime."
Both companies have done some work in the buildup to their combination both in a key divestiture and in terms of integration planning, including who will lead the combined company.
Harris Corp. CEO Bill Brown said Tuesday that "probably towards the end of June," the companies will be ready to announce the new management structure and combined board of directors.
As far as Kubasik is concerned, more disruption may not be that big a deal for L3's end of the equation given how they aggressively reorganized and recasted themselves in the market in recent years just like Harris has.
"Given what we've been through together over the last year or two, it's probably going to be the same or even less change," Kubasik told analysts Tuesday. "The team is used to the changes that we've made and our strategy, our transformation and… in the organization structure."