How LMI's transformation stays true to its roots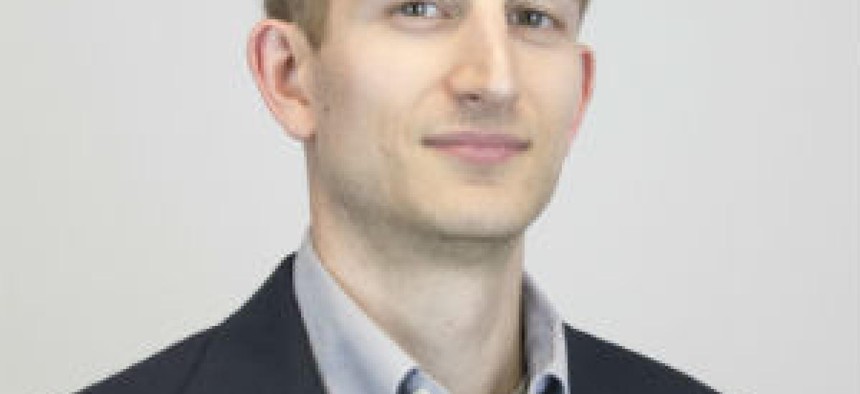 LMI is in the midst of a transformation to closer align with how its customers want to apply technology to their mission. But CEO David Zolet sees that shift as keeping to the nonprofit's core mission.
A three-decade federal market veteran, David Zolet concluded at around day number 30 as CEO of not for profit government consulting firm LMI that this was the right role for him as it also marked his re-entry into the public sector arena.
Zolet joined LMI in September 2017 after seven years at DXC Technology and its predecessor Computer Sciences Corp., including three years as head of its Americas region commercial business. He led the former CSC North American public sector business for the two years prior to that.
When asked about whether he missed working in the public sector market, Zolet referred to an oft-spoken phrase: "You don't appreciate what you have until it's gone."
"One of the things I realized and one of the reasons I decided to come to LMI was how much I really do care about the mission and the work that we do," Zolet told me in an interview at LMI's McLean, Virginia headquarters.
"There's something about supporting the warfighter and ensuring that benefits are provided to people who need them… the whole public sector mission that makes it easy to want to be a part of this community. So I did miss it a lot."
While Zolet said he has been careful to not change LMI's core mission and culture, the five-decade old firm has been in the midst of a transformation to closer align itself with how agencies are relying on technology as a lever for their missions. All in keeping with LMI's historical core of logistics support and management consulting work.
Two main tech trends Zolet highlighted to me span across the federal government: how agencies are leveraging large amounts of data and incorporating analytics in their decision-making process, and the move toward a digital government that evolves the citizen experience with agencies.
There is also of course the constant push by agencies to "do more with less" and push for more efficiencies, as Zolet described it, even in an environment where budgets are seen as healthy.
LMI recorded $240.3 million in fiscal year 2017 revenue and has nearly 1,400 employees, according to its most recent annual report. The firm works with 40 agencies primarily in the defense, national security and health care communities.
Zolet wants that revenue number to hit somewhere between $750 million and $1 billion through both organic growth and acquisitions.
In February, LMI made its first acquisition of Zolet's tenure when it bought The Tauri Group, a similar consulting firm that brought the Homeland Security Department as a major customer. Tauri's key knowledge areas include defense, preparedness, emerging technologies and life sciences.
Regarding Tauri, LMI "felt it was an opportunity for us to add capability and client relationships, while building on our culture," Zolet added.
At first glance, Zolet's growth goal may sound like how other government services companies think about the notion of scale as a way to spread costs across their base and better compete for large consolidated contracts. But Zolet has a different philosophy for how LMI thinks about scale.
"For us, it's around being able to help solve more of our clients' issues and help them improve the business of government," Zolet said. "It's around finding opportunities or developing opportunities for our people and it's about strengthening our workforce."
That human capital umbrella also includes growing LMI's workforce -- a challenge the firm is not alone in as industry and agencies are all searching for new sources of talent amid the well-documented shortage of technical workers.
LMI is also not alone in firms looking outside the Washington, D.C. area for space and people. Zolet told me that in one active example, the firm has stood up to an agile software development "center of excellence" in San Antonio that works on projects for federal customers in the Washington area and elsewhere.
The workforce LMI currently has cannot be forgotten either. LMI pays for certifications and certificates, helps them pursue post-graduate and undergraduate degrees and holds classes in-house for employees to learn new technologies.
In the latter instance for example, "we get 30 people in a room and train them," Zolet said.
Acquisitions and human capital-centered initiatives are not the only type of investments LMI is prioritizing. In February, LMI became the latest contractor to start a venture capital fund, through which to make investments in startup technology companies outside the traditional federal ecosystem.
LMI hired former GitLinks CEO Ian Folau to oversee the organization and he is based in Austin, Texas -- a region growing in prominence as a tech hub and increasingly where other government IT companies are adding footprints in.
The idea behind LMI Ventures is to provide companies it invests in a gateway into federal agencies that are LMI customers and also be a part of a broader tech scouting function agencies and industry are increasingly embracing, Folau told me in a separate interview.
"As we bring in a smaller company, we can say 'Alright this is how it's going to plug in here.' We can help the client utilize not only that technology but what that technology opens up (for) the client to be able to do next," Folau said.
"There's a lot of push on the government side to innovate, to try to find out how to implement new technologies," he added.
For example, LMI is partnering with artificial intelligence firm Immuta to use the latter's platform to evaluate the readiness of weapons systems. This is not an equity investment by LMI or its ventures arm, but does illustrate the broader concept of technology integration partnerships.
That overall innovation thrust is pushing integrators and services providers such as LMI to be on the lookout -- hence scouting -- for emerging tech tools. Folau told me LMI Ventures partners with tech incubators and universities, commercialization offices and venture capital investors to help facilitate that scouting approach.
"Through all those kinds of tentacles across the country, we get access to thousands of startups that are doing amazing things," he added.