Leidos not surprised by GD-CSRA consolidation play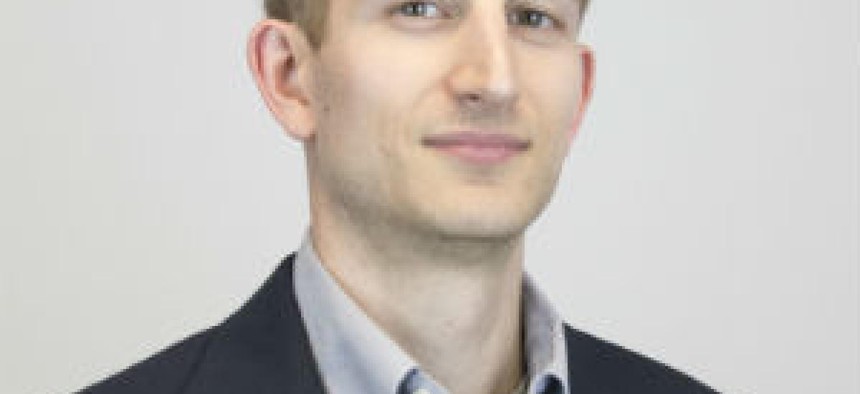 Leidos took the final material step in its massive integration with the former Lockheed Martin IT business in January, then General Dynamics unveiled its own large combination with CSRA earlier this month to put the defense contractor's IT business almost neck-in-neck with Leidos on scale.
This latest consolidation in a federal services market that increasingly rewards players with scale would seem to confirm Leidos' approach in its merger two years ago with the former Lockheed Information Systems and Global Solutions business to become government services' largest company.
At least that is the view of Leidos CEO Roger Krone, based on his comments Thursday to investors during his company's fourth quarter and year-end earnings call.
"Depending upon where we're bidding, we see big companies and small companies," Krone told analysts. "Our deal thesis as we put forward was there are benefits to being bigger: investments you can make, the strength of your balance sheet, and what we view in the latest consolidations is other people must believe that as well."
Reston, Virginia-based Leidos reported $10.17 billion in revenue last year compared to its $10.1 billion-$10.4 billion guidance. Wall Street analysts expected full-year sales of $10.23 billion.
By comparison, General Dynamics expects the combined GDIT-CSRA entity to be a $9.9 billion-revenue player, which puts it second to Leidos.
And consolidation in the federal IT and services market is far from done, Krone said. In his view, the opportunity lies in "the value capture (and) the synergies we're able to create when you put two smaller entities together."
That aligns with what General Dynamics Chief Financial Officer Jason Aiken told investors Wednesday at the Citi Industrials Conference in Miami. Agencies are bolstering their efforts to further bolster their IT environments and cyber defenses. This means longer and larger contracts for more complex work.
Those contracts have values exceeding $500 million over five- and 10-year terms, Aiken said. And they are seeing "pipeline proposals out there for 20, 25 deals that meet those characteristics."
"If you're going to perform to that customer demand you've got to have the scale and the capacity to do that," Aiken said.
That adds to a widely held perception that government agencies are shifting away from predominantly "lowest price, technically acceptable" contracting that took hold at the height of sequestration after the 2011 Budget Control Act to more "best value" work.
As General Dynamics Executive Vice President Dan Johnson pointed out when the CSRA deal was first announced, agencies realized they could extract savings faster in services contracts than they could in products "where if you cut… unit prices go up."
Agencies' moves to consolidate contracts into larger procurements go on a cyclical basis, Leidos' Krone said. They look for larger firms to compete for those contracts, he said. But they also develop smaller ones to take more risks with innovation work focused on emerging technologies.
At its size, Krone said Leidos should compete on those large programs but also invest in (research and development) and innovation and to do things like blockchain and information assurance and artificial intelligence and machine learning -- all of those kinds of things that will be the large programs in the future.
Like General Dynamics indicated then, Leidos sees an uptick in services procurement activity and more predictability in it stemming from the two-year budget deal lawmakers and President Donald Trump struck earlier this month.
An omnibus spending bill for the rest of this current federal fiscal year 2018 still must come out of Congress by March 23. That would "free up for the remainder of the fiscal year acquisition and procurement process in both defense and civil," Krone said.
"We'll see a lot of programs (and) frankly quite a few new starts that have sort of been hung up in the continuous (continuing resolution) cycle," he added.
To increase its pursuit of that business, Leidos focused much of its energy last year on cost synergies and other operational items related to the IS&GS combination and that is a case of so far so good.
Leidos realized $350 million in cost synergies last year and migrated IS&GS' financial systems to Leidos' accounting and billing system last month. That is the "final systems migration planned from the transaction" and was "instrumental in delivering the final material tranche of the remaining cost synergy target," Leidos Chief Financial Officer Jim Reagan told investors on the Thursday call.
That did weigh somewhat on Leidos' fourth quarter sales, which fell 2 percent from the prior year period to $2.52 billion. Revenue from high-margin cost-plus contracts declined in the fourth quarter. But Reagan said they "expect these headwinds to notably diminish in 2018 due to a more stable cost structure" with the integration behind them.
Another item to watch this year is Leidos' target of being among the most profitable government services companies with its larger scale. The company posted a 10.4 percent adjusted earnings before interest, taxes depreciation and amortization margin last year. Its margin prior to the merger was 8.5 percent.
The company is being conservative in profit guidance for this year with adjusted EBITDA expected to be in the range of 10.1 percent-10.4 percent. Analysts and investors use this as a key metric to track profitability of government services companies.
In the Thursday call, Leidos was also the latest company to detail its windfall from the tax reform legislation enacted in December that lowered most corporate rates to the low 20-percent range from the high-30 percent range.
Reagan said Leidos expects its nominal tax rate -- federal, state and local -- to come down to either 23 or 24 percent from the previous "mid-to-high 30s" range.
So where will the additional cash from the rate cut go? Reagan said they "intend to increase our bid and proposal budget to better executive against our growing pipeline."
Investments there are the ones that generate the highest returns for the business, he said.