DXC plans three-way deal to spin, then merge government business with Vencore and KeyPoint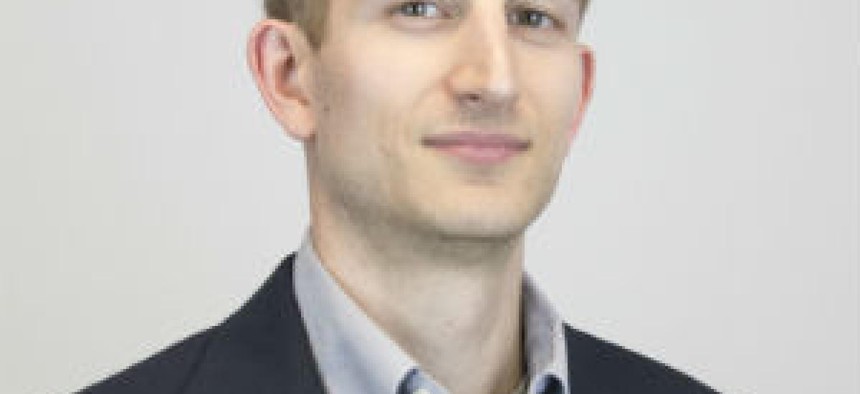 In a complex three-way deal, DXC Technology is spinning out its U.S. public sector business and combining it with Vencore and KeyPoint Government Solutions to create a new independent and publicly traded government contractor.
The blockbuster deal answers a question that has spurred continuing speculation in the market: what will DXC do with the government business business it picked up when the former Computer Sciences Corp. and HPE Enterprise Services merged earlier this year.
The merger of the three businesses is expected to close by March 31, 2018, creating a combined company with $4.3 billion in annual revenue and a workforce of 14,000 employees. That future company would focus on cybersecurity, big data analytics, cloud computing, enterprise IT, systems engineering and background investigation services.
Vencore and KeyPoint are both owned by the private equity group Veritas Capital.
Current Vencore CEO Mac Curtis will become CEO of the new company and Lawrie will chair its board of directors. Lawrie was also chairman of CSRA's board of directors from its launch until his August 2016 resignation shortly after DXC's creation was announced.
Marilyn Crouther, who leads DXC's public sector business, will become the new company's chief operating officer and other senior management roles will be filled in from all three businesses involved in the deal. Veritas CEO Ramzi Musallam will become a member of the new company's board of directors. KeyPoint has been led by chief executive Eric Hess for three years.
The future and currently unnamed company would be roughly level on scale with CACI International as the fifth-largest public government IT and professional services contractor. Leidos sits at the top with $7 billion in reported sales last year, followed by Booz Allen Hamilton at $5.8 billion, CSRA at $4.99 billion and Science Applications International Corp. at $4.45 billion, according to data DXC released as part of an investor presentation on the merger.
The presentation suggests that new scale puts the future combined company across virtually every segment of government including defense, intelligence, space, civilian, law enforcement and health care. DXC's U.S. public sector arm provides enterprise IT services to federal agencies while Vencore and KeyPoint focus on "mission services" for defense, intelligence and science-focused clients.
To pull off this transaction, DXC is using the same Reverse Morris Trust structure that was applied to create the company itself. These kinds of deals see one company spin out a business unit and merge it  into a larger entity to create a new company. That structure is intended to help the selling company avoid taxes related to the sale and give the former a majority of shares in the combined entity.
DXC's shareholders will own 86 percent of the newer, larger company and Veritas will hold the remaining 14 percent. DXC will also receive $1.05 billion in cash and Veritas will take in $400 million in cash.
CSC spun out and then merged its U.S. public sector business with SRA International to create CSRA in 2015. Earlier this year, Hewlett-Packard Enterprise spun out and merged its enterprise services segment with CSC to create DXC. Leidos also merged with Lockheed Martin's former IT business last year through a Reverse Morris Trust transaction.
That backdrop to DXC's creation has spurred investor speculation since that the company would look to divest the U.S. government business in the future and also whether there were any legal restrictions on such a move. A DXC spokesperson told Washington Technology on Wednesday there were no legal restrictions against any divestiture or RMT deal involving that business.
DXC CEO Mike Lawrie hinted the Tysons, Va.-based company would make some kind of move with its U.S. government business during a Sept. 8 presentation to the Citi 2017 Global Technology Conference. Lawrie said DXC could move to "monetize that asset... down the road."
Lawrie also touted the business' growth prospects in that presentation and in a separate speech to investors shortly before DXC started trading in April. DXC's U.S. public sector lead Marilyn Crouther subsequently told us in April for our Top 100 series that Lawrie was "expecting single-digit growth" from the business that prioritized digital transformation efforts.
DXC's U.S. government business was No. 10 on the 2017 Washington Technology Top 100. The company will keep its $2.6 billion international government business and some work with state and local clients, particularly state Medicaid programs. Vencore was ranked No. 27 and Keypoint No. 76.
The announcement to combine three businesses into one also answers another point of investor speculation: Vencore's June filing for an initial public offering. That indicated indicated plans by Veritas to exit after seven years of ownership of the Chantilly, Va.-based contractor. Private equity firms typically look to sell government services companies within between three and five years.
That filing also gave investors a first detailed glimpse into Vencore's financial picture. The company recorded $1.2 billion in revenue and $122.8 million in adjusted earnings before interest, taxes, depreciation and amortization for an adjusted EBITDA margin at around 9.8 percent. Vencore also had $767 million in total debt at roughly seven times adjusted EBITDA.
Almost three-fourths of Vencore's sales come from space and intelligence contracts with substantially the rest from defense and civilian agencies. That portfolio also includes a significant amount of classified work. A small portion of sales come from commercial customers.
Loveland, Colo.-based KeyPoint posted $300 million in sales last year and one of its main revenue sources is in background investigation services for federal agencies to get clearances for employees and contractors. 
Veritas has reshaped its government services portfolio in recent years. The New York City-based firm acquired the KeyPoint business from Kroll in 2009, then bought Alion in 2015 and earlier this year purchased the former $1 billion Harris Corp. IT business now known as Peraton.
Guggenheim Securities is acting as exclusive financial adviser to DXC. Latham & Watkins is acting as primary legal counsel to DXC. Skadden, Arps, Slate, Meagher & Flom is acting as tax counsel to DXC, and Wiley Rein and Crowell & Moring are acting as governmental counsel to DXC.
Stone Key Partners is acting as financial adviser to Veritas Capital, Vencore and KeyPoint. Schulte Roth & Zabel and Skadden, Arps, Slate, Meagher & Flom are acting as primary legal counsel to Veritas Capital, Vencore and KeyPoint. Convington & Burling is acting as governmental counsel to Veritas Capital, Vencore and KeyPoint.