Feds' focus on margins puts industrial base at risk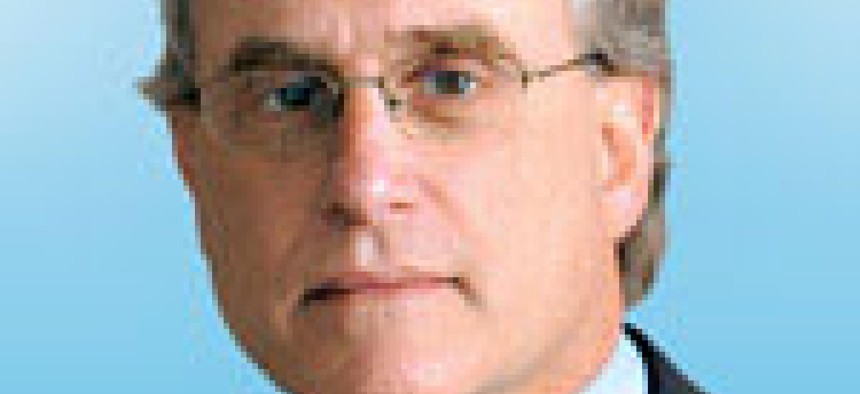 Reducing government costs is in everyone's best interest, writes Stan Soloway, but too much emphasis on cutting margins will only hurt government and industry in the long run.
RecentlyI wrote in this space about the challenges facing companies in the current fiscal environment. This month, I want to focus on the key themes outlined in our recent report to the Secretary of Defense on the likely impacts on our industry from DOD's budget reductions. Those themes were also front and center at the Professional Services Council's recent Marketview 2012 conference and deserve continued attention and discussion.

Through two days of presentations and discussions with senior government officials and outside experts, the conference attendees gained additional, but often distressing, insight into the next several years of federal fiscal chaos.

While the road ahead will be rocky and uncertain, if it is navigated properly by both government and industry, a stronger government-focused industrial base could emerge. But it wasn't until the last panel of the conference, which focused on the changing policies and strategies the military departments are using to procure services that the challenges associated with achieving that goal became most evident.

Said one government panelist: "If you're thinking about margins, you're thinking about the wrong thing. The fiscal environment is such that you should only be thinking about booking revenue, not margins."

A moment later he said, "We have decided that the vast majority of what we buy is appropriately bought on a low price, technically acceptable basis" and "We are going to require that any component that seeks to use a 'best value' approach justify their reasons for doing so."

And finally, "If you bid too low, know this: We're going to hold you to your contract and demand that you deliver what you promised."

In a brief statement, that speaker captured the key question for both industry and government today: Where does quality, value, and innovation fit in an environment where resources are under extreme pressure?

I have reason to believe that while the speaker meant what he said, he was also being intentionally provocative. But his comments, even if slightly exaggerated, are deeply concerning.

First, let's talk about margins. Every government contractor is well aware that margins are going to be tight. They are fully aware that, regardless of sector, everyone has to be a part of the solution to the fiscal crisis.

But there is a vast difference between recognizing that tighter margins are a reality and facing the potential where there will be exceedingly low or even no margins. Without meaningful profit, no company can afford to innovate, invest in technology or people, or otherwise continually enhance performance. That is a simple fact.

And in that race to the bottom environment, where so-called "bottom feeding" is not only tolerated but potentially even encouraged, both government and high performing, innovative companies lose.

Similarly, one can make the case that, in many circumstances, assuming the technical requirements are properly set, more pricing discipline may be in order. But we see today a preponderance of procurements based on the lowest price and minimal technical qualifications, even when smart contracting would dictate otherwise.

More than ever, the government can and should only buy what it needs. But denying companies bidding on other than commoditized services any real credit for their innovations, past performance, performance enhancements that drive long term efficiencies, or other discriminators will only exacerbate the bottom feeding described above and, again, set both the government and its industry partners up for short- and long-term failure and higher ultimate costs. It's the epitome of being pennywise and a pound foolish.

Overcoming the increasingly evident shortsightedness of the acquisition process requires two immediate actions.

First, senior leaders in the agencies must repeatedly and clearly articulate a new message to the field that they, as the customer, "own" their requirements; that low price is not always the simple or correct answer it appears to be; that their acquisitions must be structured to drive innovation, optimize efficiencies and outcomes; and that intentionally or arbitrarily driving company margins below reasonable levels is an unwise and no-win strategy.

The auction mentality may be fine for rock salt or office supplies but it is dangerous for technical or complex services acquisitions.

Second, we need to have a new and immediate dialog about how to define "appropriate margins" and "technically acceptable." For many in government, the former is irrelevant and the latter means "we buy what we think we need."

To the private sector, the former is crucial and the latter too often means "you're only interested in average or worse, not innovation or excellence." As a result, there is no incentive to industry to invest in anything beyond being mediocre.

Bridging those definitional gaps will not be easy. But if we fail to do so, at least two outcomes are likely: first, we will collectively fail to deliver on behalf of the taxpayer; second, the industry that emerges as the survivors of the downturn may not be the industry it could be or the one the government customer really wants and needs.

Neither outcome would be good news for anyone.