Making the team: Matchmaker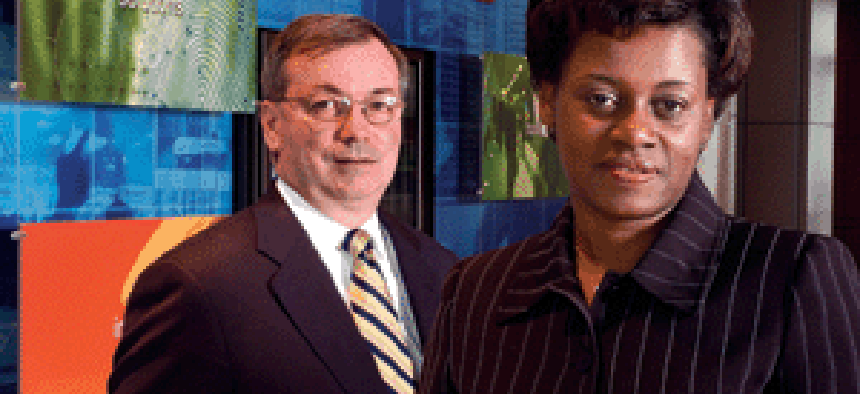 Things don't always go as planned in government contracting.
Things don't always go as planned in government contracting.A small business applied to Northrop Grumman Information Technology a few years ago, expecting to team up to create and deploy training courses. Two days later, the company landed a teaming agreement -- to run a help desk operation.David Capizzi, director of IT sector procurement for Northrop Grumman, recalled the incident as one of several in which teaming took an unexpected turn. Such shifts are part of a process in which Northrop Grumman Corp.'s McLean, Va., IT unit recognizes small businesses' strengths and matches them to projects on its agenda, he said."We try to act as a focus," Capizzi said. By giving small companies direction and points of contact in appropriate business units, rather than relying solely on the procurement office, he can help small businesses get onto teams much faster, he said.Some of the redirection stems from Northrop Grumman's extensive reach, which made the company No. 2 on Washington Technology's 2005 Top 100. Its IT business, about $4.74 billion last year, often dovetails with Northrop Grumman's other key sectors such as aerospace, shipbuilding, integrated systems and space technology.The Los Angeles company's Washington area office maintains a liaison for small-business contracts. Led by Gloria Pualani, corporate director for small business (Gloria.Pualani@ngc.com, 703-875-8451), the group shares small-business leads with the IT sector as well as other corporate units.Potential small-business IT teaming partners are encouraged to canvass Northrop Grumman Web sites (see chart) and the Central Contracts Registration site to identify appropriate projects. When there is a match, Joni Blizzard, IT sector small-business liaison office manager, does phone or in-person interviews to point companies toward the right opportunities, Capizzi said.Such reviews usually take 30 to 60 minutes. Capizzi's staff "doesn't want to see a PowerPoint pitch." Instead, it seeks solid material to use as a basis for making a match with the appropriate Northrop Grumman teams and projects, he said.In its effort to ensure the right alliances, Northrop Grumman examines past-performance records and calls references at agencies or other contractors that the candidate has worked with. The Defense Department's Business Partner Network (www.acq.osd.mil/scst/bpn.html), and Small Business Administration sources are good tools to use to confirm a company's experience and credentials, Capizzi said.Northrop Grumman also seeks its customers' advice when signing up small-business allies."Who is the customer familiar with? That's a big factor," Capizzi said. If the agency or other customer has confidence in a certain team member, it leads to greater customer satisfaction and helps Northrop Grumman "establish a long-term relationship," including better terms, he said.A good teaming relationship is a two-way effort that benefits both Northrop Grumman and the small-business partner, he said.As the pool of small-business partners expands, Capizzi said Northrop Grumman has used the system to recruit additional team members."We have found some gems, especially in help desks," he said. Capizzi cited but declined to identify a veteran-owned, service-disabled partner that Northrop Grumman encountered via its relationship with another small business. Such connections "can help us quite a bit," he said.Like other large contractors, Northrop Grumman attends small-business conferences and runs its own events. It is particularly on the lookout for candidates that have special skills, including patents or previous experiences, as well as companies that can help Northrop Grumman meet its own "high needs," such as veteran-owned and Native American subcontractors.Northrop Grumman has more than 8,000 contracts, so it uses extensive tools to "funnel down to the best match," Capizzi said. "We try to match [companies] to proposal activity," he said, citing Northrop Grumman's efforts to coordinate small-business relationships to the company's business development activities at various agencies.Northrop Grumman's emphasis is on defense and intelligence projects, but its projects range extends from the U.S. Postal Service to state government infrastructure.Northrop Grumman likes to bring small business team members into new projects as early as possible in the contracting process."We try to focus at pre-awards stage," which is better than bringing small businesses aboard later when the revenue opportunities are not as robust, Capizzi said.With its massive roster of assignments and its intricate ways to match partners and projects, Northrop Grumman insists that it has found a way to make its teaming alliances useful for all parties involved."We try to keep it simple," Capizzi said.Gary Arlen of Arlen Communications Inc., Bethesda, Md., can be reached at GaryArlen@columnist.com.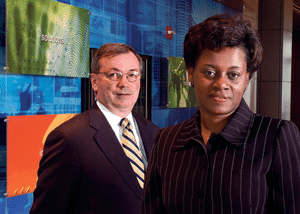 David Capizzi and Joni Blizzard
Zaid Hamid