Engler gets hands-on role at EDS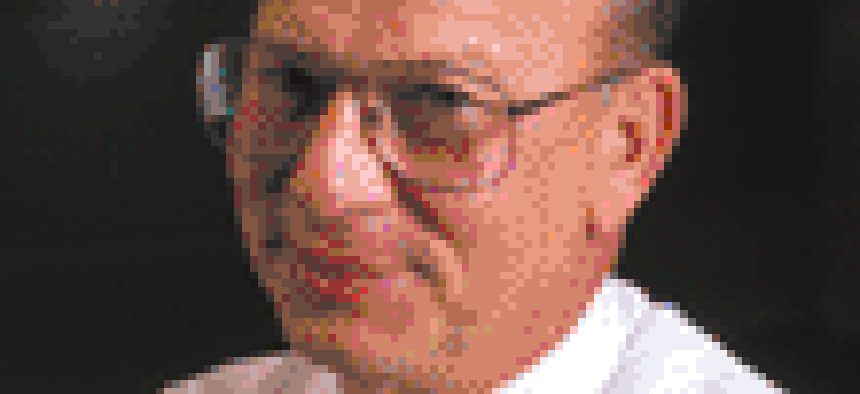 <FONT SIZE=2>When John Engler ended his run as Michigan governor last month, after 12 years in office, and began looking for a new job, he didn't want a cushy boardroom appointment or a figurehead executive post.</FONT>
[IMGCAP(2)]

"I immediately knew he was the right person to lead our state [practice]. We pursued him aggressively." ? Dick Brown, EDS chairman and CEO

"Here's a man who can open every door. Having more access and more doors open should make it easier for EDS to grow its business." ? Bill Dvoranchik, former president of EDS' government business
When John Engler ended his run as Michigan governor last month, after 12 years in office, and began looking for a new job, he didn't want a cushy boardroom appointment or a figurehead executive post.
"I was interested in having operational responsibility," he said.
And when Dick Brown, chairman and chief executive officer of Electronic Data Systems Corp., called in December to invite Engler to join the company, Engler made it clear he wanted a job that would allow him to run part of EDS' government business. He told Brown he didn't want to be a lobbyist.
"I wanted an opportunity to build a new career," he said.
Brown told Washington Technology he had long admired Engler's ability to see the benefits of applying information technology to state and local government while serving as the governor of Michigan.
After becoming aware of Engler's plans to go into the private sector, "I immediately knew he was the right person to lead our state [practice]," Brown said. "We pursued him aggressively."
Following their conversation, "things heated up," Engler said. In the end, EDS created a position tailored for the ex-governor that would allow him to play a key role in the company's government business.
On Jan. 20, EDS announced that Engler would be president of state and local government and vice president of government solutions for North America.
Engler, who replaces Anne Reed, will report to Al Edmonds, president of EDS' Government Solutions. Engler's responsibilities will be broader than Reed's and will include all of the company's state and local business and federal programs that require federal and state coordination, including homeland security, Medicaid and Medicare, company officials said.
Along with Affiliated Computer Services Inc. and IBM Corp., EDS is one of the top three providers of IT services to state and local government, generating more than $1 billion in annual revenue from its state and local practice. The company, which is the administrative agent for 17 state Medicaid programs and four Medicare regions, is chasing a $1.8 billion telecommunications outsourcing deal in the state of Georgia.
Although Engler has never held a private-sector position, analysts and industry experts said his experience running a state government more than prepares him for a successful career at EDS.
EDS wasn't Engler's only suitor. He received several significant job offers, among them from a trade association, a law firm and Covansys Inc., Farmington Hills, Mich. But EDS won over Engler with the responsibilities of the job, the compensation and even the Northern Virginia location where he will be based, Engler said.
"The whole package was attractive, both in terms of responsibility and remuneration," he said. "EDS has a good reputation for recognizing and rewarding performance."
Hiring Engler may be a shot in the arm for a technology giant that has been struggling to maintain steady cash flow in the face of slowing revenue growth, declining profit margins and reduced contract awards in 2002. In October, the company reported third quarter revenue of $5.41 billion, compared with $5.56 billion in the previous year's third quarter, and earnings of $86 million, compared with $212 million the previous year.
Analysts and industry experts said that having Engler on board will boost EDS' credibility in the government market and help it get its foot in the door with state and local governments where it doesn't have work.
Bill Dvoranchik, who served as president of EDS' federal government business before he retired in 2001, said having a person such as Engler, who has "celebrity status" in government circles, should serve to boost company morale, particularly in the government solutions unit, as well as help the company drum up new business.
"Most of the time, you would expect a highly successful person [such as Engler] to take a position on a board or become the CEO of a company," Dvoranchik said. "Instead, you're seeing him jump into the arena and become part of the ongoing business battles we face."
John Goggin, vice president and director of government strategy at the market research firm Meta Group Inc., Stamford, Conn., said hiring Engler will sharpen EDS' government business acumen. Having someone with Engler's experience "brings a firm a vision or a future state agenda, credibility with potential customers and the ability to evaluate the feasibility of business opportunities in a state," Goggin said.
Engler's achievements in technology while serving as governor of Michigan will afford him instant credibility with EDS' customers, according to analysts and industry experts. While serving as Michigan's governor, Engler created the state's Department of Information Technology, established a centralized agency to lead all state agencies in e-government initiatives and policy development, and approved consolidating the state's data centers.
As governor, Engler "kept his foot on the accelerator to pressure the administration below him to stay the course," said Marty Clague, chairman and CEO of Covansys, a provider of software and IT solutions to state and local government.
At the time Engler was contacted by EDS, he already had an offer from Covansys to head its public-sector practice. The company, with 4,800 employees and $404 million annual revenue, is a fraction of the size of EDS, which has more than 140,000 employees and annual revenue $21.5 billion.
Engler would have been a welcome addition to Covansys, but he "opted for a larger public practice" than the company could offer, Clague said.
Even some of those who have clashed with Engler in the political arena said that he is well-suited for the job.
David Bonior, a former Michigan Democratic congressman who is now a professor of labor studies at Wayne State University, said his former political rival understands the importance of technology and the role it plays in streamlining government. For this reason, Bonior said the position is a natural one for Engler.
At EDS, Engler will be responsible for generating new sales and growing existing business with state and local government clients in the system integrator's key market segments, such as law enforcement and public safety, enterprisewide infrastructure solutions, health and family services, homeland security and e-government. The unit has about 5,000 employees.
For someone who has spent his entire career in public service, Engler may find the transition from government to industry more challenging than he imagined. For example, he may miss the infrastructure and support -- the "trappings of public office," as Clague said -- that he enjoyed while serving as Michigan's governor.
EDS will be counting on Engler to help it achieve long-term revenue growth and profitability in the state and local group, Dvoranchik said.
"Here's a man who can open every door," he said. "Having more access and more doors open should make it easier for EDS to grow its business in those areas."
Although Democrats regarded Engler as a partisan Republican governor, Bonior doesn't think Engler will have trouble working in the 24 states with Democratic governors.
"Some of the Democratic states have Republican legislatures, so he will probably be able to operate effectively in those states," he said.
"He was an incredibly effective governor for the things that he believed in, but he didn't do that in a bipartisan way," Bonior said. "He was able to achieve his goals through his well-honed political skills." *
Staff Writer William Welsh can be reached at wwelsh@postnewsweektech.com.