Author Archive
Natalie Alms
Staff Reporter, Nextgov/FCW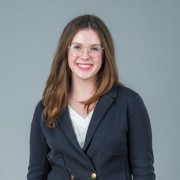 Natalie Alms is a staff reporter at Nextgov/FCW covering federal technology policy, service delivery, customer experience and the government's tech workforce. She is a graduate of Wake Forest University and has written for the Salisbury (N.C.) Post. Connect with Natalie on Twitter at
@AlmsNatalie
.
Contracts
"We could not allow a lapse in the scorecard," Rep. Gerry Connolly, D-Va., said of the Tuesday roundtable discussion held without Republicans.
Contracts
"The big thing that happens..is lots of lawyers weighing in on what activities are actually exempt," one former official said.
Contracts
The personnel agency recently released its first IT strategic plan in nearly a decade.
---
Contracts
Agencies have until Sept. 22 to send in submissions for funding.
Contracts
Although the White House said the proposed update to the Federal Acquisition Regulation will help the government meet its zero-emissions goals, some stakeholders want it to go further.
Contracts
The Technology Modernization Fund currently has over $750 million invested across 45 projects in 27 agencies.
Contracts
Is it time for a national strategy to ensure efforts for making government easier to navigate don't let up?
Contracts
IRS Commissioner Danny Werfel told reporters on Thursday that technology will be key to achieving the agency's intentions to transform customer service at the agency and shrink the tax gap.
Contracts
A new Government Accountability Office audit details how the Veterans Affairs Department's chief information officer was not always in the loop on these decisions.
Contracts
The Biden Administration's fiscal year 2024 budget request emphasizes funding for the President's Management Agenda goals, including customer experience.
Contracts
A depleted workforce, lack of funding and barriers to information sharing across the public and private sectors are among several challenges these executives cite regarding the federal government's new sweeping cybersecurity strategy.
By

Natalie Alms and Chris Riotta
Contracts
The order directs agencies to consider including their civil rights offices in decisions about artificial intelligence systems.
Contracts
The Agriculture Department awarded over $50 million in grants last month for WIC modernization and outreach and is pursuing efforts to change regulations to permit online shopping in federally funded nutrition programs.
Contracts
The inclusion of customer experience and service delivery priorities in budget preparation guidance from OMB will likely get the attention of agencies as they prepare their budget requests for the next fiscal year, experts told FCW.
Contracts
DHS is considering how it might use self-assessments for vendors to measure their cyber hygiene—an approach that would set it apart from the Defense Department's plans for third-party assessments.
Contracts
The agency is going to work with the National LGBT Chamber of Commerce as part of an effort to increase access to contracting for LGBTQI-owned small businesses.
Contracts
FedRAMP funding and budget to support zero trust initiatives at civilian agencies are also on the appropriations wish-list of the Alliance for Digital Innovation.
Contracts
Total fraud levels in pandemic relief programs are upwards of $100 billion, but getting a clear estimate is made difficult by data gaps and ongoing fraud recovery efforts, officials said at a Senate hearing.
Contracts
Jason Miller, deputy director of management at the Office of Management and Budget, a key leader in security clearance reform efforts, says to expect major milestones in 2022.
Contracts
Chief Justice John Roberts invoked the federal contractor mandate – currently blocked from taking effect due to a lawsuit – at a hearing at which two separate vaccine authority cases were argued on Friday.