Amy Gilliland on building a 'company with a soul'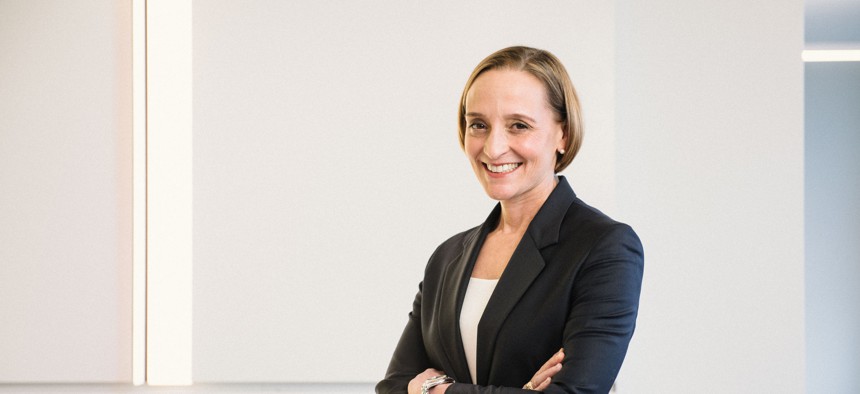 During our Top 100 celebration, General Dynamics IT's president singled out support of employees as critical to business success.
Amy Gilliland leads General Dynamics' IT business as its president and was the main keynote for our Top 100 Big Reveal event Wednesday night.
General Dynamics ranks at No. 5 on the 2022 Washington Technology Top 100 on $6.3 billion in prime contract obligations. That number includes both GDIT and General Dynamics Mission Systems -- the defense company's communications and space hardware business.
I conducted a Q&A with Gilliland at the Big Reveal, where we also had a countdown of the top 10 companies. We talked about her priorities, changing customer needs, how to support employees in today's world and how her job has changed since becoming president of GDIT in 2017.
Below is an edited transcript of our conversation.
WT: What changes in the market stand out to you?
Gilliland: Two things stick out to me. One is that IT is critical to the mission and the recognition of the role IT plays. It's not discretionary spending anymore. A lot of things have taught us that.
Obviously COVID and how we work today is part of that. SolarWinds is a part of that. What we're doing in Ukraine is part of that. Things like the Pentagon's JADC2 (Joint All-Domain Command and Control) is part of that. You name it.
There are implications for systems integrators and what our responsibilities are. SIs have a responsibility to quickly bring commercial technologies to the government and to innovate faster.
WT: How has GDIT changed in response?
Gilliland: It wouldn't surprise you that GDIT is a completely different company. The first thing we did was focus the business. We sold a billion dollars in 2018 of what I call non-core business.
That allowed us to focus on our core and the technologies that the customer needs -- artificial intelligence, machine learning, cybersecurity, the cloud. That's been our journey over the last couple of years and we see it paying off.
We have a lab in St. Louis called Deep Sky. We are doing cyber, high-performance compute, AI, and ML to quickly bring those technologies to the National Geospatial-Intelligence Agency.
We've changed our business model. We were three separate businesses and now we can leverage successes and solutions in one part of the company to another.
We are much more collaborative than we used to be. Being a large business is great, but only if you can harness the resources and the employee relationship is very different than in 2017.
When I came to GDIT, it was a very transactional company. People were here one day and gone the next. What I see now is employees want the company to care about them and their future. People are asking about their development and career path before we even talk about compensation.
Employees also want to see themselves at the company and that's why diversity and inclusion initiatives are so important.
WT: How did you change the culture?
Gilliland: We are trying to build a vibrant community and this is a page out of the CSRA book. (CSRA is the company GD acquired in April 2018 that effectively doubled the size of GDIT.) We adopted their leaders forum. We were integrating two $4.5 billion businesses and it was clear we weren't going to do it from the top down.
From that day forward, it was about empowerment. "Here's what we're doing. We want your input. You can help us make the decision on how to proceed."
They owned the decisions, and when they own it and everyone understands their role in moving the company forward, a big company can feel like a small company.
That's what you want for people to feel connected. You have to communicate in very different modes. Some employees like emails, some like to watch videos, some like podcasts.
Employee resource groups have been huge for us. They've helped us navigate societal issues during COVID and in the aftermath of George Floyd.
Now as a company we are having regular meetings and discussions that support employees around things like what happened in Buffalo or LGBTQ-plus parents and how they navigate the environment with their children.
We're having conversations about veteran suicide. Thirty percent of our population are veterans.
That is how you build a company with a soul.
WT: Do you see a financial benefit from doing these things?
Gilliland: It's simple in my mind. If you take care of your employees, your employees take care of your customers.
If you are spending hours trying to schedule medical appointments for your parents or if you have a special needs child, or if you are grappling with depression and just trying to fight on and do your job then those individuals are not focused on delivering their jobs. So, the connection is very strong.
There is a direct correlation between employees being supported and employees performing. It's not that there's a compassionate environment and we're all nice to each other and results don't matter.
I have a boss and we have financial commitments and we have consistently delivered on all of them. So, I believe not just intuitively but from a metrics perspective. I have proof that people who feel supported perform well.