Power of partnerships advances business and mission goals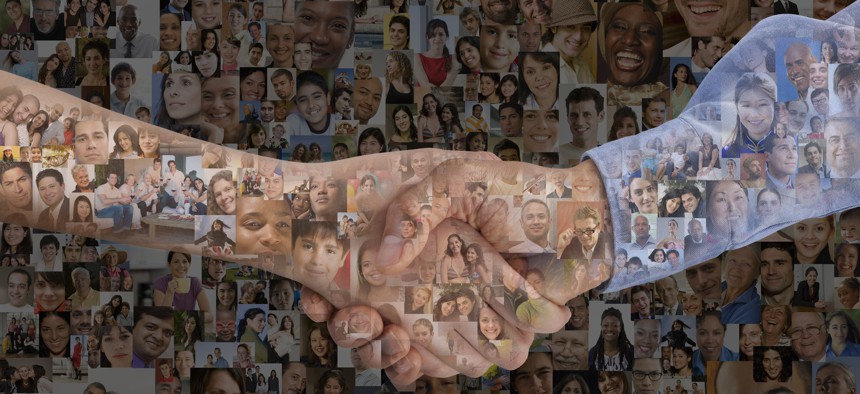 The ideal technology partner should offer proven solutions tailored for government with capabilities such as AI that help integrators to better serve customers.
Effective partnerships between systems integrators and technology providers are paramount for both mutual business growth and to meet government mission needs.
However, the power of industry partnerships goes well-beyond the prime and sub relationship to deliver capabilities that quickly and effectively address mission gaps for the government – particularly in areas where speed and innovation are critical.
The best impacts for both the government and industry are achieved when systems integrators partner with innovation providers that are both built for government and have strong past performance and predictability in their solutions. The government must leverage cutting-edge innovations that help our nation retain its competitive edge on the global stage without introducing new and unintended risks.
For innovation providers, the key is partnering with systems integrators who know how best to interact with the customer and understand how to bring their innovations to life for government. It is also critical to have a foundation of trust between partners, where each party brings something complementary and additive to the solution.
For the systems integrators, the right innovation partners can help accelerate projects which best meet customer needs, improve the integrator's probability of win (PWIN), and help create new revenue generation opportunities.  
For example, on a cloud transformation contract, the technology provider can analyze and rationalize the customer's current IT portfolio to provide the best proposed path forward. This could include insights on what applications to sunset and which ones to accelerate. When the innovation partner also has mature relationships with the major cloud providers there is also opportunity to deliver results faster, with greater impact, and at reduced costs.
This allows systems integrators to go beyond just moving applications to the cloud to offer a comprehensive strategic IT plan for customers. In addition to reducing transformational risks, the systems integrator can show the prospective customer what IT assets they have and how they interrelate, which can lead to a streamlined portfolio – and cost-savings for the customer. Ultimately, this can accelerate cloud adoption, lower risks related to cloud transformation, and deliver greater impact and lethality to the government's mission.
By performing this kind of IT analysis during the RFP phase, systems integrators can demonstrate their deep expertise and capabilities for gaining a true edge over the competition.
The most ideal technology partner should also offer a comprehensive portfolio of solutions, which makes it easier than dealing with multiple ad-hoc vendors on a customer engagement. This reduces integration, pricing and engagement complexities, which lowers risk to both the integrator and the government, while also improving the likelihood of success in winning contracts.
It is also important to note that many agencies have had their IT systems in place for nearly 40 years. The right technology provider should have a deep heritage in IT modernization capabilities that are built for government. Integrated products should also be FedRAMP approved or have received ATOs, which provide validation that these are the right offerings.
The right partnerships can also help systems integrators to break into new agencies and programs. For example, a newer provider of a less-mature innovation likely does not have long-standing relationships with a wide-range of potential agency customers. However, the right partner has the right agency relationships and are also future focused.
Just as the commercial sector is embracing artificial intelligence (AI) in 2023, government is also heading in this direction. For system integrators, this topic is certainly top of mind, especially when demonstrating effective use cases to government.
From a data integration perspective, systems integrators can partner with innovation providers who can offer generative AI capabilities to develop on-demand integrations, easy-to-build integration connectors and self-healing data mapping – rather than building out these capabilities internally.
Industry partnerships have always been critical for mutual business growth. As the government 2024 fiscal year has just kicked off, now's the right time for creating new avenues for partnerships that are beneficial for all.
---
John Sullivan is the business development director at Software AG Government Solutions. After serving in military intelligence, John has spent 20 years supporting the national security enterprise, primarily the Air Force and the aerospace and defense integrator community.