How DOD can more effectively leverage venture-backed innovation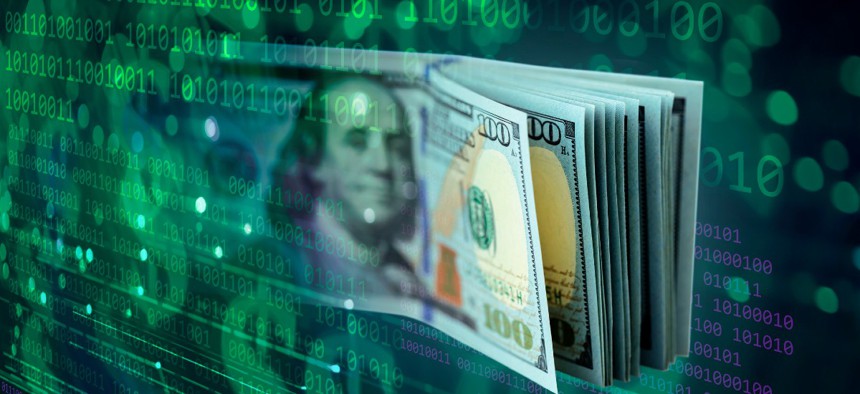 Shift5's co-founder and CEO Josh Lospinoso explains both how the venture capital ecosystem works and ways the Defense Department can lean into it for bringing in new technologies.
When Deputy Secretary of Defense Hicks announced the Replicator Initiative earlier this month, she said: "The Secretary and I bet on our free-market system over the PRC's statist economy any day of the week."
With the PRC rapidly accelerating its warfighting technologies – (albeit through theft of intellectual property ) – Hicks, like the vast majority of the DOD's senior leaders, know well the importance of commercial innovation in the context of Great Power Competition.
Key to that innovation is the role of venture capital.
VC funding provides financing to early-stage or high-growth startups and is a crucial source of funding for many innovation-driven businesses. VC firms diversify their portfolio across different startups and industries to spread investment risk; not all investments yield positive returns.
Successful VC firms rely on careful selection, active management, and a long-term perspective to achieve profitable outcomes. In many cases, VC investments result in unique and impactful advancements in cloud computing, artificial intelligence, cybersecurity and other critical technologies.
As companies scale and establish product-market fit, the length of their runway depends on the capital they raised across funding rounds. Runways are not endless, and investors require key growth milestones from portfolio investments – such as increasing revenue, user base, or market share -- to maintain confidence.
Companies must strike a balance between rapid customer acquisition and sustainable growth to prove their theories and demonstrate growth potential and must prove this in a manner of a few short years.
When VC-backed companies aspire to support U.S. defense, challenges frequently emerge. The longstanding culture of the U.S. Department of Defense isn't optimized for such runways or investment models.
The DOD is accountable for mission success and readiness. The department can't accept the same level of risk as VCs because its margin for error is razor thin, and taxpayer dollars are on the line. As a result, a disconnect remains between the Department's visionary senior leaders, rightly focused on acquiring and deploying emerging technologies, and the pragmatic acquisition enterprise within the department.
To be clear, the DOD has made encouraging efforts to bridge the gap. Small Business Innovation Research/Small Business Technology Transfer programs leverage the potential of small businesses and entrepreneurs to amplify military capabilities while fostering a collaborative environment for the DOD, federal agencies, industry, and academia.
The Rapid Defense Experimentation Reserve is designed to greenlight prototyping initiatives at a brisker pace, and the Defense Innovation Unit focuses on accelerating the adoption of commercial technology for military use.
But these resources represent a starting point. Successfully translating prototyping efforts into full-blown defense projects and programs of record remains a rarity.
For VCs and the military community to come together in the interest of innovation and national security, VCs and the startups they support need a pathway to success.
The status quo – in which capital flows into defense startups without a proportional number of the startups making the transition to major procurements – paints a risky investment strategy for VCs. The flow of DOD dollars into tech companies demonstrates faith in the potential of industry. But if significant procurement remains this elusive, we risk losing a generation of venture capital investment.
Consider the implications if VC funding were to dry up. We would witness an exodus of talent and resources from defense-dedicated problems to commercial ones. Talent migration could compound the issues and trigger potential national security risks if our adversaries exploit the opportunity to advance their capabilities.
The DOD must invest to create and sustain conditions for success. In practice, that means streamlining and speeding up the process by which promising prototypes are transitioned into fully operational programs.
It requires working closely with startups, providing them with resources, mentorship and industry connections to navigate the complex and labyrinthine path which defines defense contracting. It involves the willingness to pick winners, and the flexibility for acquisition professionals to embrace a certain level of failure – not every cutting-edge acquisition will be a sweeping success, but that risk cannot preclude the department from investing in the promising defense tech of tomorrow.
In addition, military leadership should re-evaluate the existing bureaucratic and regulatory hurdles that often slow down progress. The introduction of initiatives like Accelerate the Procurement and Fielding of Innovative Technologies (APFIT) reflects the DoD's acknowledgement of the challenges. However, the Department must implement such programs more widely and effectively to bridge the chasm between prototyping and procurement.
It is possible that venture-backed businesses are just not aligning with key DOD requirements. It is also plausible that Pentagon acquisition officials assume venture-backed businesses have the money to survive what startups call the "Valley of Death," the one to two-year wait for a vendor to transition a prototype or commercially available product to a DOD contract.
Therefore, it is essential to maintain open lines of communication between the Department, venture capitalists, and their portfolio companies, to create an environment where capital continues to flow into the innovative businesses that will solve the complex national security problems of the future.
This could involve inviting VCs to DOD demonstrations, updating them on the status of projects and even facilitating partnerships between venture-backed startups and prime contractors.
Cultivating startup success is similar: These companies flourish with support in the form of lab access, mentorships, networking and, of course, funding.
If the DOD can take the aforementioned initiatives and expand them to the point in which prototypes more rapidly transform into significant military programs, then we will all cross the finish line of tomorrow's innovation – together.