Air Force initiatives take center stage at our next Power Breakfast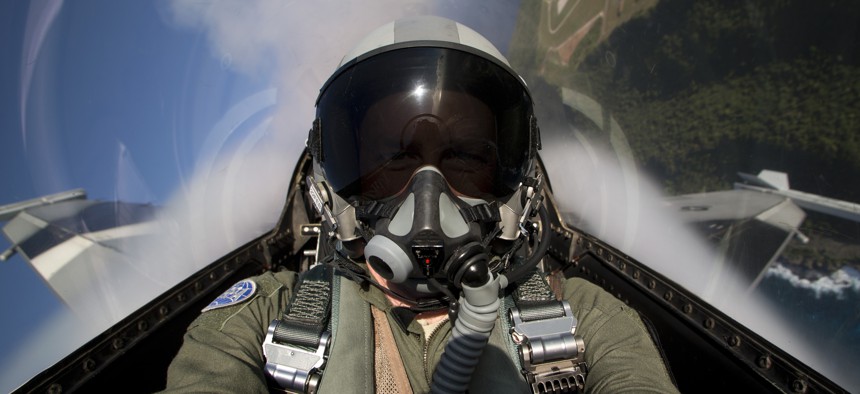 On March 10, leaders from the branch's chief information and small business offices will help us take a deep dive into their IT priorities
The Air Force has always been a technology leader in the federal government, so we will dive into the service branch's latest technology and business trends at our next Washington Technology Power Breakfast on March 10.
Our line up includes Winston Beauchamp, deputy chief information officer, and Mike McWilliams of the Air Force's small business office. Lisa Shea Mundt and Amber Hart of the Pulse of GovCon will also take us through the numbers at the Air Force while exploring the spending trends.
The event will run from 8:15 a.m. to 10:40 a.m. at the Carahsoft Conference and Collaboration Center in Reston, Virginia.
As deputy CIO, Beauchamp helps lead two directorates and supports 20,000 cyber and support personnel around the world. That portfolio is at around $17 billion in funding.
Beauchamp's responsibilities include the Air Force's IT investment strategy from networks to cloud computing. He also oversees efforts related to information resource management, enterprise policies, IT innovation initiatives and information assurance.
In other words, Beauchamp touches a little bit of everything that deals with IT at the Air Force. And with Secretary Frank Kendall's operational imperatives initiative, Beauchamp and IT are at the center of the Air Force's mission.
For McWilliams, that means overseeing small business opportunities as the Air Force works to meet its goals and meet requirements from the White House on doing that. He will explain how the Air Force works with small businesses and new initiatives that are in the works.
The Air Force is a hotbed of activity these days as it modernizes and transforms everything about it. For this market, it is about leveraging information to maintain an advantage over the adversaries that never sit still.
The Air Force can't sit still.
Our Power Breakfasts are free for Washington Technology Insiders. If you aren't an Insider, click here for more information.
To register for the Air Force Power Breakfast, click here.