Woman-owned business can grow their market share by working together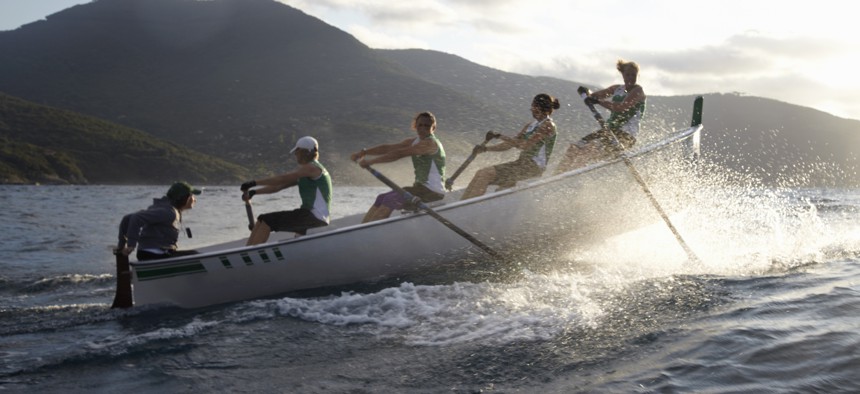 Last month a collection of Women Owned Small Businesses united on a call-to-action for government contract officers, program managers and digital services professionals. In their open letter, they urged agencies to make better use of woman-owned and economically disadvantaged women-owned contract set-asides, especially in the digital services space.
Build the market
The Biden Administration has increased the small disadvantaged businesses contracting target from 5 to 11%. This is a great start, but this alone will not automatically create more opportunities for women-owned businesses. On the heels of women's history month, we are sending out another call-to-action — this time to women-owned businesses — to work together to build the market we want.
Making the case
First and foremost, we must convince contract officers and program managers to create more opportunities for woman-owned small businesses. Here are three great reasons:
#1: Private technology companies led by women are more capital-efficient, achieving 35% higher ROI. In addition, startups founded and co-founded by women performed better over time, generating 10% more in cumulative revenue over a five-year period. This efficiency and achievement translates into better performance for the government and lower overall costs.
 
#2: There is a strong and statistically significant correlation between the diversity of management teams and innovation. WOSB-led projects will bring a wider variety of perspectives and ideas for delivering quality digital services that work for your customers.
 
#3: Investing in women owned businesses can help reduce the gender pay gap. The intent of socio-economic programs are for the government to assist in bringing money into social areas in need of support. By supporting WOSBs, specifically in technology, the government is taking an active step to make companies who specialize in workforce equality more successful.
Understanding the parameters
Contract officers are eager to make use of WOSB and EDWOSB set-asides and sole source authority, but the Federal Acquisitions Regulation makes WOSB sole source procurements painstaking to award.
For example, the WOSB Federal Contract Program does not work the same way as the 8(a) Business Development Program. The 8(a) Program is a statutorily authorized business development program that allows contract officers to make direct awards without having to compete the work. By contrast, the WOSB Program sole source authority still requires application of the Rule of Two prior to using it.
But this doesn't mean contract officers cannot find ways to work with WOSBs; it just means they have to do a little more market research and explore set-aside options. Women-owned small businesses must take action to collaborate with contract officers to expand the use of WOSB set-asides and sole source awards.
Let's make this happen
For SBA's WOSB Program to be successful, woman-owned small businesses must make their contribution to government contracting dollars so substantial that their business area NAICS codes can be removed from the underrepresented list. Through more set asides awarded in IT and digital transformation efforts, this is a goal that woman-led technology companies can achieve.
As a starting point, we need to work together. WOSBs should build informal coalitions and share opportunities. Contract officers won't set aside awards for WOSBs if they don't believe there are enough WOSBs who will bid on the work. In fact, there are a wealth of WOSB digital service companies. By sharing opportunities with each other, and responding to RFIs en masse, we can demonstrate a strong market push for more WOSB set-asides.
We must also actively work with each other to form teaming partnerships for bids. When we win together, we make the WOSB market stronger. Successful WOSB set-aside competitions will lead to more opportunities government-wide.
Make Ourselves Heard
For centuries women have worked to create their own opportunities and demand representation. We can build on this rich history and carve-out a space for ourselves in this industry. Through strategic collaboration, we can show government agencies that we're here and we're open for business.
---
About the Authors
Mary Lazzeri is a former technology advisor and bureaucracy hacker at the Office of the Federal CIO and United States Digital Service. She now serves as head of growth for Bloom Works, a WOSB and EDWOSB.
Traci Walker is the Executive Director of the Digital Services Coalition, a nonprofit organization representing government digital service providers. Previously she was the Director of Procurement at the United States Digital Service (USDS) and co-creater of the Digital IT Acquisition Training (DITAP) program.