GovCon execs enter the world of pro sports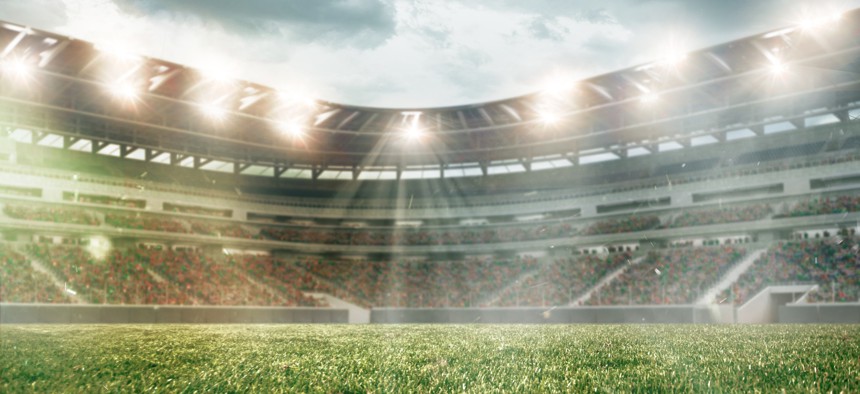 Attain's Greg Baroni and Cognosante's Michele Kang are making moves into the world of professional sports, which may seen like a big leap but isn't.
Over recent weeks, two well-known executives in the government contracting world have made headlines for decidedly non-GovCon reasons.
Now getting into the world of professional sports are Y. Michele Kang, founder and CEO of health IT company Cognosante; and Greg Baroni, a long-time executive and founder of Attain Partners.
Baroni sold the federal portion of Attain to Maximus last year for $430 million. He has since started Attain Sports and Entertainment and acquired the Bowie Baysox, a minor league baseball team in the Baltimore Orioles' system.
That sports arm with the Attain branding has also purchased the Frederick Keys, a collegiate summer baseball team. Both teams are in Maryland.
His rationale as said in the release is straight-forward: it's a feel-good thing.
"It's about building teams and serving the players and fans, and that resonates with me," Baroni said when the transaction was announced last week.
Kang's sports endeavor is a very different story, though her motivations and actions are driven both by good intentions and a passion for soccer.
She is a co-owner of the Washington Spirit, the D.C.-area team of and 2021 champion of the National Women's Soccer League, and wants to buy control of the club from Managing Partner Steve Baldwin. Negotiations between them have been contentious to say the least.
I don't necessarily want to rehash all of that. But here is a Washington Post story describing their battle: Co-owners of NWSL's Spirit fight for control after abuse allegations against coach.
A little more of the juice is detailed here in Sally Jenkins' column published Thursday: The NWSL's toxic dispute between a man who failed and the woman who should replace him.
I hope Jason Sudeikis and the other writers behind the Ted Lasso TV show are taking notes. There are definitely some plot lines they can copy.
So, what does all this say about government contracting?
We had just launched our Project 38 podcast in 2018 and one of our first guests was industry veteran John Hillen, now CEO of EverWatch. At the time, he was both an executive in residence and professor of practice at George Mason University's school of business.
In what was just the second episode we recorded, we talked about whether GovCon was a real market and signs of its maturity. Click here to go back and listen again, but please excuse the sound quality as we were just getting started.
Our conversation centered around the basics of a mature market, such as having a lot of buyers and sellers and being competitive and transparent.
GovCon is still evolving in those directions. But it isn't as much of a political process as it was 30-to-40 years ago when there were fewer sellers, higher barriers to entry, and much more burdensome rules and regulations than today.
But one area that didn't come up was was wealth creation and what to do next. That's what comes to mind when thinking of Kang and Baroni's sports ventures.
For a lot of reasons, the government market is a feeding ground for entrepreneurs and few can argue with the entrepreneurial acumen of Kang and Baroni. They built strong, profitable businesses and earned their success.
Both are active in their communities, so I see their sports purchases (or ongoing attempt to purchase in Kang's case) as outgrowths of that activity.
Professional sports teams are for-profit businesses yes. But the players, the fans and the broader community are driving values as well.
Because Kang is involved in a fight for the Washington Spirit, her passion is front-and-center. The Spirit playing group knows her passion and her leadership skills.
In her column, Jenkins quotes a letter they wrote to Baldwin:
"Let us be clear, the person we trust is Michele. She continuously puts players' needs and interests first. She listens. She believes that this can be a profitable business and you have always said you intend to hand the team over to female ownership. That moment is now."
In many ways, sports team ownership isn't too different from owning a government contracting business. Baroni talked about how team building and serving players and fans resonated with him.
That echoes what I've heard so many GovCon executives say about their companies and customer relationships. It's not a big leap from GovCon to sports: focusing on the mission drives success.
So here's the sign of maturity that I see: two seasoned GovCon executives taking the skills and values they learned in this market and applying it to a new market.
A second thing I learned is to not mess with Michele Kang. Just look at the board room hat trick she's scored over Baldwin. She's someone you want on your side of the pitch.