Government proposes a sustainability update for contracting regulations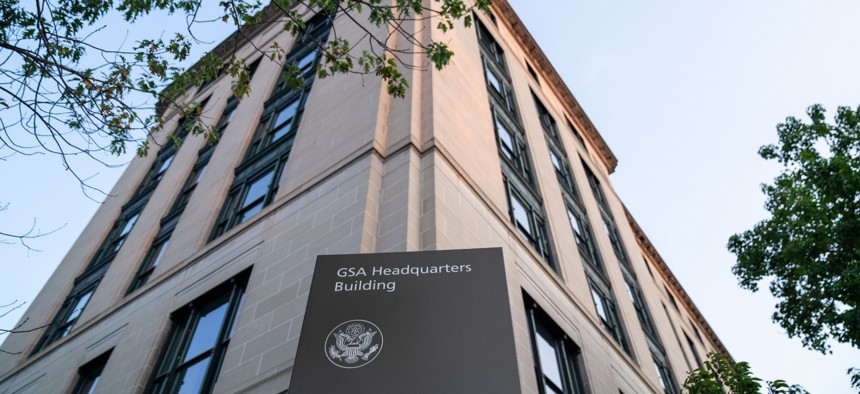 Although the White House said the proposed update to the Federal Acquisition Regulation will help the government meet its zero-emissions goals, some stakeholders want it to go further.
The federal government is reworking sustainability provisions in the Federal Acquisition Regulation — or FAR — which serves as the primary policy for government acquisitions. 
The Biden administration said that the updates will ensure that the U.S. government — which spends over $630 billion on products and services annually — prioritizes sustainability, a position that could shape markets in addition to helping the government cut its own emissions.
The proposed rule, released Aug. 3 and open for comments through Oct. 2, looks to clean up messy, existing sustainability-focused regulations and implement an executive order on federal government sustainability.
The Biden administration said that the FAR update will help the government meet the goal of net-zero emissions from procurement by 2050.
"Emissions associated with the federal supply chain… are estimated to be more than twice as large as the emissions from operating the federal government's buildings and vehicles combined," the White House said in its announcement of the newest proposed rule. 
The "sustainable products and services procurement rule" adds language to require agencies to "procure sustainable products and services… to the maximum extent practicable." Currently, the FAR requires agencies to have 95% of contract actions require products that are energy-efficient and environmentally preferable. 
The proposed update also directs agencies to follow a set of specifications, standards and ecolabels for federal purchasing, laid out by the Environmental Protection Agency for government buyers to identify sustainable products and services. 
Primarily, though, the new proposal is "a housekeeping measure" that is "intended to streamline and consolidate the sustainability provisions and make them more logical and one clause, as opposed to five clauses," Kara Sacilotto, a partner at Wiley Rein LLP who specializes in government contracting, told Nextgov/FCW. 
The current version of the section — FAR part 23 — includes not only sustainability measures but also other, unrelated items about texting while driving and drug-free workplaces, for example.
This latest update follows another proposal to add greenhouse gas emission reporting requirements for certain contractors — an idea that has proven to be contentious, coming under fire from Republicans on Capitol Hill and some contractors. That proposal followed another proposed environmental disclosure rule from the Securities and Exchange Commission.
Nicole Darnall, director and cofounder of the Sustainable Purchasing Research Initiative at Arizona State University, told Nextgov/FCW that, "as the largest purchaser in the world, GSA has the potential to radically change supply chains globally."
Darnall is also a member of GSA's Acquisition Policy Federal Advisory Committee, although she was not speaking with Nextgov/FCW on behalf of the committee.
"It's a watershed moment for the federal government to consider their responsibilities in federal acquisition," she said of the most recent proposed rule.
"Those responsibilities go beyond providing low-price goods and services across different federal agencies — there is a really important social value, and by social value, I mean also sustainability. That is inherently tethered to these decisions, and for me, it is a welcomed response to see that this is finally getting considered."
"As the world's largest buyer, we have a responsibility to lead by example and accelerate the move toward buying clean," Robin Carnahan, GSA administrator, said in a statement included in the White House's announcement of the proposed rule. 
Still, realizing that promise will take "radical change" on the part of the government and businesses, Darnall said. Specifically, it will take upskilling in the vendor community and the government's acquisition workforce.
Other stakeholders say that the government isn't going far enough.  
"Something is always better than nothing," Steven Schooner, procurement law professor at George Washington Law School, told Nextgov/FCW of the recently proposed rule. He formerly worked at the Office of Federal Procurement Policy at the Office of Management and Budget and also currently serves on the GSA acquisition advisory committee, although he was not speaking on behalf of that committee. 
The "primary achievement" in the recent proposed rule, he said, "is a reimagination — and, in large part, an almost complete replacement — of the relevant aspects of FAR part 23," something that "was unhelpful, disorganized, confusing and more often than not just plain out of date and wrong."
But Schooner said that the latest proposed rule and the greenhouse gas reporting rule "haven't asked the acquisition workforce to meaningfully engage in sustainable procurement," calling the disclosure rule specifically a "check-the-box exercise," and haven't done enough to elevate sustainability as a top priority for the acquisition workforce. 
"If you believe that the future [of] the planet is important, and if you believe as a government that nothing is more important as a government than ensuring quality of life for future generations, maybe you put some clear language in FAR part one that focusing on doing less harm to the planet in every procurement you make is worth thinking about," he said.
Brenda Mallory, Chair of the White House Council on Environmental Quality, said in a statement that "President Biden believes that when we spend American taxpayers' dollars, we should be investing in America, reducing costs and building a more sustainable future. Through today's action, we are doing just that."
The White House did not provide comment by the time of publication.
Editor's note: This article has been updated to reflect Steven Schooner's title.