DOD looks to counter China by accelerating drone acquisition, production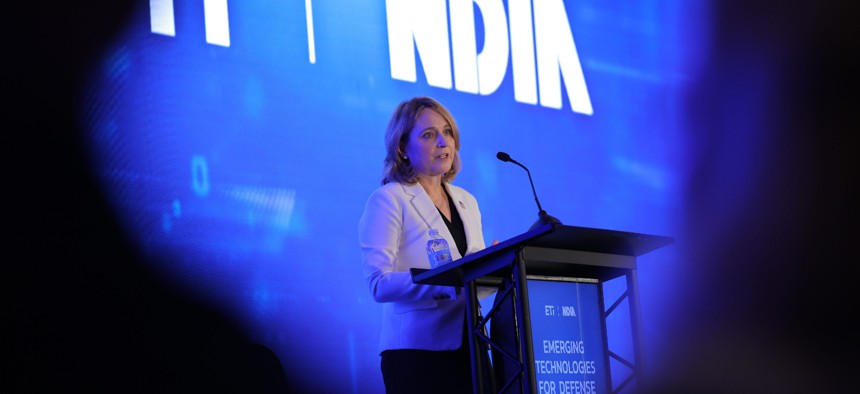 The U.S. is pivoting to a fast and agile acquisition and manufacturing plan to deter and counter China and other global rivals with cheap, low-bandwidth drones. 
The "Replicator" initiative, announced by Deputy Defense Secretary Kathleen Hicks at the NDIA Emerging Tech conference on Monday, is designed to address China's numerical advantage in population and certain weapons capabilities. 
Under the initiative, the U.S. military plans to field thousands of autonomous capabilities that are cheaper and easier to reprogram — and more reusable and expandable — than existing systems within the next two years. 
Additionally, Hicks noted, the reliance on "attritable, autonomous systems" will have the result of putting "fewer people in the line of fire."
"They can be produced closer to the tactical edge. They can be used consistent with our principles of mission command, where we empower the lowest-possible echelons to innovate and succeed in battle. And they can serve as resilient, distributed systems, even if bandwidth is limited, intermittent, degraded or denied," Hicks said.
Hicks is overseeing the Replicator initiative alongside the vice chairman of the Joint Chiefs of Staff, with support from the director of the Defense Innovation Unit — a cross-cutting group at DOD focusing on emerging tech. 
"These capabilities will be developed and fielded in line with our responsible and ethical approach to AI and autonomous systems, where DOD has been a world leader for over a decade — and we've kept pace with change as technology has evolved," Hicks said.
She stressed that large, bespoke weapons systems are still a priority at DOD, but she's looking to Replicator to address "the too-slow shift of U.S. military innovation to leverage platforms that are small, smart, cheap and many." She said she's looking to new entrants to military procurement, as well as established players large and small, to play a role in the effort.
"We've all seen in Ukraine how emerging tech developed by commercial and non-traditional companies — from Starlink to Switchblades to commercial imagery — can be decisive in defending against modern military aggression. It's a vital…complement to traditional capabilities, which remain essential," she said.