13 JWCC task orders have been awarded, with more in the works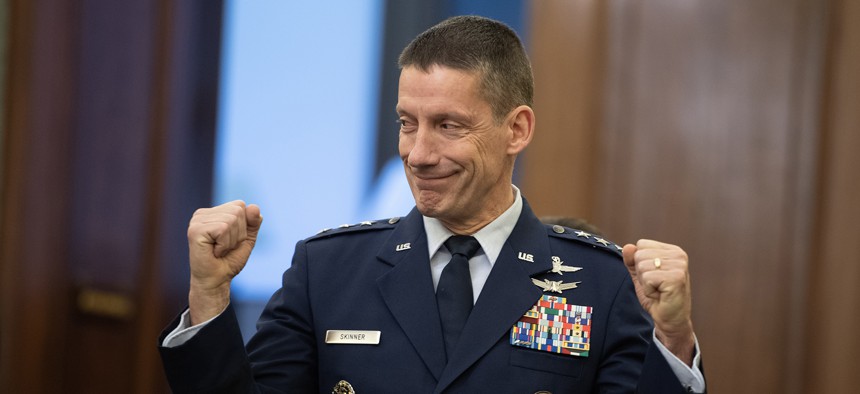 The Defense Department's enterprise cloud contract is already generating robust acquisition demand, coming on the heels of its chief information officer directing component agencies to use the vehicle in new cloud buys. 
Defense Information Systems Agency Director Lt. Gen. Robert Skinner said at the AFCEA TechNet Augusta conference Wednesday that 13 task orders off the Joint Warfighter Cloud Capability contract have already been awarded — worth more than $200 million over the lifecycle of the contract — and more are on the way.
The JWCC contract is held by Google, Microsoft, Amazon Web Services, and Oracle.
"A lot of work has gone on with JWCC, I think that is a success story," Skinner said. "We've got like 13 [task orders] in contracting right now and 45 packages to where the department is truly moving out on this. And nine of them are associated with [Combined Joint All Domain Command and Control]. So there's a link with CJADC2 when it comes to the cloud."
CJACD2 is the rebranded version of the DOD's Joint All Domain Command and Control effort, which is the department's multidomain initiative to integrate sensors across air, land, sea, cyber and, now, allied network domains to reflect a combined JADC2 development that will provide defense leaders real-time command data. 
Earlier this month, DOD CIO John Sherman a issued a memo directing that all existing DOD cloud contracts be transitioned to JWCC upon expiration and that any new secret or top secret-level cloud capabilities — also known as DISA Impact Level 6 — go through JWCC. 
The memo made ripples when announced, as DISA officials had initially said that the armed services could continue to use their own cloud networks, a sentiment that Skinner seemed to allude to Wednesday.  
"We are working hand in hand with [the Army Enterprise Cloud Management Agency] and the other service cloud offerings to see how we can work together to make sure the department gets the best value for their cloud capabilities and cloud hosting," he said.
Skinner also added that DISA was leveraging infrastructure-as-code and accelerators to help DOD components onboard cloud capabilities, but called on industry to help smooth the rough waters of getting software applications to the cloud. 
"Those mission partners that aren't cloud experts, we have set up an environment to include what we call Vulcan, which is our DevSecOps, that enables our mission partners to leverage the cloud even faster," he said. "My question and ask to industry is application rationalization."  
Skinner said that rehosting an application in the cloud does little from a security and performance standpoint and called for industry partners to continue efforts moving legacy applications to the cloud while modernizing them at the same time 
When asked about the potential task orders related to CJADC2, Skinner deferred the specifics to the mission partners requesting the task orders.
He also said that DISA was already approving information-sharing between allies over cloud networks, as opposed to strictly on-prem networks. 
"Is it to the level that we want it to be? No," he said. "We already have instances where we have partners in cloud environments with DOD and sharing that information."