IBM wins second shot at Air Force 'Internet of Things' contract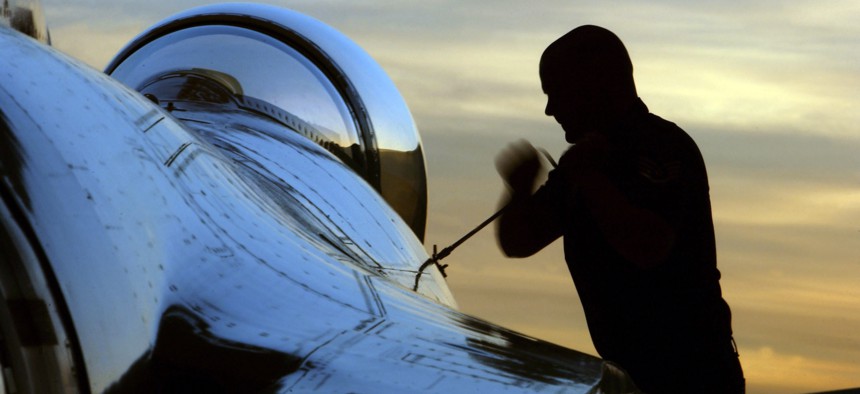 Big Blue challenged the Air Force's choice of Accenture to build the platform at Tinker Air Force Base, but now the service branch will reconsider part of the evaluation.
IBM didn't succeed on each part of its protest against the Air Force's award of a contract to Accenture.
But the Government Accountability Office saw enough in Big Blue's arguments to tell the Air Force that it should do at least a partial re-evaluation and make a new award decision.
The Air Force could again choose Accenture because among the challenges IBM submitted as part of a protest, GAO only told the Air Force to take a second look at how it evaluated Accenture's pricing.
The contract at the heart of the dispute is a small one at $25 million. Maybe the price tag doesn't look great, but it is high-level work and looks like it has the potential to expand or be a gateway to similar work.
The Air Force Sustainment Center wants what it calls an "industrial internet-of-things" platform inside an air logistics facility at Tinker Air Force Base in Oklahoma. Eventually, that IOT platform could be used at multiple bases.
Some of the objectives of the contract include improved visibility into maintenance and manufacturing activities, breaking down data silos, automated business processes, and aggregated operational technology data at the enterprise level.
In its protest, IBM argued that Accenture should have been rejected because it didn't meet the minimum relevant experience criteria. IBM also claimed the solicitation was ambiguous because the requirements weren't clear, the agency's discussions were misleading and unfair, and that the best-valued tradeoff was flawed.
GAO rejected all of those claims. But IBM's challenge to the price realism evaluation was enough for GAO to send the award decision back to the Air Force. GAO found the evaluation of several contract line items was unreasonable.
Which means the contract is back at the Air Force. GAO's decision gives IBM another chance to win, but Accenture could also win again. It's anyone's ballgame right now.