DHS wants to deploy 'easy button' for cloud adoption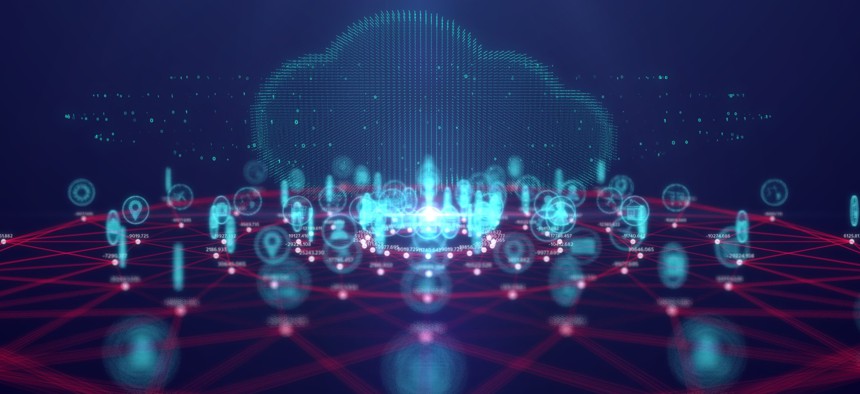 The department is developing a new contract vehicle to make it easier for components to buy cloud services.
The Department of Homeland Security is planning a new contract vehicle to help components buy cloud.  
DHS Deputy Chief Information Officer Beth Cappello said Wednesday at an FCW event that the department is moving forward with its new indefinite delivery/indefinite quantity contract vehicle designed to help its 22 component agencies acquire cloud capabilities.
"One of the things we are trying to facility at DHS [Office of the Chief Information Officer] is an acquisition strategy that will support this need for agility and flexibility and scalability within the components and basically give them an easy button," said Cappello at FCW's Cloud-Driven Transformation event on Nov. 16. 
That easy button is taking shape as a strategic sourcing vehicle for cloud infrastructure-hosting services dubbed the Enterprise Cloud Infrastructure Provider Suite, or ECLIPS.
The ultimate goal of ECLIPS is to streamline the department's approach to cloud acquisition as its spending increases. 
Between fiscal years 2019 and 2021, DHS' components reportedly spent $390.1 million on cloud services, but that number is projected to grow disparately across the department over the next decade. Customs and Border Protection and Cybersecurity and Infrastructure Security Agency both projected to increase spending by well more than 10% and U.S. Citizenship and Immigration Services to grow as much as 50%.
Cappello said that ECLIPS, which is still in development following a Nov. 7 industry day, is intended to offer component agencies consistency, ease of use and streamlined ordering and will maximize efficiency for acquiring cloud infrastructure services.
According to presentation slides from the industry day, ECLIPS is expected to have between four to eight cloud service providers and/or resellers as awardees under a suite of single-award IDIQs and will be offered over a five-year base period, followed by both a three-year and two-year option. More details are available in draft contracting documents posted on Sam.gov.
That disparate approach to cloud within DHS demonstrates the need for ECLIPS to be just as adaptable to the various mission needs and maturity levels of the components, Cappello said, noting that the department still has one of its data centers, colocation sites and some on-prem facilities in addition to multiple cloud networks. 
"We have a hybrid environment," she said. "In looking at that complexity, it's going to be really important in this vehicle that we think about all of these things and make the vehicle as flexible as possible to meet all of the requirements across the department."
The contract will include Infrastructure as a Service, Platform as a Service and Software as a Service offerings, alongside other capabilities like cloud migration strategy, cloud-related IT professional services, multi-cloud environment management software, key management and data encryption. Cloud service providers will need to have FedRAMP Impact Level of "Moderate" or "High" marketplace product offerings to compete on the contract.
The deputy CIO said DHS is still incorporating market research and aims to finalize the scope of the contract vehicle by either the end of the calendar year or early in 2023.