Booz Allen continues push for Air Force IT support work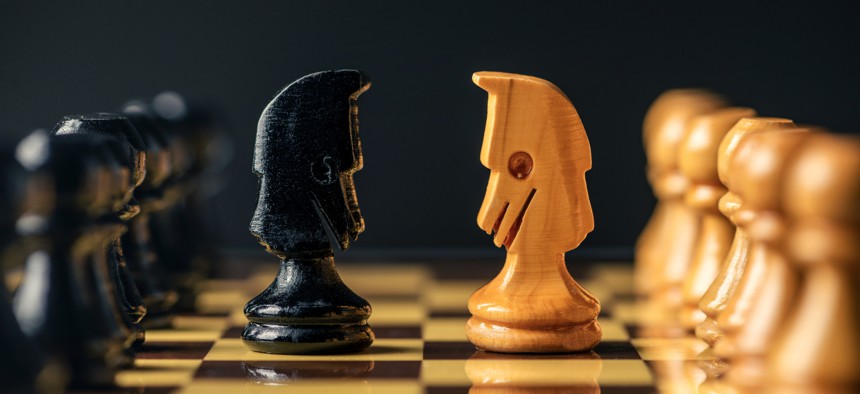 The award has twice now gone to a competitor and followed by the same number of protests.
Booz Allen Hamilton is continuing to voice its displeasure over an Air Force task order that went to General Dynamics for IT support services.
The Air Force is using the Alliant 2 vehicle for the order, which covers support for mission deployed systems and special programs. General Dynamics IT first won the task order on Aug. 18, 2020 with a bid of $64 million.
Protest number one from Booz Allen in early September focused on how the evaluation was conducted. Booz Allen claimed the discussions with bidders were misleading and the best-value determination was unreasonable.
All pretty standard stuff, but what came next is what makes this protest different.
Most often, protests lead to a corrective action. An agency quickly recognizes a mistake or issue the protester has pointed out. A majority of corrective actions happen within 30 days after a protest is filed.
Not so in Booz Allen's case.
The Government Accountability Office was just a couple of weeks away from issuing its final decision when the Air Force and General Services Administration decided to take a corrective action.
GAO had informed them after an alternative dispute resolution hearing that the Air Force and GSA were going to lose.
The Air Force and GSA agreed to do a new tradeoff analysis and a best-value determination.
GAO also ruled that the Air Force and GSA should reimburse Booz Allen for the company's legal expenses because the corrective action was so late in the process.
Booz Allen is still displeased with all this because after the Air Force and GSA took the corrective action, they again awarded the contract to GDIT.
Not too surprisingly, Booz Allen has gone back with another protest.
The firm is challenging the best-value tradeoff decision, how discussions were conducted and the agency's evaluation of proposals.
In my reading of the last point, GDIT must have gotten higher technical scores than Booz Allen did.
The decision on the latest protest is expected by Aug. 24.