Space Force wants a 'bloodhound' to sniff out cyberthreats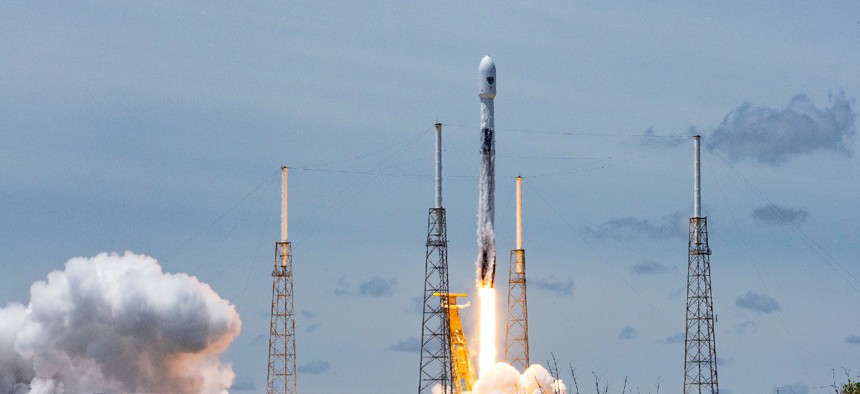 A new contract with the moniker Digital Bloodhound will focus on protecting the ground-based networks that manage Space Force assets.
 U.S. Space Force has kicked off development of a seven-year contract for cybersecurity services to protect the ground networks that manage its space assets.
Space Force's cyber operations division has dubbed the contract Digital Bloodhound and it will be a multiple-award, task-order contract. The solicitation is expected before the end of the year with an award by the end of March 2023.
The cyber operations division currently has two product lines for defensive requirements for cybersecurity and national security called Manticore and Kraken, according to the Sam.gov posting.
Manticore duplicates data and analyzes the data but has no ability to impact mission data or mission systems in real time.
Kraken brings more real-time defense against active cyber threats.
The new contract will be used to further develop and expand those product lines. This will include commercial software development.
Space Force wants open architecture and non-proprietary solutions to improve the product lines as well as sharing and incorporating new data streams.
Space Force will retain the government purpose rights for technical data and software in order to ensure the technical baseline is maintained.
Many of the requirements in the draft statement of work focus on making Space Force's cyber operations more flexible and responsive.
Some examples include deliver space enterprise protection and threat detection, continuous integration and development of cybersecurity applications using agile software development, and participation in demos, analysis of alternatives to current application designs.
Responses to the request for information are due Aug. 19.
Space Force plans Digital Bloodhound to be a full-and-open competition but small businesses are being encouraged to respond to the RFI. Depending on the responses the contract could become a small-business vehicle or have a small-business track.