Leidos' new CEO puts initial focus on fine-tuning, new North Star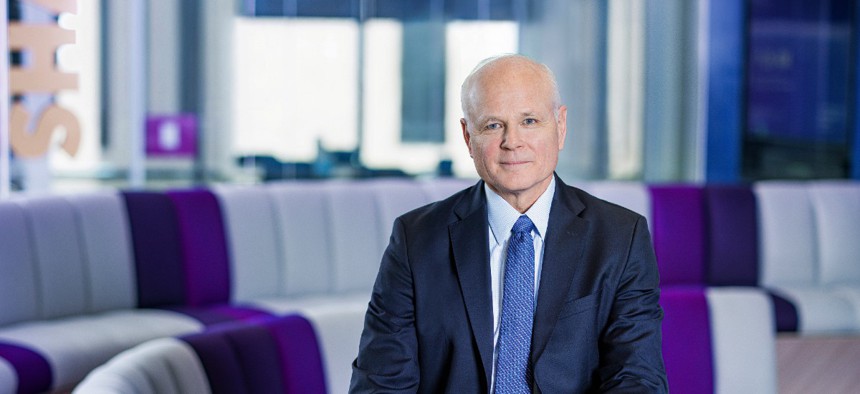 Tom Bell described to us how the federal market's largest systems integrator is developing a "proprietary hypothesis of the future" that will shape its decisions about investments and the business model.
Tom Bell is just over 90 days into his job as chief executive of Leidos after the nine-year tenure of Roger Krone, who led the company through exponential growth via large contract wins and acquisitions.
"The board obviously was very supportive and happy with how Roger built the company. It was a success by almost every measure," Bell said during an interview with Washington Technology.
Bell said the board gave him no specific goal or directive other than "How do you take this amalgamation of capabilities and this great company called Leidos to the next gear... That was what the conversation was all about."
Bell outlined several things that he will focus on at the federal market's largest technology integrator over the next six months.
THE NEED FOR SPEED
Bell has been speaking with government customers during his three months as CEO and one thread that connects many of those conversations is what he calls the "increasing clock speed" that agencies are dealing with.
"Their hard problems are coming at them at a pace they've never encountered before," he said. "I've been asking them 'Are we moving at a pace that is quick enough for the threats you're facing?'"
The need to pick up the pace isn't unique to Leidos and Bell sees it as an industry-wide theme, but more so about how acquisition and procurement works rather than how companies operate.
"The customer doesn't think anyone is moving fast enough but that kicks off an alternative conversation about contracting," he said.
Bell described that scenario like this:
The conversations start with the challenges and quickly turn to a contracting conversation, then development of a solicitation. The customer decides whether it will be fixed-price or cost-plus. It takes time and slows down the process of fielding a new solution or technology to meet a mission need.
Bell thinks the contracting questions should be removed from the conversation, at least so early in the process.
"It strikes me that never has it been more necessary for agencies to talk to industry beyond the constraints of a contracting mechanism and say, I need this capability by this date," Bell said. "Let's not start with this is going to be a cost-plus RFP (request for proposal) but say, 'We need a solution that takes care of this challenge by this date.'"
Bell's solution is that the companies can say they will deliver a capability in a certain time through a specified contracting mechanism. The companies don't have to propose the same contracting mechanism. The customer would then decide what proposal they like best, Bell said.
The idea is to unlock innovation and "innovation and entrepreneurship is what sets America apart," he said.
ACQUISITIONS
This will not be a major part of Bell's strategy for growth. Instead, Bell is looking at fine-tuning the business overall.
"We have been acquisitive during COVID and you just kind of bolt things on and get things into the tent," he said. "But you don't necessarily organize them in the tent the right way."
Bell wants to take a step back, look at the organization and organize the business more systematically.
"What we have is a little bit of replication in various business units where we are doing elements of the same thing," he said. "That doesn't lead to scale and that doesn't lead to speed."
He will focus on that work through the end of 2023, so the company can go into 2024 with more focus to plan for the future.
"We'll tune this proprietary hypothesis of the future next year, and that will guide our actions for 2025 and 2026 and what we do in the future," Bell said.
THE PEOPLE
Bell has also been talking with employees in addition to customers.
One favorite question is a version of what he has asked employees at other companies for the last 10 years: It's five years from now and you are no longer a Leidos employee. Why?
The question often shocks employees, who are nervous about speaking with the new boss.
"There is no right answer," Bell said. But after the employee recovers a bit, "you get the most interesting answers."
Some common themes often emerge, but Bell finds that money is generally not the reason people leave.
"The reason I'm interested in the answers is because in the war for talent, I want to be a differentiated employer," he said. "I want to make sure Leidos gives our employees the best chance of having success in their career as possible."
THE NEW "NORTH STAR"
During Bell's first quarterly earnings call with investors on Aug. 1, he talked about how the company needed a new North Star to define its direction and goals.
Leidos will further flesh out the details of that North Star over the coming year, he said.
"When you are trying to position a company for success over the next five, 10 years, you don't do that by tactically boxing from quarter-to-quarter. You need a proprietary hypothesis of the future," he said. "That hypothesis needs to say, here is what I think the world is going to look like in 2028 and 2033. And here is what I think my customers are going to need to meet the challenges the world is going to be giving us."
The work to develop that hypothesis will lead to decisions about technology investments, people investments and what kind of business model Leidos needs to have.
"What markets do we need to be in that we aren't today? Are there adjacencies to existing markets? Are we in markets today that won't have the same relevancy in five or 10 years?" he said.
Leidos will release the North Star vision to the public. Bell said he wants that North Star to be inspiring, help people better understand what Leidos is and drive internal conversations about what it means.
"The company won't be making decision in isolation tactically to get from here forward, but we'll be looking at 2028 and 2033 and building back from that," Bell said.