As supply chain threats evolve, so do the tools fighting them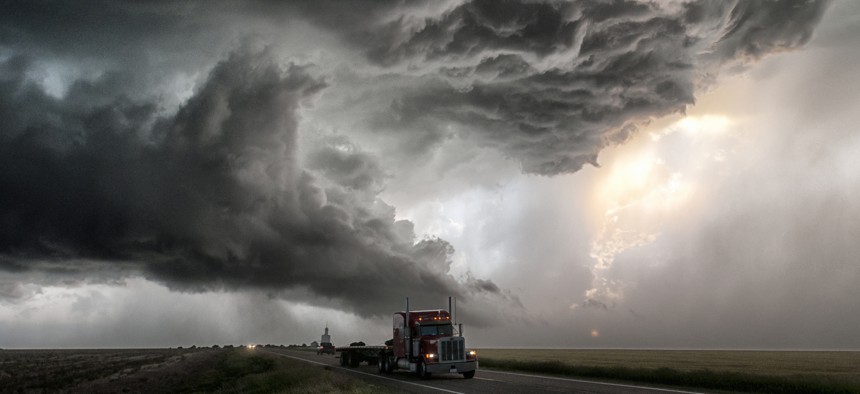 A group of executives steeped in supply chain risk management issues share their insights on what's working now and how the fight must change in the future.
Supply chain risk management can be a nebulous term, but it is one that nearly every company in the market faces both internally and in how they serve their customers.
We gathered a group of executives to share their experiences on how they manage supply chains for their customers and their companies. See the list of participants at the bottom of this article.
In this on-the-record but not-for-attribution discussion, we worked on defining the topic and then moved on to the challenges and the opportunities.
First, the definition or at least the recognition that how one organization defines the supply chain doesn't automatically apply to every other.
"It's a hard question. Are you talking hardware? Are you talking software? Is it during development or manufacturing or distribution?" one executive said.
There is a philosophy around cybersecurity that you can't trust anyone, but in the supply chain you almost have to trust everyone.
"We'll never get our arms all the way around it but what we can do is manage the risk," that executive said.
The threats to the supply chain can vary widely, from cyber threats to environmental (think winter storms and hurricanes) to a pandemic.
"COVID decimated the supply chain because people couldn't get into offices or manufacturing facilities. It wiped people out from being to make anything," another executive noted.
On top of COVID, there was the SolarWinds breach in March 2020 that was the equivalent of a Pearl Harbor moment for supply chain security. Hackers planted malicious code into the system SolarWinds used to distribute updates to its software. The code created backdoors into thousands of systems, including the federal government.
The positive is that people are suddenly paying more attention to the supply chain.
"Before 2020, nobody but DOD really cared," one participant said when citing legislation dating back to 2014 that dealt with supply chain security but it had little impact.
"I look at SolarWinds almost like a blessing in disguise because it helped us realize that we have major gaps," that participant said.
Another executive noted that SolarWinds had such an impact because it was so visible and it made people stop and say, "This is happening to everyone."
There are no pockets of safety.
"Every supply chain is contested, it's just a matter of how many different layers and how many threats are attacking it," another participant said.
The executives said that no single company or solution is the answer instead. Instead, there needs to be an ecosystem approach. There is a need for industry and government to cooperate and share information.
The Defense Department's early focus on the supply chain drove much of this.
"DOD pushed us when it was hard but now, we've grown into these tools and techniques that the government wants applied everywhere," one executive said.
This has led to the push for zero trust architectures and the Cybersecurity Maturity Model Certification, which are placing more requirements on agencies and contractors.
A truism of any cybersecurity risk is that the threats are not static. They constantly evolve and threats to the supply chain are no exception.
"The threat actors have changed and they are so well funded now and well organized," another executive said.
This includes groups backed if not outright operated by state actors such as China, Russia, Iran and North Korea. The SolarWinds breach has been blamed on the Russians.
"They can spend time on development of different techniques and paths to go on the attack," an executive said.
The list of targets has expanded beyond military and government systems. Critical infrastructure and intellectual property are goals now.
"Anything that disrupts economies," another executive said. "The motivation has changed significantly over the last couple years."
Another major change in supply chain security is the evolution of the relationship between the prime and its subcontractors. CMMC is driving a lot of this.
You can no longer say that your immediate sub is clean. Companies are being required to go down into their subs' subs and to anyone else that is supplying parts of a solution or end-product.
To this point in time, much of these assurances of cyber hygiene have been self-attestations, but "self-attestations aren't worth the paper they are printed on," one executive said.
Hence, the push for CMMC, which includes third-party assessors and audits.
But another executive said that CMMC isn't foolproof.
"It is one snapshot in time," that executive said. "What's happening on a day-to-day basis when firmware is updated or when you enter a new component? Or when you do a new version?"
The key is to move beyond the snapshot and more to continuous monitoring and the visibility of continuous validation of your risk picture, she added.
But getting that snapshot and then moving toward continuous monitoring will be an expensive proposition especially for small businesses.
"There goes your entire budget and now you can't afford that extra cyber person to do the continuous monitoring because you had to pay for the snapshot," an executive said.
The executives agreed that supply chain security will improve with the tools and processes that have been put in place and ones that are in development.
"We are starting to build a good foundation," another participant said.
A stumbling block that still needs to be overcome has to do with the data.
"The governance piece where you have the policies and procedures and they go into the roles and responsibilities and you hold people accountable for data tagging and categorization. We are still having trouble with doing that correctly, even on the classified side," one executive said.
That problem also gets talked about the least, according to that executive.
Artificial intelligence holds some promise to solve this but right now it is overhyped, executives said. But as one executive added, in a few years "it is going to shine a light on data anywhere it is hiding."
---
PARTICIPANTS
Marcie Nagel, CEO, Avint
Michael Fox, managing director, federal sales, Accenture Federal Services
Kenyon Wells, senior vice president, CGI Federal
Matt Hayden, vice president, cyber client engagements, General Dynamics IT
Julia Donley, supply chain vice president, Booz Allen Hamilton
Steve Faehl, security chief technology officer, Microsoft
Bill Mertz, vice president, supply chain and procurement, CACI International
Amy Freeman, chief technology officer, logistics and mission support operation, Leidos
Matt Brown, CEO, Shore Point Inc.
Paul Beckman, chief information security officer, ManTech International
Edward Tuorinsky, CEO, DTS
Greg Gershman, CEO, Ad Hoc
NOTE: Washington Technology Editor-in-Chief Nick Wakeman led the roundtable discussion. The March gathering was underwritten by Okta, but both the substance of the discussion and the published article are strictly editorial products. Neither Okta nor any of the participants had input beyond their comments.