Leonardo DRS debuts its agenda as a public company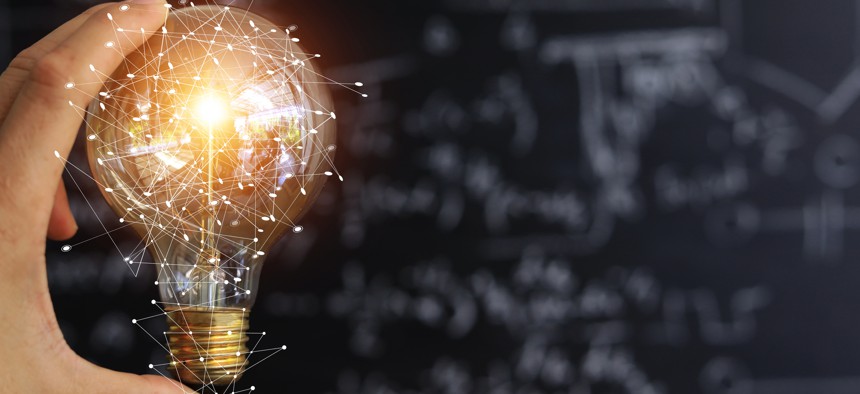 Now listed on the NASDAQ market, the middle-tier defense company reveals more of its vision focused on advancing sensing, force protection and network computing.
Leonardo DRS returned to the public markets in the fall after more than a decade of not being there, and evidently sees all that will shape its 2023 agenda as not that different from that of 2022.
But the company's fourth quarter earnings call held Tuesday does present its strategy and priorities in more of a public context with investors listening, versus during the prior 15 years of being fully-owned by the Italy-headquartered parent Leonardo.
To get the NASDAQ market listing it has now, Leonardo DRS acquired Israel-headquartered radar maker RADA Electronic Industries and returned 19.5% of the combined company's stock to the latter firm's investors. Leonardo holds the other 80.5%.
Leonardo DRS CEO William Lynn told analysts on Tuesday the company's four key areas of focus remain advanced sensing, force protection systems, electric power, and propulsion and network computing systems.
Both the divestiture of a satellite network integration business to SES and exit from a prior sonar joint venture with Thales help focus the DRS business on where it wants to be, Lynn said.
Regarding how Leonardo DRS sees the best case scenario for itself, whatever the final fiscal year 2024 defense budget numbers add up to will likely build upon the Biden administration's initial request.
Lynn, a former deputy defense secretary, pointed out the fiscal 2023 appropriations were 10% higher than those of FY 2022 and that Congress is likely to add onto the request.
"We think our position is stronger than the budget as a whole, because as a mid-tier, we're able to target our markets, and we're positioned in the four core markets we've described, all of which grow faster than the budget as a whole," Lynn said. "We think we should... simply by holding serve, be able to grow somewhat faster than the market."
Then there is the execution and performance aspect, which involves how Leonardo DRS manages its supply chain functions that have been disrupted in the same way that all companies in all sectors have experienced.
Lead times for certain items and electronic components in particular have "gone up two or three fold," Lynn said. That translates to six months versus prior timespans of 30-to-60 days.
But Lynn also added the company believes 2023 will be a year of further stabilization on that front, while improvement in lead times will be more of a 2024 event.
"We're not basing our revenue projections on a return to pre-pandemic norms," Lynn said. "We think the supply itself is going to stabilize, and then we're taking steps to backstop that: increase volume, moving buys left, giving our suppliers greater visibility into our projection, using our fixed-price contracts to lock things in."
A third item on Leonardo DRS' agenda that carries into 2023 is how it supports Ukraine's defense against Russia, primarily through sales of military equipment to the U.S. government and allies that then gets provided to Ukraine.
Demand is on the way up from other countries in Europe as many of them push toward spending 2% of their gross domestic product on defense, a goal they committed to at a 2024 NATO summit.
"Being a part of Leonardo, European defense sales are a home game for us, so we see opportunity there," Lynn said. "Probably most importantly, I think Ukraine has been an overall accelerant of U.S. defense spending. I think it's put a floor under U.S. defense spending, I think it's partially responsible for the increases in '23 and '24."
For calendar year 2022, Leonardo DRS posted $2.7 billion in revenue to show a decline of 6%. The company cited its divestiture of the satellite network integration business and supply chain headwinds as factors in that decline.
Profit climbed 3% to $318 million in adjusted EBITDA (earnings before interest, taxes, depreciation and amortization) to show a bottom-line margin of 11.8%.
Leonardo DRS' initial outlook for 2023 has sales in the range of $2.7 billion-to-$2.8 billion on adjusted EBITDA of $315 million-to-$330 million.
The company also reported a $4.2 billion backlog as of the end of 2022, up nearly 49% year-over-year. That growth was on bookings for a program to provide electric electric power and propulsion systems for the Navy's Columbia Class submarines.