Supply chain improvements are real, but appear uneven as well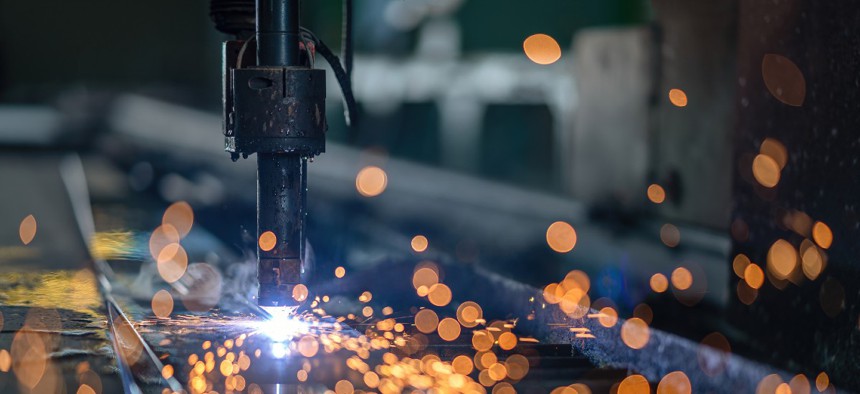 Are supply chains in the defense industry getting back to ruder health? The answer is nuanced as Lockheed Martin and Raytheon Technologies leaders have told investors.
No surprise: investors with a keen interest in the defense industry continue to have supply chains on their mind as a top concern when gauging the sector's health.
There are also the usual questions on how companies are positioning themselves and what they are focusing on.
Here is how Raytheon and Lockheed Martin answered those questions and more during their fourth quarter and year-end earnings calls with investors Tuesday.
Lockheed Martin
As their chief financial officer put it: "the fourth quarter had a significant step-up in requirements." In essence, that means Lockheed saw an increased workload during the October-December period.
Jay Malave told analysts that when looking at Lockheed itself and its entire supplier network, the enterprise was able to meet that increased level of requirements.
Lockheed triangulates the supply chain aspect of its business by looking at the on-time delivery rates regarding parts and how programs perform against the schedules, he said.
At least for what Lockheed sees, Malave said the company expects "gradual improvement in 2023" as that "just provides a reasonable assumption and a reasonable basis for that assumption."
Lockheed CEO Jim Taiclet took up another analyst's supply chain-related question by highlighting how quickly the defense industry had position itself to support Ukraine's defense against Russia.
Taiclet told analysts that he and his colleagues in industry would have liked to have been able to ramp up production faster, which is spurring this line of conversation he summarized on the call:
"What I'm discussing with some of our senior government officials who are receptive, and there are several thought leaders in government on this now, is apply the concept of anti-fragility to the relationship between government and industry, meaning things like ensure we have multiple reliable sources of key materials and components."
His idea of anti-fragility also involves dual investments from industry and government into production capacity. That means going "two standard deviations above" standard peace time production rates to ensure that accelerations in times of need can happen quicker, Taiclet said.
Fourth quarter revenue of $19 billion was 7.1% higher over the prior year period, while profit of $1.9 billion in the quarter was flat. Full-year sales of $66 billion represented a 1% decline from those of 2021, while the 12-months segment operating profit of $7.4 billion was 1.3% lower.
Lockheed's initial outlook for 2023 has revenue in the range of $65 billion-to-$66 billion on segment operating profit of $7.255 billion-to-$7.355 billion. The company ended 2022 with a backlog of $150 billion.
Raytheon Technologies
Among the top three items on Raytheon's supply chain watch list is all that has happened in the world of semiconductors over the past three years.
Castings and rocket motors are the other two that executives referenced during their call with analysts, but we will focus on how Raytheon has worked through the computer chip shortage.
"While the lead times have stabilized, they haven't come down back to 2019 historical levels," Raytheon Chief Operating Officer Chris Calio said. "With what you're seeing on the consumer side in terms of microelectronics coming down, we expect to see our allocation get better in that area."
Raytheon has taken these steps in the meantime as outlined by Calio: knowing who supplies the chips, understanding the company's demand, and then working out agreements to move further up the line to get the needed allocation.
Fourth quarter revenue of $18.1 billion was 6% higher over the prior year period, while profit of $1.8 billion in the quarter represented a 16% year-over-year increase. Full-year sales of $67.1 billion showed 4% growth from those of 2021, while the 12-months adjusted net income of $7.1 billion was up 10%.
Raytheon's initial outlook for 2023 has revenue in the range of $72 billion-to-$73 billion, which implies organic growth of 7%-to-9%. The company ended 2022 with a backlog of $175 billion, of which $69 billion is in defense and government work.
Also during the call, Raytheon revealed it is consolidating from having four business segments to three in the latest initiative to optimize itself since the April 2020 merger to create Raytheon Technologies.
The missiles and defense division and intelligence and space division will become one segment known as "Raytheon," which will work alongside the Collins Aerospace and Pratt & Whitney segments.
Calio will also add the title of president on March 1 and oversee the combination of the company's two defense-oriented segments. Roy Azevedo, president of the intelligence and space segment, will retire and work as an adviser to Calio on the reorganization.
Calio told analysts the plan is for the reorganization to be fully in effect during the second half of this year.
"By the time we get to the end of the first quarter, we should have a really good understanding of what the what the new organization is going to look like," Hayes said. "We'll share that with everybody at that point. It's going to take us longer than that to actually do the rewiring, that's why we're talking about kind of mid-year."
Below Raytheon CEO Greg Hayes speaks with CNBC's James Cramer.