Lockheed, AT&T move helicopter data in 5G test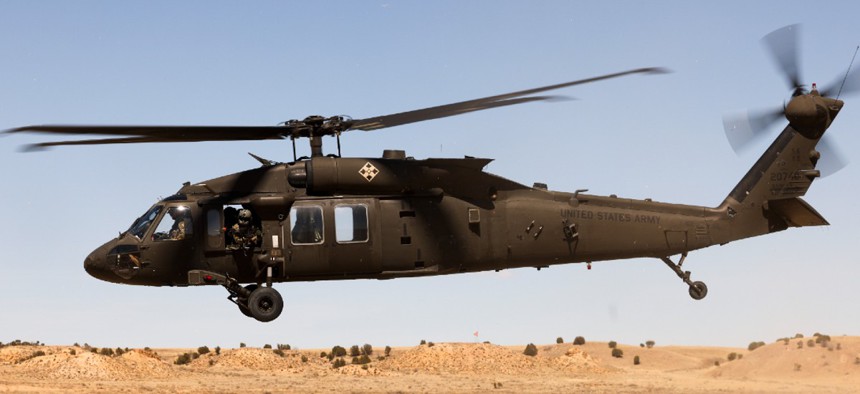 The defense company goes down another angle of its 5G.MIL networking push with the help of a wireless giant.
Lockheed Martin's latest endeavor in figuring out how it can best incorporate wireless 5G technologies into the military environment focused on the transfer of helicopter health and usage data.
During an Aug. 4 test announced Friday, Lockheed used a AT&T-built private 5G network to send data from a Black Hawk helicopter on an airfield at the Sikorsky headquarters in Connecticut to an operations center in less than 5 minutes.
The typical method of removing a data cartridge from the helicopter, taking it to the center and extracting the data can take up to 30 minutes by comparison as Lockheed described.
AT&T's network moved that data through ground support equipment from the helicopter's health management system to the Lockheed 5G.MIL network. The data then entered
Sikorsky's networks for processing and distribution through the pilot network to a test range site in Waterton, Colorado.
"These 5G capabilities deployed at scale are expected to enable high-speed, securedata transfer on virtually any flight line, providing another example of how we're advancing our 21st Century Security vision by improving customer readiness and operations," said Dan Rice, vice president of 5G.MIL programs at Lockheed, said in a release.
"In collaboration with commercial 5G leaders, an interoperable 5G.MIL multi-site, multivendor network is another step closer to reality."
Lockheed and AT&T sought to provide highly-secure interoperability between both of their networks in an effort to support accelerated maintenance operations and bolster aircraft readiness.
Within the Black Hawk itself, the health management system works to manage its monitoring and diagnostic data regarding how the airframe and components handle conditions in-flight.
The system tracks the temperature and vibration of key components through hundreds of sensors that report on the helicopter's status.
Future demonstrations of 5G capabilities are on the agendas of both Lockheed and AT&T, which said they are working with other defense and networking technology companies to modernize how the military does communications.
"I think we carry this forward by establishing an ecosystem where platform and system providers like Lockheed Martin and AT&T prove we can interoperate and embrace standards to leverage the strengths we each bring," Lance Spencer, client executive vice president for defense at AT&T's public sector business, said in an emailed statement to WT.
"This will help DOD further embrace commercial providers, avoid unnecessary costs, and leverage advanced 5G capabilities that companies like AT&T have already invested in."