John Garing to be buried at Arlington National Cemetery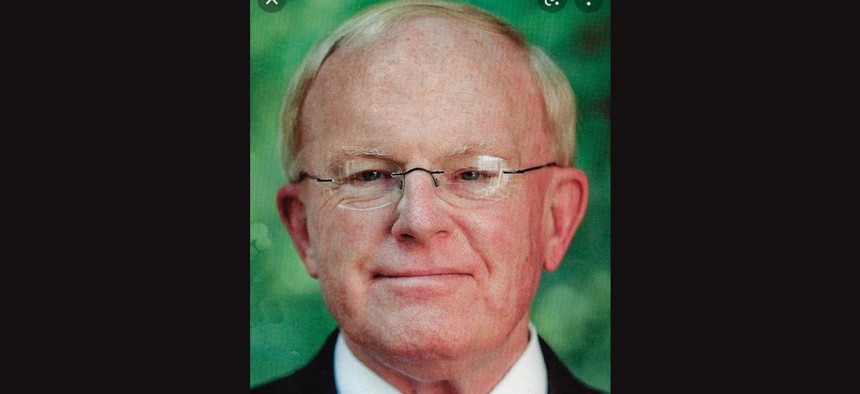 The retired Air Force colonel and former DISA executive was well-known across the market for his leadership, character and willingness to embrace new concepts to improve government operations.
The family of retired Air Force officer and long-time Defense Information Systems Agency executive John Garing is planning a funeral service at Arlington National Cemetery on June 8.
Garing died at age 78 on Jan. 6, 2021. He was eligible for burial with full military honors because of his military service and work in the government . A long waitlist and protocols at Arlington National Cemetery and scheduling issues meant that his service was delayed for more than a year.
But the passage of time hasn't diminished the family's pride in such a burial for Garing.
"We are proud that my father will be receiving full military honors for his prestigious career both as a colonel (retired) in the Air Force and a high-level (senior executive service) position with the Department of Defense and his patriotism to the United States throughout his lifetime," his daughter Stacy Garing Yentz wrote in an email to me.
Garing was well-known in the government market because of his drive to innovate how the government purchased technology. He worked in industry at Suss Consulting and Vion Corp. after leaving government service.
In the wake of his death, several people shared stories of how he worked to bring innovation to the government as well as how he supported the people he worked with. He was remembered for his wisdom and leadership.
Several spoke of how early on Garing embraced the idea of storage-on-demand, which he pushed across the DISA and other parts of the Defense Department. Today, the concept is a common practice.
Many people also commented on Facebook and elsewhere about his kindness, wit and the love he had for his family.
"He was a man you could look up to both professionally and personally," one person wrote.
All of Garing's family will be in attendance for the June 8 service, Yentz said.
That includes his wife, Gerri Garing; three daughters, Christine Garing and her partner Christopher Johnson, Nicole Garing Kinney and her husband Michael Kinney, Yentz and her husband Kevin Yentz; a son, Matthew Garing and his wife Kathryn Garing; and seven grandchildren.
Extended family will also attend from out-of-town including in-laws, cousins, nieces and nephews.
Those attending the service should gather at the Arlington National Cemetery Administration Building at noon. Attendees will proceed from there to the chapel where the service will start at 12:45 p.m., Yentz said.
The ceremony will include full honors -- the caisson, military guard, rifle volley and "Taps." A reception will follow inside Patton Hall at nearby Fort Myer.
Arlington National Cemetery's website includes a page that offers more guidance on attending a funeral at the cemetery.