Dedication to public service spotlighted at 'Evening of Honors'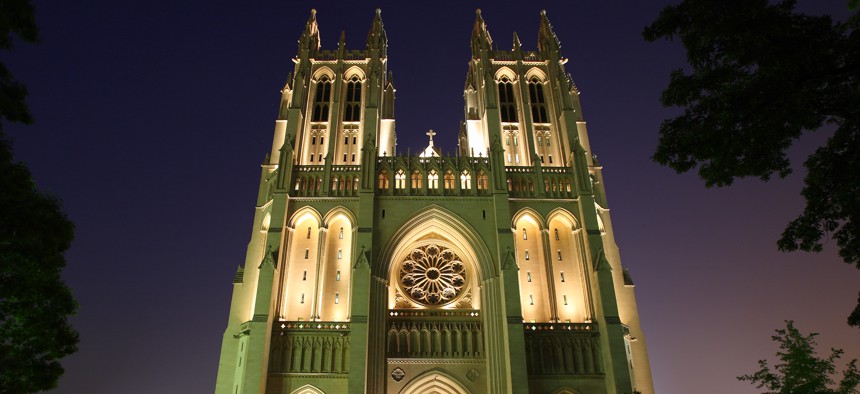 Fed 100 and Government Hall of Fame winners set examples for dedication and commitment to government service, which many times means breaking down barriers.
Washington Technology and our sibling publications FCW and GCN were acquired in September by GovExec and the integration has gone smoothly from my perspective.
Last was another big step in that joining of forces a combined FCW's Federal 100 program with GovExec's Hall of Fame awards.
It was billed as an "Evening of Honors" and it lived up to the billing with a packed house at the National Cathedral in Washington, D.C.
The Fed 100 (click here to see the list of winners) recognizes individuals who went beyond their regular duties in meeting the government mission.
Also recognized were the industry and government executives of the year that received Eagle awards: Casey Coleman of Salesforce's global public sector business and Gundeep Ahluwalia, the Labor Department chief information officer.
Soraya Correa, former chief procurement officer at the Homeland Security Department, won the Catalyst Award for her work to implement innovative procurement processes.
Eight people were inducted into the Government Hall of Fame:
Francis Collins, former director of the National Institutes of Health
Marshalyn Yeargin-Allsopp, chief of the developmental disabilities branch at the Centers for Disease Control and Prevention
Shirly Ann Jackson, former chair of the Nuclear Regulatory Commission
Patricia Roberts Harris, first African American woman to hold a cabinet position at the Department of Housing and Urban Development and later the Department of Health, Education and Welfare
Charles McGee, a member of the Tuskegee Airmen
Elmer Staats, former comptroller general
Ely Parker, first Native American to be appointed commissioner of Indian Affairs
Walter Hollis, former deputy undersecretary of the Army for operations research
All of the winners have great stories to share and offering inspiration, but I gravitate to the hall of famers for the sense of history they convey.
Ely Parker was an aide to then Gen. Ulysses S. Grant and made the formal copy of the terms of surrender at Appomattox that ended the Civil War. When Grant became president, he appointed Parker commissioner of Indian Affairs.
In a bit of more recent history, Shirly Ann Jackson was the first woman and first African American to become chair of the Nuclear Regulatory Commission. That's a history making turn in itself, but she did so much more.
Her time as chair followed the fall of the Soviet Union and the sudden emergence of newly independent countries with nuclear weapons.
Jackson led an international effort to bring these materials under control and created a safety framework that continues. Today she is the president of Rensselaer Polytechnic Institute.
Like Jackson, Patricia Roberts Harris also broke barriers. In addition to her Cabinet positions, Harris also was the first African American woman to be an ambassador appointed as an ambassador when she was tapped to represent the United States in Luxembourg.
Elmer Staats and Francis Collins were recognized for dedication serving decades at their respective agencies.
That to me is a main message of each award -- dedication to service combined with competence and skills.
In her acceptance speech, Industry Eagle winner Casey Coleman recognized that her success has been tied to others who have aided her along the way.
"Like most past winners, I've been helped by mentors," she said. "I hope to give back as much as has been given to me."