Lockheed and Raytheon clash over Aerojet but they still share supply chain challenges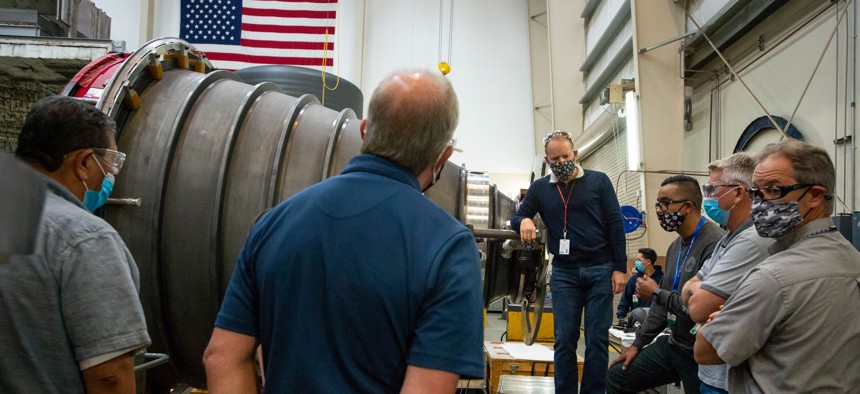 Lockheed Martin's proposed acquisition of Aerojet Rocketdyne is being challenged by federal antitrust regulators, and Raytheon Technologies is welcoming that development. The companies may disagree on this but they share one big challenge.
Lockheed Martin, the world's largest defense company, finds itself at a major decision point regarding its acquisition of a key supplier to the entire industry. Meanwhile, another blue chip player, Raytheon Technologies, hopes the deal does not happen.
But they and the entire industry share the supply chain mega-headwind, even though they have a difference in opinion on Lockheed's proposed acquisition of Aerojet Rocketdyne.
Here are how Lockheed and Raytheon Technologies talked about both items during their fourth quarter and year-end earnings calls with investors Tuesday.
Where Lockheed and Raytheon differ
In an unsurprising development, the Federal Trade Commission also on Tuesday filed a lawsuit to try and block Lockheed's proposed acquisition of propulsion component and platform maker Aerojet Rocketdyne.
A trial on the matter is scheduled to begin June 16 at the U.S. District Court for the District of Columbia.
What is Lockheed doing about it? CEO Jim Taiclet told analysts the merger agreement with Aerojet gives a 30-day window after the lawsuit is filed to either defend the agreement or terminate it, so Lockheed's board will work "over the next few days and weeks to make that determination."
In their proposal to the FTC, Lockheed and Aerojet put forth merchant supply and firewall commitments that would be designed to ensure that Aerojet continues to work equally with all other large prime contractors.
The above approach is similar to what was put in place to allow Northrop Grumman's acquisition of Orbital ATK to close in the summer of 2018.
But in the FTC's statement, the agency responsible for many antitrust regulatory reviews said the Lockheed-Aerojet proposed framework is not enough to prevent the first legal challenge to a defense merger in decades.
"Aerojet, as a subcontractor, is the last independent U.S. supplier of critical inputs for missile systems, hypersonic cruise missiles, and missile defense kill vehicles," the FTC said.
That portion of the FTC's statement, which can be read in full here, explains why that agency and others in the industry are worried about Aerojet being absorbed into a larger prime contractor.
The counter-argument against the acquisition goes that Aerojet could raise prices on all other buyers of its products not named Lockheed Martin, or do other things regarding the engineering and contractual functions to disadvantage other primes.
For unsurprising development number two, Raytheon Technologies declared it welcomes the extra scrutiny being applied to the transaction.
Just shy of one year ago, Raytheon declared its intent to make the company's opinion known to federal antitrust regulators and the Defense Department that the Aerojet acquisition should not be allowed to proceed.
"Having a strategic supplier like (Aerojet) owned by our biggest competitor, we thought would be problematic from a competition standpoint," Raytheon CEO Greg Hayes told CNBC on Tuesday morning. "Even with a consent decree, it's still problematic in terms of who gets the supply when there's a shortage because is it going to be the company that owns you, or the other company that you have to supply in the marketplace."
As for what it could mean for further consolidation, Hayes said that is "not on the table in the near term."
What they and all the industry have in common
Perhaps no issue is shared more across the entire government market including defense than problems in the supply chain, which are directly linked to shortages of labor and materials for making products.
Still around the top of the agenda for both Lockheed and Raytheon is helping the smaller companies in their supply chains. Lockheed accelerated $2.2 billion in payments at year-end, while Raytheon has sped up all of the early payments to suppliers it has received from the Defense Department since the pandemic started.
Taiclet said that for Lockheed's situation, they "think the bow wave has passed in supply chain disruption" but also cautioned that "not all the risk is out of the system yet." So the company is still watching developments closely.
John Mollard, Lockheed's acting chief financial officer, said the company is sending some of its own employees down into the facilities of its suppliers in order to see the stresses those companies are facing up-close.
That is one way the Lockheed global supply chain leadership team has been "actively working with all of our suppliers to ensure we're collectively positioned to meet our customer requirements," Mollard said.
Raytheon is in the unique position of being both a supplier to airplane makers and other defense companies, plus a manufacturer and integrator of systems purchased by the customers. Both in the government and commercial aerospace markets.
Hayes said Raytheon sees supply chain and labor disruptions persisting through the first half of this year and easing in the second half, while some inflationary pressure is being assumed into the company's outlook.
The COVID-19 Omicron variant is also disrupting both Raytheon's own workforce and those of its suppliers, Hayes said. So like Lockheed, Raytheon is monitoring the supply chain almost daily.
"We've got about 13,000 product suppliers," Hayes said. "There are less than 100, I would say out there, that are giving us real concern. But it only takes one to make us miss a shipment."
As for how the companies see this year playing out:
Lockheed forecasts revenue of $66 billion, down from last year's $67 billion. Raytheon sees sales of between $68.5 billion and $69.5 billion, which means organic growth of 7-to-9 percent.