Cloud adoption drives more commercial partnerships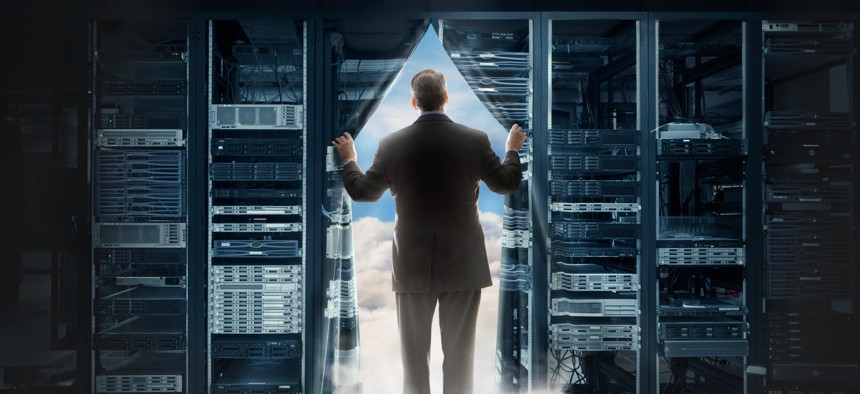 It has been 15 years since Amazon launched its first instance of what has become Amazon Web Services.
Cloud computing should be an old technology by now, but speakers at our most recent Washington Technology Power Breakfast held Friday said cloud will continue to drive innovation in the government market for years to come.
The cloud has been "massively disruptive," said Glenn Kurowski, chief technology officer and senior vice president for CACI International. "But we are probably only 10 percent into that journey. We're still in the early innings of cloud adoption."
Kurowski was one of several speakers that discussed how the cloud and the technologies and processes it enables have disrupted the public sector market and the business of government contracting.
Early innings or not: the cloud has driven changes in how companies approach the market, the kind of solutions they can offer, the people and skills they need and the partnerships they form. It has been a driver for bringing commercial technologies to the market.
Amanda Brownfield, CEO of Applied Insight, offered one example where her mid-tier company started a project with an intelligence agency as a pilot program.
That has since grown into a managed services contract to help it manage its cloud infrastructure across multiple commercial clouds. Applied Insight is the early stages of a similar project with another intelligence customers.
"We come in an advisory capacity with the customer," Brownfield said. From there, the company can bring in the right solutions including Applied Insight's intellectual property.
She stopped short of saying the more traditional way of contracting is dead, but the growth for her company and others are fueled by the speed that the cloud enables.
How companies go to market depends on the customer, said Chris Bjornson, cloud practice lead at Accenture Federal Services.
"You have to focus on where the particular agency is in its cloud journey and focus on what the mission outcome is," Bjornson said.
Some customers have already started so the approach can focus on a particular problem or challenge. Others are still asking how to start, Bjornson said.
"You have to think through a multi-cloud strategy, not only for traditional things like resiliency and portability but are you getting the most value that the cloud can provide," he said.
Accenture Federal Services, Applied Insight and other government technology businesses now have deep relationships with commercial technology partners such as Microsoft and Amazon Web Services.
"We have those partnerships up front so when we come in, we can focus on velocity and efficiency," Brownfield said.
The conversation with customers often centers around change management, said Angie Heise, who leads Microsoft's defense and intelligence business.
"That's the most common conversation I have with customers," she said. "A lot of it is around organizational change -- investing in the right program management skills, leadership skills, education around technology."
A lot depends on where the organization is in its journey but that's why it is important to bring in experts from the private sector, Heise said.
The Holy Grail for primes is to "get out of that traditional service delivery model, the butts-in-seats model as we lovingly call it," Brownfield said.
The only way to get out of that old model is through stronger commercial partnerships.
"We have such a profound opportunity to continue to deepen the relationships," Bjornson said.
In the commercial market, sharing roadmaps of where everyone wants to go is very common but Bjornson said federal customers are just starting to do that.
The change means customers can access capabilities more quickly instead of taking months.
"Systems integrators and the cloud providers are working together to bring innovations and commercial technology and make them federal ready," Bjornson said. "I think that's the biggest shift I've seen."