Former HHS CIO shares COVID-19 lessons learned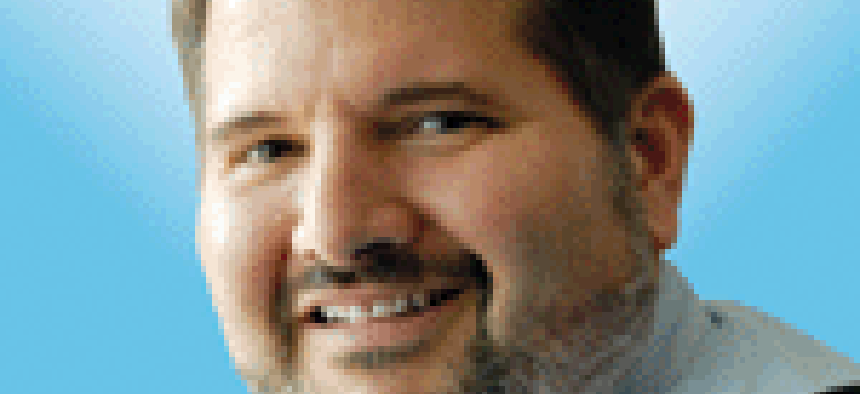 Perryn Ashmore saw the good and the bad as the Health and Human Services Department's chief information officer during the pandemic's height. Here is some of what he learned and how the IT industry can carry those lessons forward.
It's easy to focus on the many things that have gone wrong during the COVID-19 pandemic: issues with supply chains, the divisiveness and weaknesses it exposed with our health and educational systems.
But for Perryn Ashmore, the pandemic has exposed some great strengths that often get lost. Ashmore was chief information officer for the Health and Human Services Department during the pandemic's height.
"The federal collaboration was amazing," Ashmore said at our WT Power Breakfast on Friday discussing HHS. "This was a whole of government response."
For example, the Federal Emergency Management Agency (part of the Homeland Security Department) began working with HHS to get critical supplies to hospitals. HHS is now working with over 6,000 hospitals in over 3,000 counties.
At HHS, there was a unified effort from the secretary's office to the budget office to senior procurement officials as the most federated department had to set up systems, share information and collaborate. Stealing the phrase from a colleague, Ashmore called it "pulling modernization forward."
HHS created an employee portal for all of the department that includes the Food & Drug Administration, Centers for Medicaid and Medicare Services, Centers for Disease Control and Prevention, and the Public Health Service.
"This was one of the first times we did something where employees from across the department could ask us questions," Ashmore said.
HHS approached its response to the pandemic and its impact on operations from a risk perspective, which meant IT leadership had to work closely with the business leadership, Ashmore said.
"We documented everything from a risk perspective," he said. "What's the risk here? How should we approach this? Hey, what could happen here and let's talk about that."
The lesson for Ashmore is that the government and its industry partners can deliver and deliver quickly.
"And substantive stuff. Not just a website, but data platforms, modeling platforms, artificial intelligence, communications," he said.
Ashmore sees collaboration as one of the great strengths of the pandemic response, but also put it at the top of his list as an area to focus on going forward, particularly what he calls electronic collaboration.
"We've all built security into our individual solutions so much so that collaborating across government on the shared platform was really difficult," he said.
Simple things such as Microsoft Teams web conferences across departments can be a heavy lift, he said. Each agency allows different things in their environment. At times, HHS and its government and private sector partners built systems just to get around those roadblocks.
Ashmore left HHS in May and joined Oracle in September. While he's six months removed from HHS, he said the department's focus on its modernization roadmaps from a cloud perspective will continue. But the focus on cyber will continue to grow as it will across government. Things like-two factor authentication sound simple but aren't.
"You are going to see all the departments on the civilian side wrestle with how to make that happen," he said. "What does it mean to be zero trust? What does that roadmap look like? What does it mean to have a zero data loss target? That's where the departments are going."
As industry approaches the government with their solutions, the pitch should focus on a few simple concepts.
"It's got to be a discussion about what is this going to save me -- cost avoidance, time, people, energy, whatever it might be," Ashmore said.
"Then how does it get back to the American people? That's what industry has to do."