Booz Allen sits at the start of another transformation journey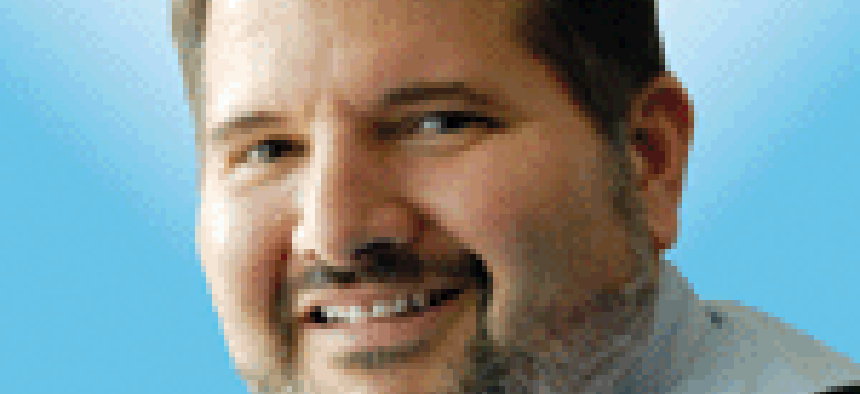 Booz Allen Hamilton had decades of success as a management consulting firm, but over the last 10 years it has transformed itself into a company that can blend the heritage with deep technical capabilities.
As Booz Allen's global defense leader put it, the company doesn't lead with a slide deck.
"We are more likely to provide product demos than a PowerPoint presentation," Executive Vice President Karen Dahut said.
That transformation began nearly a decade ago with Booz Allen's Vision 2020 strategy. The company has since remained solidly in the top tier of government contractors. It is ranked No. 6 on the 2021 Washington Technology Top 100 with $5.6 billion in prime contracts.
"One of the things that I'm most proud of is our focus on becoming a premier digital integrator for the federal government," said Dahut, who has spent nearly two decades at the company. "We are bringing world-class tools and digital strategies to our clients in a way that enables them to create the transformation they need for their mission."
That means Booz Allen is building capabilities around engineering, software development, artificial intelligence and cybersecurity to name of a few.
A major step on that journey was the creation of a strategic innovation group in 2012, she said. That organization focuses on finding and integrating innovations from across the broader tech market.
"We would love for you to believe that we're the best innovator," Dahut said. "The reality is that small and large tech companies are innovating interesting technologies that have applicability to the government mission."
Part of Booz Allen's innovation strategy is to find where innovation starts in the commercial sector. They first bring those creations to civilian customers and then migrate them into the intelligence and defense sectors, she said.
"If we can adopt these technologies into our digital solutions, we can quickly help the transformation of government," Dahut said.
One aspect of Booz Allen's strategy that often gets overlooked is the company's strategy for acquisitions. Booz Allen isn't known as a serial acquirer as many of its peers are. In fact, comments about Booz Allen's deal strategy often are that the company doesn't have one.
"We have been very intentional around M&A,"Dahut said in disagreement with that.
The facts support her position. Booz Allen recently closed the acquisition of Liberty IT Solutions for $725 million. Liberty IT is a contractor with deep footprints across the Veterans Affairs Department, but more importantly are its capabilities around Salesforce solutions and other IT transformation capabilities. That was Booz Allen's first acquisition since the 2017 deal for the commercial cybersecurity company Morphick.
Booz Allen made an equity investment earlier this year in Tracepoint, another commercial cyber outfit with digital forensics and incident response technologies.
"We've built a world-class corporate development function where on any given day we are sourcing companies looking at their technology, looking at their capabilities, looking at how they think about solutions, and bringing them into our portfolio," Dahut said.
That means creating partnerships and relationships with other companies and their leaders. Some of those companies will become acquisition targets. Others remain partners.
"We like to think of M&A targets as strategic accelerators," she said.
Dahut often returned back to Vision 2020 as she talked about Booz Allen's success in the federal market. She called the strategy an "incredible success, both strategically as well as financially."
But now that 2021 is halfway done, the question is what the next strategy will be. Booz Allen plans to formally unveil the new plan in the fall, but Dahut offered a preview of some guiding principles.
Since Vision 2020 was put in place in 2012, Booz Allen has positioned itself at the intersection of the government mission and technology.
"That's really important," Dahut said. "Back in 2010, you would not necessarily see us in the midst of the mission but now we are truly embedded with the mission and bringing technology to bear."
A fundamental truth is that technology is a transformational force in the market. Every entity needs to be a tech organization whether that be a for-profit company, a nonprofit or government agency.
"It is going to continue to be that way and it will become even more immersive," Dahut said. "As we pass through the next decade, technology will not be just an enabler to our clients' missions but it will be the definition of the mission itself."
With technology not just being an enabler, it creates the need for closer bonds between contractor and customer.
"This notion of partnerships between government and industry investing in R&D together against these incredibly difficult mission sets is going to become an important element of not just our business but every industry's business going forward," Dahut said.
Booz Allen has been on this path with Vision 2020 and the next strategy will build on that.
"We have already embedded ourselves in this tech ecosystem and really created these partnerships," Dahut said. "And it's now how do we leverage those more at scale going forward."
Vision 2020 was about transforming Booz Allen in many ways. The next strategy will focus on transforming the customer, she said.
(Stay tuned for an upcoming Project 38 podcast where Karen Dahut will share more about Booz Allen's strategy, the transformation that's ahead for the company and the market, and her views on diversity and inclusion in the federal market.)