How SAIC ran the recompete table with a critical Army customer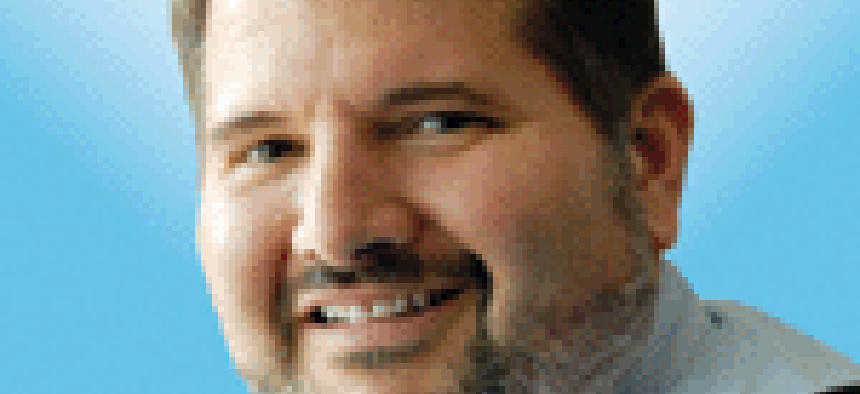 Science Applications International Corp. has just cleared what one executive called a "super-cycle" of recompetes and all were with the same customer.
Over the last year, SAIC has successfully defended four contracts with the Army that have a combined ceiling of over $8 billion.
"That's a huge cycle for us to get through and we're absolutely thrilled to be able to win all four of those," said Gabe Camarillo, senior vice president of SAIC's Army business unit.
Gabe Camarillo, senior vice president, SAIC Army business
The contracts stretch out over the next five to eight years and all support the Army's Combat Capabilities Command's Aviation and Missile Center. The contracts include a $3.6 billion engineering support services contract, a $2.9 billion software development and maintenance services contract, an $830 million aviation systems engineering services contract, and an $800 million modeling and simulation engineering support services contract.
SAIC is providing a range of systems engineering services that support research and development, testing, modeling and simulation and software development.
While each contract is consider a recompete, the contracts also expand the scope of work and services SAIC was providing to the aviation and missile center in Huntsville, Camarillo said.
"Each of the contracts cover a wide range of scope of work and builds on what we've been doing for this customer," he said.
Based in Huntsville, Alabama, the command is the key research and development center supporting the Army's modernization efforts around aviation and missile defense.
Camarillo acknowledged that winning recompetes has become more difficult for incumbents, which makes it more critical for contractors recognize what their customer needs are and how those requirements are evolving.
"We have a history of support for the Army aviation and missile defense modernization and we understand where the Army is going, where they are making investments, where they see gaps and where they are placing their bets," he said.
That has informed where SAIC has made investments to "not only keep pace but to anticipate what we think our customers are going require in the future," Camarillo said.
Some of the technology investments include modeling and simulation, advanced gaming technologies, and virtual and constructive training. It is also critical that companies focus on talent.
"We're not only meeting today's needs but helping position our customer to respond very, very quickly to whatever modernization needs arise over the next five, 10 or 15 years," he said.
Part of the work focuses modernization efforts, but a significant portion also involves legacy systems and keeping them up to date and adding new capabilities.
"They have a whole host of legacy platforms that continually need upgrades and added capabilities," Camarillo said.
SAIC provides support around development, prototyping and experimentation on those platforms.
"We can pull systems engineering capabilities together to understand how the upgrades perform in an operational setting and make sure they accomplish the objectives the Army has set forth," Camarillo said.
Overall, SAIC doesn't expect the coming year to be as heavy with recompetes as the last 12 months. For its 2022 fiscal year, SAIC only faces recompetes representing 10 percent of its revenue.
For Camarillo's group, the immediate focus is on consolidating the recent wins but he said his unit has a robust pipeline and not all at Huntsville. The Army has other research-and-development centers in places such as Aberdeen, Maryland that focuses on network capabilities; and Warren, Michigan that focuses on R&D for combat vehicles.
Camarillo said the company wants to expand the work it does at those centers.
"We do great work now for those customers," he said.