Jack London remembered for dedication, leadership, business acumen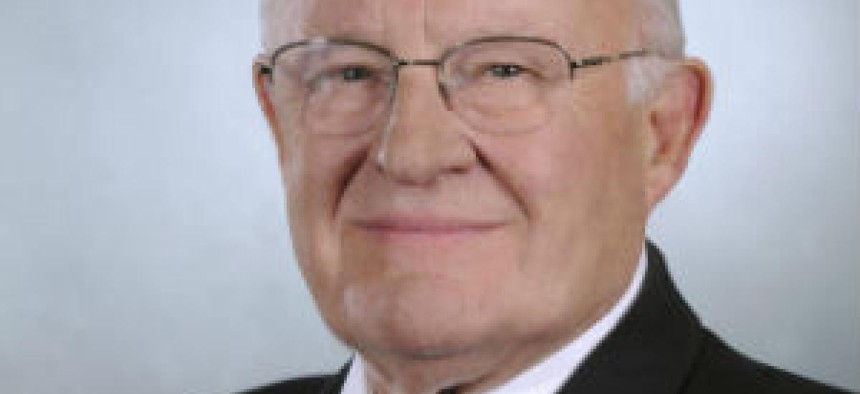 Leaders across the government market are mourning the death of Jack London, long-time chairman and former CEO of CACI International.
London died Jan. 20 at the age of 83. He had been with the company since 1972 and a senior executive since 1981.
But beyond any official titles, London is being remembered for his integrity and dedication to his company. And even more so to the government customers CACI served, particularly in the national security arena.
"He always kept the men and women who serve and sacrifice for our nation as foremost in his thoughts and actions," said David Wennergren, a former CACI executive and now president of the American Council for Technology and Industry Advisory Council (ACT-IAC).
"It is hard to imagine the federal technologies industry without Jack London. It is an industry he helped create," Arnold Punaro, chairman of the board at the National Defense Industrial Association, said in an emailed statement. "Anyone who knows CACI knew Jack London, and vice versa."
"Jack was a tough, candid, hard-driving business leader who was thoroughly committed to the company's national security mission," said Stan Soloway, former president of the Professional Services Council.
"Jack's vision and leadership led to much of CACI's success. In particular, he understood the importance of people as the key resource of a professional services company, and he led them with integrity," said David Berteau, current president and CEO of the Professional Services Council, in a statement.
London earned a reputation for his adherence to high ethical standards and that drove him to write his book "Character," which was cited by several people I spoke with as an example of how strongly London believed in honesty and integrity and how those principles drive your personal and professional success.
Another book he wrote was "Our Good Name," a methodical defense of the company against allegations of misconduct by employees working in Iraq.
"His books on leadership and character are highly impactful and he was respected throughout our industry for his integrity," Punaro said.
Wennergren shared a quote from the book on character -- "Your character will absolutely determine the kind of life that you will live."
"Through all the years I had the privilege of knowing him, he demonstrated that belief in his actions and served as a beacon of hope to those who knew him," Wennergren said.
Donna Morea, chairman of the board for Science Applications International Corp. said London built a company that set the bar for values that other organizations should aspire to.
"Before we ever used the word purpose, Jack created a company whose purpose was never in doubt – to serve the mission of national security with integrity, excellence and impact," Morea said.
Michael Daniels, who was elected chairman of CACI's board following London's death, called him an icon.
"Jack was a strong and determined leader who built CACI from a small company to a major multi-billion dollar force in our government contracting industry," Daniels said.
London also set a standard for his business acumen. He launched a merger-and-acquisition strategy at CACI in the early 1990s that continues today. Hardly a year goes by where CACI doesn't make at least one acquisition.
The 79 deals CACI has closed under that strategy moved the company into new markets and grew it to a $5.7 billion-annual revenue entity.
It is a model many others in the market have emulated.
"He, along with a handful of others, was really in the forefront of building what is today a mature, diverse, and vital industry that is an essential partner to the government across the board," Soloway said.
"His successful M&A strategy at CACI paved the path that other strategic buyers and investors have tried to follow," said Bob Kipps, co-founder and managing director at the investment bank KippsDeSanto & Co.
Joe Kampf, CEO of private equity group CoVant, often competed with London and CACI for acquisitions as CEO of Anteon. Kampf called London a trailblazer.
"I'm not sure he had many equals in the M&A space," Kampf said. "I always felt that growing organically created more value but Jack proved that the stock market ascribed significant value to CACI because of its unique ability to find quality acquisitions and integrate them well."
Morea saw London's M&A lens up close when CACI acquired the defense business of her former company, American Management Systems. The AMS civilian business was acquired by CGI Group.
"While not as visible to the outside world, Jack's devotion to his employees and their success became evident to me," Morea said. "Those former AMSers found a new home where they could perform up to their potential and know that they would get the support and recognition that they deserved. Many rose to the ranks of senior leadership and Jack was very proud of that."
In 2012, London was inducted into the Greater Washington Contractors Hall of Fame. That year also marked CACI's 50th anniversary and London's 40th with the company. While London talked about that history, he was always looking forward.
"The future is exciting," London said in his acceptance speech. "It's been quite a ride, but in many ways it is just the beginning."
For people like Daniels and Punaro, London's death is also the loss of a close personal friend.
Daniels and London first worked together at CACI in 1974.
"He was a wonderful man, a dedicated friend, a brilliant thinker and someone who pushed all of us to succeed," Daniels said. "We will miss him and honor his legacy going forward at CACI."
Punaro worked with London on business and philanthropic endeavors over many years.
"He and his wife Jennifer were mainstays in supporting our troops and families," Punaro said. "I have lost a dear friend. My sincere condolences to Jennifer and Jack's family as well as the CACI family."
Jody Brown, executive vice president of communications for CACI, worked for London for nearly 30 years and described working for him as one of the greatest things in her life. 
"When you're in the orbit of a true entrepreneur backed by wisdom, creativity, experience, and integrity you learn fast and remember what you've learned," she said. "Jack was relentless in his vision to solidify CACI as a leading national security company. He loved CACI's tagline – Ever Vigilant. It was a perfect fit for the company – and exemplified Jack's dedication and love for CACI's employees, customers, friends, and most importantly his family."
Jack London is survived by his wife Dr. Jennifer Burkhart London and their sons Jackson, Jayson, and Jonathon London; J. Phillip London, Jr. and Laura McLain London; and five grandsons and one granddaughter.
Below is a interview with London on the Veterans Chronicles where he describes his philosophy and much of what drove his success.