How Northrop's tech scouting led them to this AI startup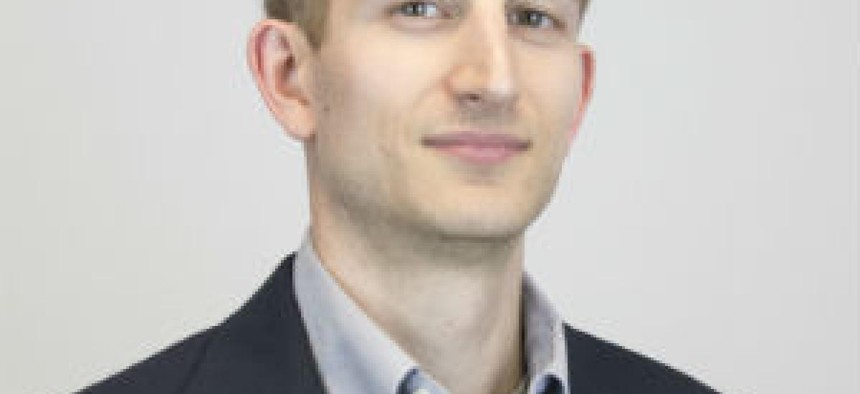 Like all defense companies, Northrop Grumman is on the hunt for technologies outside of its own industry that could be beneficial to themselves and their customers. Here's how that search led Northrop to invest some equity in a Philadelphia-based AI startup and how others can at least get on the radar.
Northrop Grumman's scouting of artificial intelligence technologies created in the commercial world and applicable to the government domain has led the company to invest seed money in a Philadelphia-based wireless system provider founded in 2017.
Deepwave Digital announced Tuesday it closed a $3 million fundraising round led by Northrop Grumman and Jumpstart NJ Angel Network. The exact amount of the contributions from investors was undisclosed.
Chris Daughters, a vice president in Northrop's aeronautics systems segment, said his company was attracted in part to Deepwave Digital's focus on both the hardware and software aspects of combining AI with radio frequency and wireless systems.
"It's a combination of an equity investment to make sure the company has the foundation to continue forward doing their innovation, so the money's part of it, but also the peer-to-peer sharing of our top experts," Daughters told me.
Deepwave Digital builds its offerings to move the computation engine of AI to an RF system's signal edge, or in essence get communications signals and data to users without tying up too much network bandwidth.
Some of the use cases Deepwave Digital has concentrated on also include spectrum monitoring and navigation, all of which intend to incorporate machine learning in gaining answers on large amount of data.
Northrop's broader tech scouting function to find companies like Deepwave Digital encompasses both pitch days and hackathons that bring in startups whose technologies could be disruptive to both the defense industry and customers.
This is very much like what other large defense companies such as Boeing and Lockheed Martin have done through their venture capital funds that invest equity into technology startups.
With respect to Deepwave Digital, Daughters said that company came to Northrop's attention in an August 2019 pitch day.
Those events are intended to find those "cutting edge technologies and innovative companies that can look at some of our hardest problems with a fresh set of eyes," Daughters said.
The need to sift through multiple gigabytes of data is an endemic example of such a hard problem government customers face. But some progress on that front has been made to an extent that agencies can gain "controlled orders of magnitude improvement and efficiency," Daughters said.
One facet of Northrop's tech scouting and investment function Daughters highlighted to me is its Blue Labs strategic innovation organization that is charged with both hosting pitch days and hackathons, plus funding small development programs inside the company.
Pitch days are exactly as the word describes -- companies present their technologies to Northrop, which then decides whether to engage further. Hackathons bring people together to solve problems in a sprint of between 12 and 24 hours.
Blue Labs also supervises the work of engineers that want to combine their inventions with existing problems they see, then get funding at initial low levels to gauge success.
Participants alongside Northrop and Jumpstart in this most recent funding round for Deepwave included Robin Hood Ventures, Ben Franklin Technology Partners and Lehigh Valley Angel Investors. This investment adds to the $1.2 million previously raised.
Now for the question we know some startup and emerging technology companies will have in reading this and one I did ask -- how does one get on Northrop Grumman's radar?
"Reach out to Northrop, get on the docket for one of our hackathons or pitch days. They'll usually have a central or top-level theme for a pitch day, whether it's autonomy or advanced material technologies," Daughters said. "Then they get visibility not just to the Blue Labs organization, but broadly across the corporation, experts and leaders in the company will be tuned in to hear that pitch."
Who tunes in to hear the pitch?
"It very often can be hundreds of program managers or chief engineers in the audience hearing their innovations and trying to match it up to our innovative products," Daughters said.
Northrop provided this email address -- pitchdayATngcDOTcom -- for startups and other emerging tech firms to learn more about and participate in hackathons and pitch days.