DEOS win builds on GDIT's growing cloud beachhead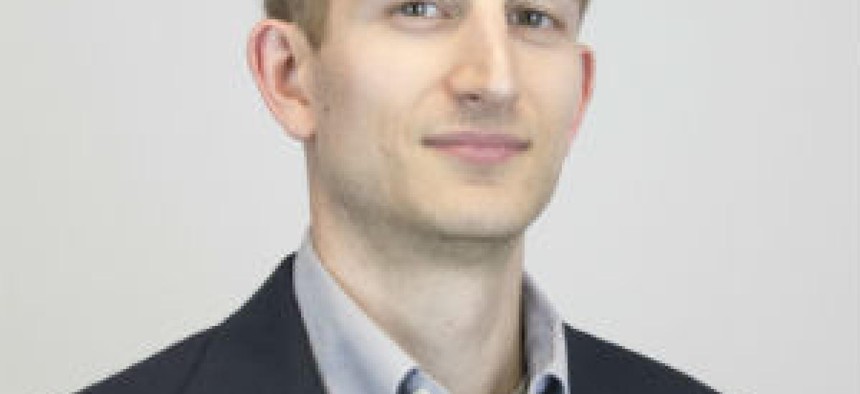 The award of a $7.6 billion Defense Department email contract to a General Dynamics-led team for a Microsoft platform comes with zero surprises but many implications.
With help from the General Services Administration, the U.S. military took another step Thursday in its inevitable march to the commercial cloud through the award of a potential $7.6 billion contract for email and other back-office collaboration tools and services.
So it must be said: the Defense Enterprise Office Solutions contract will be equally important in DOD's cloud journey over its duration of up to 10 years as the Defense Department's other big-ticket cloud buy -- JEDI -- that garners many headlines, ours included.
General Dynamics' IT services segment will lead a team of Dell Marketing and Minburn Technology Group to roll out products and services based on Microsoft's Office 365 platform. One other company (Cowen & Company analysts say Perspecta) bid for the work, according to Federal Procurement Data System information.
For General Dynamics: the company has in tow both DEOS and the Defense Information Systems Agency's MilCloud 2.0 project that houses commercial, contractor-run cloud infrastructures in DOD data centers. GD last year acquired CSRA and the latter's bid was selected for DEOS. CSRA won the milCloud 2.0 job two years ago.
General Dynamics of course cannot win JEDI, a cloud buy to acquire an all-purpose enterprise infrastructure. The Joint Enterprise Defense Infrastructure contract was specifically designed to go directly to the commercial providers, but GD and other integrators like it are hardly left on the cloud market's sidelines.
"General Dynamics can go out and claim this as a beachhead into further defense cloud opportunities and beyond that [to] federal cloud opportunities across agencies," said James Bach, federal technology analyst at Bloomberg Intelligence, a research arm of the financial data giant. "By having (DEOS), General Dynamics is already putting itself on the map to further reinforce its application migration chops, that's what this will do for them not just in DOD but across agencies."
As Bach pointed out to me, DOD and hence DISA both decided to have GSA run the DEOS procurement through the latter's IT Schedule 70 contract. GSA is looking to DEOS as an example for how it standardize acquisitions of similar services, such as the Civilian Enterprise Office Solution concept agency officials spoke of earlier this year.
DEOS is also the exact kind of contract General Dynamics will point to as a direct result of the CSRA acquisition that nearly doubled the size of the GDIT business even when factoring in some post-close divestitures.
All of DOD's so-called "Fourth Estate" agencies -- those not in the military services -- are directed to shift workloads to MilCloud by September of next year. GD, Dell and Microsoft are the primes on a $1 billion Air Force cloud acquisition awarded two years ago as well.
"JEDI aside, we're talking about two of these flagship high-profile cloud opportunities at the DOD and General Dynamics is party to both of them," Bach said. "Now we have a company that's very clearly defining its role as a cloud services leader in the defense market," he added, "and it's clearly enabled by the CSRA acquisition."
Microsoft may not win its head-to-head contest against Amazon Web Services for the potential $10 billion JEDI contract that could get awarded this year, if it gets past the court battle still being fought by Oracle and separately a pair of undergoing reviews by Defense Secretary Mark Esper and DOD's inspector general.
But Microsoft can certainly claim something of a victory with DEOS given that the product to be used is theirs, an end result Deltek's Alex Rossino indicated to me was largely expected.
"The award doesn't come as a surprise to me because Dell is part of the team and because they're going to be implementing the Office 365 platform," said Rossino, a principal senior research analyst at Deltek.
Consider the size, specs and nature of DEOS; coupled with what is available in the commercial market and DOD's desire to field capabilities quickly. All of that added up suggest Microsoft and Office 365 were at least in the box seat to be part of the effort even if the company did not win as a prime.
"If Microsoft didn't win it, I don't know who else could because their platform was the only one that had the security clearances required for the capability," Rossino said. "It was basically a sole-source award, that was just a matter of who was going to implement it, the solution itself was always going to be Office 365."
DEOS essentially centered around acquiring specific capabilities already available for office productivity. That makes it different than the much more controversial JEDI effort, which is eyed toward how DOD wants to use it in battle over the long term.
"There is the building out of a cloud network, a parallel network to a contractor-operated network, parallel to the DOD information network," Rossino said. "The other one is these artificial intelligence capabilities that they want in the JEDI cloud, and then the cloud storage itself: the data centers, the installation processing nodes and all of those things. So there were network, infrastructure and software capabilities rolled into JEDI. It's a far more complicated award than DEOS, which was just for office productivity."