How Perspecta plans to fend off rivals and keep big NGEN contract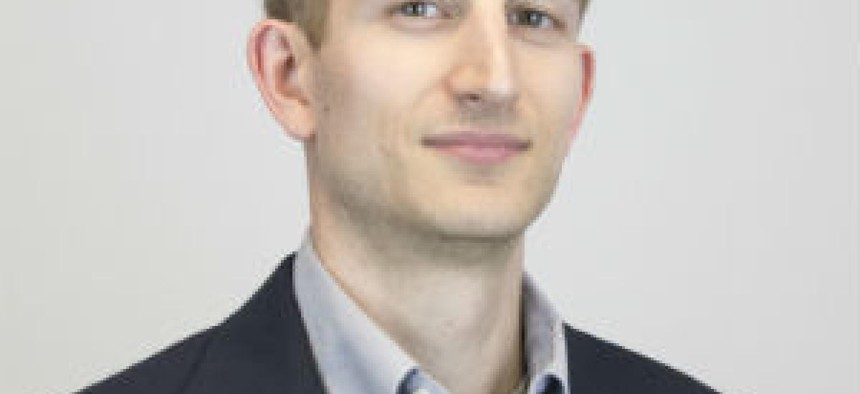 Perspecta is two months old as a public company and is preparing for the fight to keep the massive Navy NGEN IT contract away from its rivals.
Sometime later this year but possibly later, Perspecta will face the biggest test of its journey as a newly-minted company: defending its largest contract against a pair of rivals seeking a signature takeaway win to gain a major foothold in defense IT modernization.
But that test has yet to officially start in the race for the $3.4 billion Next Generation Enterprise Network-Recompete umbrella. A final solicitation was due "on or around July 31" but still has not been released. The winning team will provide broad IT services and hardware to the Navy and Marine Corps for their global Intranet network with 700,000 users.
Not that Perspecta is sweating the competition too much after its formation into a larger $4.2 billion-revenue contractor through the June merger of DXC Technology's federal business into Vencore and KeyPoint Government Solutions.
During Perspecta's inaugural and fiscal first quarter earnings call Tuesday, CEO Mac Curtis touted his bulked-up company's chops in keeping the work it has held since 2000 through its predecessors DXC, Hewlett Packard Enterprise, HP and originally EDS. And his comments to investors show a glimpse of Perspecta's thesis for both NGEN and the broader government IT landscape.
"The notion of being part of Perspecta where it's a 14,000-person, $4 billion-plus public sector company with the ability to innovate with the patent portfolio, advanced networking and really focusing on doing what's best for the government customer is good for us," Curtis said.
The current NGEN contract is due to expire on Sept. 30. Curtis told analysts Perspecta and the Navy are negotiating a one-year extension through to September 2019 and expect that to be signed sometime in the next two to three weeks.
When Perspecta launched in June, Curtis and other executives touted the combination of DXC's broad enterprise IT base with the intellectual property and high-end IT work of Vencore and KeyPoint as a vertical integration that sets the new company apart from the rest. And that should give Perspecta an edge in the effort to keep NGEN, according to Curtis.
"The timing of our spin-merge is ideal for the recompete because we can layer Perspecta's rich IP and innovation portfolio, data analytics and cloud capability on top of our long history of performance. We can accelerate the Navy and Marine Corps' IT modernization journey without missing a beat on operating the network," Curtis said.
This new iteration of NGEN is being split into two parts: a services component and an end-user hardware track. Perspecta currently teams with AT&T for NGEN and they will partner again to pursue the services portion, which this time around is being awarded as a best-value contract versus the prior lowest price, technically acceptable approach.
Whoever wins the NGEN services track in particular will gain a major foothold in defense IT modernization just as military budgets are due to rise significantly again and agencies increasingly put more effort and focus on refreshing aging technology environments, but with affordability in mind.
Analysts largely view the competition as difficult to handicap given how all bidders have undergone major transactions in recent years but near-unanimously view the stakes as high given the broader spending and policy dynamics in government IT.
Teams led by Leidos and a bulked-up General Dynamics IT services business thanks to the April CSRA acquisition have lined up to try and wrestle the NGEN services portion in particular away from Perspecta however.
Leidos and GD tower over the rest of the government IT market at close to $10 billion in annual revenue each after large blockbuster deals they undertook in hopes of being better-positioned for programs with the size and scope of NGEN.
Leidos hopes it can go full steam ahead on pursuing the NGEN services piece with the integration of the Lockheed Martin IS&GS business fully in the rear view mirror two years post-close. And prior to GD's acquisition, CSRA eyed NGEN as a natural extension of the company's work on another program to maintain in-theater Navy networks outside the U.S.
NGEN is not the only large opportunity on Perspecta's horizon as the company plans to throw its weight around for possible takeaway opportunities also. One that might fit that bill is a Leidos contract ironically: a $4.6 billion program awarded in 2011 to Lockheed IS&GS for international network and telecommunications services to Defense Department personnel. That contract expires next year.
"One of the things we like about Perspecta is there's not a deal out there… that we can't go after if we so decide," Curtis told investors. "We've got the wherewithal, we've got the knowledge, we've got the innovation and we certainly have the resources to go after these big deals.
"That was part of the value proposition for Perspecta, so we're excited about the opportunity to look at some of those larger deals."
First quarter bookings of $1.3 billion for a 1.3 book-to-bill ratio -- primarily from civil and health recompetes -- indicate Perspecta is laying an initial growth foundation and mitigating some risk from a possible NGEN loss. Any book-to-bill number above 1 shows a company is growing the contracts backlog faster than drawing down from it to recognize revenue.
Pro forma sales for the quarter ended June 30 were $1.04 billion, up 2 percent over the prior year period.
Perspecta expects flat revenue for its current fiscal year, then grow between 3 and 5 percent for each year through FY 2022. The company also expects to maintain industry-high margins of 16-17 percent adjusted EBITDA -- the ratio of earnings before interest, taxes, depreciation and amortization expenses to sales.
Analysts closely watch adjusted EBITDA margins to measure the profitability of government IT and professional services companies. CSRA in particular was noted for having industry-high margins before its sale to General Dynamics.