JEDI industry day leaves many wondering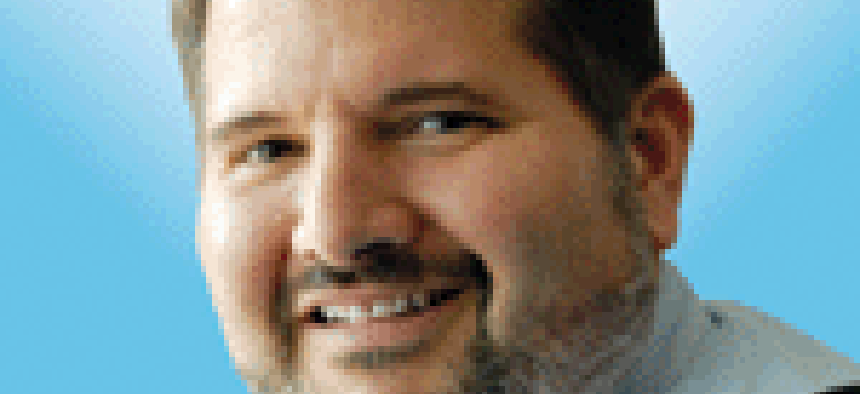 The Defense Department has lifted the curtain on its massive JEDI cloud initiative but many in industry are still wondering about the strategy and what kind of opportunity the project really represents.
The Defense Department's industry day on the Joint Enterprise Defense Infrastructure cloud program probably created as many questions as it answered.
DOD officials at the Wednesday event in Arlington, Va. emphasized that the program is not an IT contract but represents a huge cultural shift for the department.
Many of the speakers described JEDI as being about the mission and literally saving lives.
The event was held at the Sheraton Pentagon City, just over a small hill from Arlington National Cemetery. And Air Force Gen. David Krumm, deputy director for requirements for the DOD Joint Staff, urged attendees to walk through the rows of grave markers and take note of the ages of those who are buried there.
"If we do this right, we'll be putting up a fewer tombstones," he said.
His point was clear: better information sharing and computing power -- from the warfighter on the battlefield to the generals at headquarters making real-time decisions -- will save lives.
The undertaking is huge. Acting DOD CIO Essye Miller said she has 3.4 million end users, more than 4 million endpoint devices, 1,700 different data centers and 500 cloud initiatives that are currently underway.
Her desire is for simplification, standardization and better security by using a cloud infrastructure.
The DOD speakers at the event could not have done a better job describing the JEDI requirements of flexibility, speed, more computing power at the edge, better analytics and more security.
And Krumm wasn't the only speaker to put the project in life and death terms.
They repeated over and over that JEDI is not an IT contract. It is about the mission. It's about cultural change.
"We want to bend DOD to the commercial cloud," said Chris Lynch, director of the Defense Digital Service.
But as the speakers got closer to the actual parameters and needs of the procurement it sounded more and more like another IT contract, which left many of the industry folks I spoke with scratching their heads.
There also was a great deal of skepticism voiced about the aggressive schedule DOD has set:
Draft solicitation released today (March 7)
Comments on the draft are due March 21
A final RFP expected in early May
Awards by the end of September 2018
That was one of the bigger "wow" moments of the morning. Given that the sources sought notice for JEDI pulled in over 50 comments, the draft RFP will likely garner even more responses.
Several industry executives told me that they didn't think it would be possible to process all of those comments and turn around a final RFP by early May.
They also said that the way DOD officials describe the contract didn't match up with the innovative approach that has been touted.
The draft scribes a multi-step process where bidders must first pass a "gate criteria." This includes technical factors such as elastic usage, high availability and failover, offering independence, logical isolation, commerciality, automation, commercial cloud offering marketplace and data.
A bidder will have to be found "acceptable" in all of these criteria to move to the next set of evaluation factors. If they are found non acceptable they will be eliminated from the competitive range.
Then there is a second set of factors that need to be met. These include the tactical edge, identify and access controls, information and systems security, application and data hosting and portability and secure data transfer.
If a bidder gets through all of that, then there will be demos and discussions before final proposals and an award.
One executive told me it sounds like DOD wants to order technology services. In fact, DOD officials even described things at one as wanting a catalogue and best prices.
DOD is developing a tool that the services and defense agencies will use to order the infrastructure and platform as a service that they want.
"If that is what they are doing why don't they just use Alliant 2 or the GSA schedule? They can do all of that already," an executive said to me.
DOD officials and the solicitation documents made it clear that DOD plans to make a single award, though Contracting Officer Chanda Brooks said everything is still subject to change after the comments on the draft.
While the industry executives I spoke with had not seen the draft yet, they expressed concern that DOD is looking for a cloud services provider such as an Amazon Web Services or Microsoft Azure. This means they are moving toward a single cloud solution, rather than a hybrid cloud.
So the industry day did little to assuage fears that the contract is being shaped so that only AWS will meet all of the criteria.
It seems obvious that DOD doesn't want a systems integrator led effort where a single prime could bring in multiple could providers depending on the solution DOD is looking for, an executive told me.
"We'll have to look at it but it'll mean lots of partners and a lot of investment," another said.
During a press call  after the industry day, DOD officials said they didn't believe a hybrid cloud or a multiple award contract would meet their needs.
The prize is potentially huge. DOD said they expect the contract to be worth multi-billions over 10 years. The contract will have a two-year base, followed by a five year option, followed by another three year option.
The risk with that kind of structure, an executive told me, is that DOD will likely be into the five year option before they really know whether JEDI is bearing fruit. "Then you'll be stuck" he said.