The rationale behind the DXC-Vencore-KeyPoint deal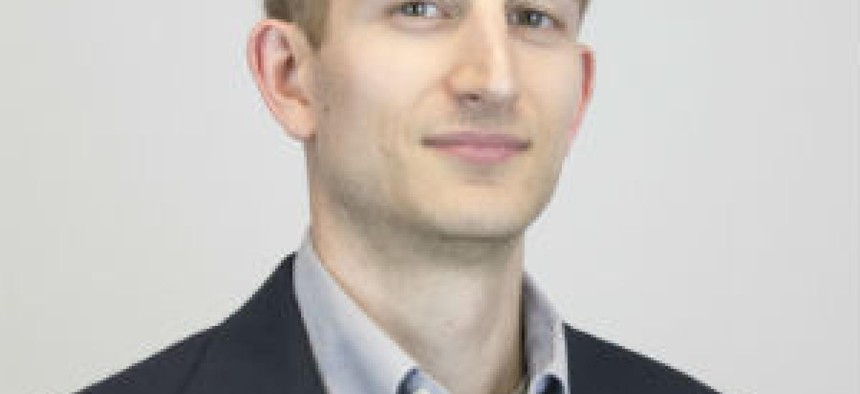 DXC Technology's decision to separate its U.S. government business and create an entirely separate independent company has multiple threads to it outside of complex structure of the deal, as CEO Mike Lawrie described in a call with investors Wednesday.
As a reminder of yesterday's news, DXC is spinning out and merging its U.S. public sector business with Vencore and KeyPoint Government Solutions to create a new publicly traded, $4.3 billion-revenue federal IT and professional services contractor. Remaining at DXC is its commercial business, an international public sector business and work for state and local Medicaid programs.
At first glance, the new unnamed company immediately looks to hit market as a heavyweight in the federal market as its fifth-largest publicly traded player with a presence among almost every federal customer segment, according to DXC. Lawrie told investors on the call this is a "vertical integration" that puts all three entities' focus areas "at scale."
"Vencore… brings to the table big time" its focus on "next-generation capabilities in in cyber, cloud computing and analytics," Lawrie said. That is combined with KeyPoint's background investigation support for agencies and its "proprietary algorithmic workflow systems" for that work, along with DXC's enterprise IT and systems integration portfolio.
A presentation to investors on the merger highlights that wide scope of work this new company will have in its portfolio. The slides also display the broad scale of federal agencies that new company will be in.
Vencore for instance is present in the military and intelligence communities with a significant classified portion. KeyPoint adds its background investigation work with the Office of Personnel Management and new National Background investigation Bureau.
Then there is DXC's broad enterprise IT reach in the civilian arena across the Treasury, Health and Human Services and Veterans Affairs departments. DXC also holds contracts with the Defense Department and FBI.
"This vertical value chain is what will make this asset unique in the marketplace," Lawrie said. An investor presentation on the deal also highlights Vencore's technology strategy and consulting work, plus its intellectual property portfolio.
Lawrie estimated the new company will have at least 260 patents on IP. That includes creations from Vencore's internal research arm Vencore Labs in areas such as cyber, smart grid, speech technology and display platforms.
There is also the fact that DXC has decided to leave the U.S. government market where many of its primary competitors such as Accenture and IBM have significant footprints.
Lawrie said DXC believes commercial and federal have "different capital requirements with different capital allocation requirements (and) the valuations are different."
As a separate entity, Lawrie said the new company can "grow faster and be more focused" with a "more targeted growth strategy and capital allocation model behind this."
Prior forecasts from DXC and Lawrie have put the U.S. government business on a growth trajectory in the single mid-digits. As a separate company, Lawrie said its "breadth and potential revenue synergies" leave it "able to cross-sell into other segments" each business' respective work.
And for DXC, Lawrie said it plans to collaborate with the new company as there are certain agreements on sharing of intellectual property for instance. The new company can also have more access to partnerships with other public sector-focused businesses also, according to Lawrie.
"There weren't real synergies between our U.S. public sector business and our commercial business," Lawrie said. "Some of the capabilities in (the new company) can be leveraged in our commercial business."
This deal via the Reverse Morris Trust structure is also intended to unlock new shareholder value for DXC's investor base and concurrently do the same for the future company's stockholders.
DXC Chief Financial Officer Paul Seleh told investors the valuation for public sector assets like the one being spun off would be higher as its own entity.
Within DXC, Seleh estimated the business' value is at around 7-8 times earnings before interest, taxes, depreciation and amortization expenses. Outside of DXC, Seleh said the business could carry a "mid-teen plus" margin after the three-way deal closes.
Some of those margin benefits come from Vencore, which reported a 9.77 adjusted EBITDA margin in its June filing to undertake an initial public offering.
And from that rationale, DXC is going forward with the split to what Lawrie said will give the new company "access to an investment vehicle specifically connected to the (technology) transformation taking place in the federal government."
It's a question of "whether you want to run a consolidated play and then optimize at a higher level or do you want to focus on the unique aspects of the market and then make sure the strategy assets that support that strategy, capital allocation as well as the employee base are totally focused on that market," Lawrie said.
Wall Street has so far responded positively to the news as DXC's shares were up 4.5 percent in mid-afternoon trade Thursday and were on pace to close at an all-time record high.
DXC's rationale also could be behind why Veritas Capital has decided to go this route for Vencore instead of taking that company public as its own entity. Veritas also has owned Loveland, Colo.-based KeyPoint since 2009. Under this three-way deal with DXC, Vencore's business will enter the public markets but in a different way.
Vencore's filing for the IPO signaled Veritas' plans to exit its ownership of the contractor after seven years. There is precedence in the government services market for a contractor filing to undertake an IPO but then finding a buyer after a registration statement.
SRA International filed for an IPO in July 2015 and later merged itself into what is now CSRA four months later. Alion Science and Technology did the same in June 2015 but was acquired by Veritas Capital that same summer.