ECS Federal busts through $500M barrier with InfoReliance deal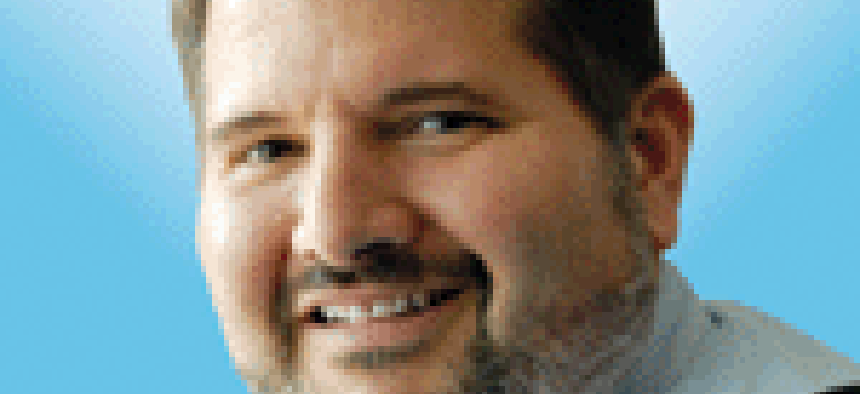 ECS Federal CEO George Wilson set an 'aggressive' goal in 2015 to hit $500 million mark in a few years. Now he's done it with a deal to acquire InfoReliance and he's transformed the business along the way.
Almost exactly two years ago, ECS Federal CEO George Wilson told me the company would reach $500 million in revenue in a "few years". He called it aggressive, "but that's the milestone we've set," he said.
With this week's acquisition of InfoReliance, ECS has surpassed that goal with the expectation that the company will reach $525 million in 2017 revenue thanks to about $150 million in added sales.
Terms of the deal were not disclosed, but this is the biggest acquisition ECS has undertaken.
But the transaction also marks more than just added revenue. It also is a major milestone in ECS' transformation toward a more solution provider type of company as opposed to being just another provider of acquisition and program management support.
The transition was underway before the InfoReliance acquisition thanks to earlier buys it closed in 2015, but the latest deal greatly accelerates the process. Revenue from acquisition and program management work represented about 17 percent of revenue in 2016. With the InfoReliance purchase, it will be down to 9 percent for 2017, Wilson said.
"We have really shifted from acquisition PM support to cyber, cloud, agile software and systems delivery," he said. "We are much more on the performer side."
Bob Kipps, co-managing director of investment bank KippsDeSanto, said the acquisition was a "transformative shift for ECS into NextGen IT – cyber and cloud in particular." KippsDeSanto represented InfoReliance in the deal.
ECS now lists its core capabilities as cybersecurity, cloud computing, software engineering solutions and managed services. It is focused on the national defense and intelligence markets with customers such as the Navy, Army, Homeland Security, Justice, Defense Health Agency and intelligence agencies.
As part of ECS, InfoReliance will operate as a subsidiary. It brings along customers with the Navy, Marine Corps, U.S. Postal Service, FBI, intelligence community and Labor Department. The management team led by CEO Andrew Butler remains in place with Butler becoming senior vice president and strategic adviser to Wilson.
The acquisition of InfoReliance is the first deal for ECS Federal since 2015, when it closed the purchases of Systems Planning Corp. and Information Systems Worldwide Corp. Those acquisitions followed a minority investment from the private equity firm Lindsey Goldberg. The deal with LG is what sparked my conversation with Wilson when he announced his $500 million goal.
Wilson isn't setting a new revenue goal this time. "Now that we have some scale we can be more aggressive in our technology and personnel investments," he said.
The focus will be on organic growth and building on capabilities in cyber, cloud deployments, agile software and systems integration.
Future acquisitions will be more of the "tuck-in" type, for example, around data analytics, artificial intelligence and biometrics, Wilson said.
ECS will seek to leverage its stable of multiple award contracts. It holds positions on Alliant, OASIS, CIOSP-3, CIO-CS, SEWP and ValuePoint, a cloud contract put out by the National Association of State Procurement Officers. On Alliant, ECS is one of the few primes with positions on all three service pools.
The InfoReliance acquisition "along with new contract awards has greatly accelerated ECS' transformation," Wilson said.