The 'big one:' Leidos-Lockheed deal reshapes market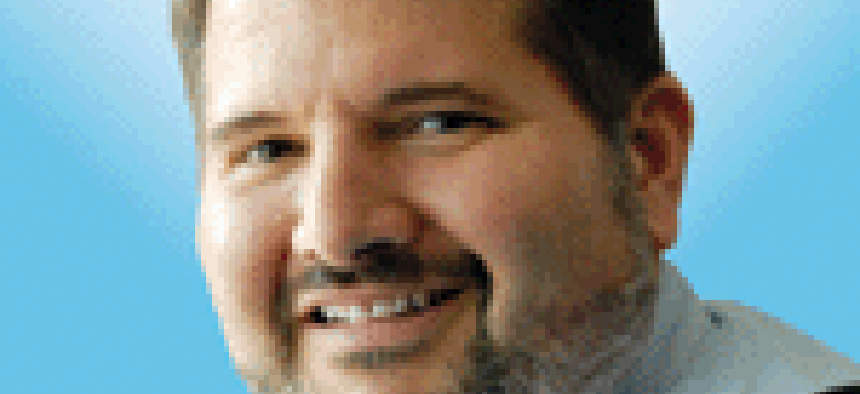 Leidos' planned acquisition of the bulk of Lockheed Martin's IT business will have ramifications across the market as the company becomes the biggest player in the federal space.
We've seen the government market undergo a rapid restructuring in recent years through divestitures and acquisitions as companies try to reorient their cost structure and adjust their mix of business.
No deal will have a bigger impact on the landscape than Leidos Inc.'s acquisition of the bulk of Lockheed Martin's IT business.
Valued at $5 billion, the deal adds massive scale to Leidos, effectively doubling the company from about $5 billion in annual services revenue to nearly $10 billion. To get there, Leidos and Lockheed Martin have structured a deal that includes $1.8 billion in debt, the issuance of 77 million new shares of Leidos worth $3.2 billion and $1 billion in special dividends.
In the end, Lockheed Martin shareholders will hold 50.5 percent of the new company and Lockheed Martin will name three new directors to Leidos board.
The company will tower over its closest peers in the federal IT services space. Its nearest competitors are Booz Allen Hamilton and CSRA, both with $5.3 billion in services, according to Leidos data.
SAIC Inc. and CACI International Inc. aren't far behind. SAIC stands at $4.4 billion, and CACI will be close to that level after its acquisition of L-3's national security business closes next month.
Leidos Chairman and CEO Roger Krone named three primary drivers for the acquisition:
Leidos will become the largest pure play services company in the federal market with a wide range of solutions for customers in the defense, intelligence and civilian sectors
The two companies have complimentary capabilities and customers and a strong cultural fit
There are significant synergies around operations, locations, capabilities and costs
The revenue mix of the combined companies will be 45 percent civil and commercial, 20 percent intelligence and 35 percent defense.
Lockheed's IS&GS brings significant customers at Health and Human Services, Homeland Security, FAA, DISA and the Social Security Administration. Leidos strengths are at the Defense Health Agency (where it recently won the mega contract for the new electronic health record system) and the Air Force.
Both companies have complementary customers at GSA, the Navy, Army and intelligence agencies.
It's with the combination of those shared customers and complimentary capabilities that Leidos officials see the potential for early payoffs from the deal.
For example, Jim Reagan, Leidos CFO, said that IS&GS brings strengths in large scale IT projects while Leidos has high-end cybersecurity expertise for a variety of Defense Department customers.
"We think we'll be extremely well positioned to compete for and win large scale network modernization programs at DOD," Reagan said. "Certainly, much more than either organization could do on its own."
The ultimate structure of the new company wasn't announced and officials said that they'll be able to say more about what the company will look like and who will run its operations after undergoing regulatory reviews. The transaction is expected to close in the second half of 2016.
For now, the company has said that Krone will continue as chairman and CEO and Reagan will be the CFO. The company will be headquartered in Reston, Va.
IS&GS is headquartered in Gaithersburg, Md., and is run by Sondra Barbour. She'll continue to run the business through the transition to Leidos, a Lockheed Martin spokesman said. He couldn't comment what will happen beyond that point.
In its presentation to analysts, Leidos refers to a merged management team but offered no other details.
As with many of the deals we've seen, there is a lot of talk of cost savings coming from these combinations. And cost was one of the factors hurting IS&GS as part of the greater Lockheed Martin; because it was part of a defense and aerospace company, IS&GS carried costs that other services companies do not. As part of Leidos, the business will be freed from those costs and will have a cost structure more in line with its competitors, Krone and Reagan said.
Scale also will help the company reduce costs. The company expects costs savings of $120 million by 2018 through merging similar businesses and consolidating operating units, real estate and supply chain savings as well as reduced corporate infrastructure.
The deal, of course, is a significant change for the customers and employees of Leidos and Lockheed Martin, but other effects will be felt across the marketplace.
"This is the big one we have been waiting for," said Larry Davis with the investment bank Aronson Capital Partners. "We expect to see continued consolidation in the market."
Bob Kipps of the investment bank Kipps DeSanto agreed, but he's not sure we'll see other mega deals among the next set of companies below Leidos, i.e. Boos Allen, CSRA, CACI and SAIC.
With those companies solidly in the $4 billion to $6 billion range, Kipps does see a need for them to challenge Leidos on size.
The bigger challenge will be for the companies in the $1 billion to $2 billion range to get up to the $4 billion to $6 billion range, he said. Without getting bigger, they'll struggle to compete with the bigger companies.
Interestingly, the deal will return Leidos to the scale it was before it split off SAIC in 2013, but the acquisition isn't recreating the old SAIC.
The split was driven in large part by the need to shed its systems engineering and technical assistance business, which was causing the company organizational conflicts of interest problems.
But IS&GS will not bring any of that work because Lockheed Martin divested that business in 2010. That business is now known as Vencore.
So, Leidos is getting the size, but not the OCI headaches. It's not returning to an old business.
And while Leidos will double, Krone told analysts that the business will still be smaller than the business he ran at Boeing "back in its heyday."