Reporter's notebook: Highlights from the GovCon Awards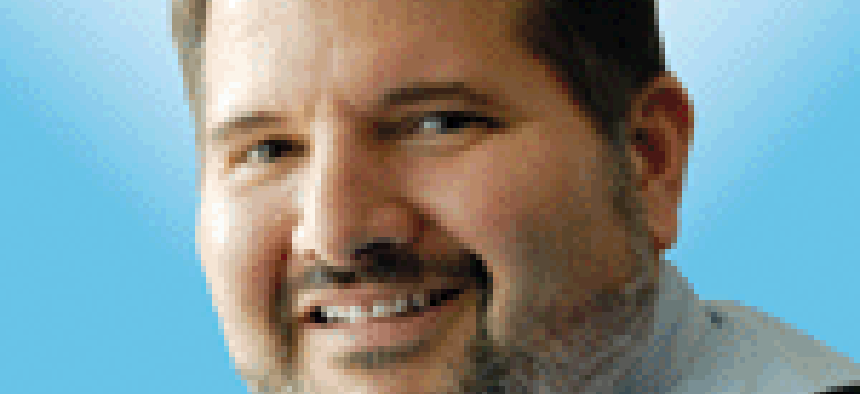 Each year, there are special moments at the Greater Washington Government Contractor gala, the annual awards program produced by the Fairfax County Chamber of Commerce, the Professional Services Council and Washington Technology
This was the 10th annual dinner, and it was no different – a lot of great heartfelt acceptance speeches from the winners, a good dose of humor from the two hosts, Rich LaFleur of Grant Thornton and Craig Chasson of Pillsbury Winthrop Shaw Pittman, and a healthy helping of patriotism and dedication to the mission of government.
Here's a rundown of some of my favorite moments. If you were there last night feel free to share yours. Andclick here to see a list of all the winners.
Elliott Branch, deputy assistant secretary of the Navy for acquisition and procurements, was one of two winners of the public sector. The second was Alexander Mavroukakis, a contracting officer with the Education Department, and the founder of the Rising Acquisition Professional Community. Mavroukakis is very much in the first third of his career and Branch in the last third.
In accepting his award, Branch turned to talk directly to Mavroukakis because "30 years ago I was an intern at the Naval Air Systems Command and worked for the best negotiator I ever met, John Mavroukakis…Thank you Alexander for continuing your father's legacy of public service."
Getting to meet Marine Corps sniper Jesse Fletcher, who lost both of his legs and a couple fingers when he, in his words "got blown up" in Afghanistan. He's walking on prosthetics and would have run in the Marine Corps Marathon but he lost so much weight training for the run that his legs don't fit well enough. Instead, he rode a hand-cranked bicycle. I don't think I'll complain about being tired after a running a 5K anymore.
He was there as a representative of Luke's Wings, an organization that provides free flights so wounded soldiers and their families can see each other during rehabilitation. The raffle for a luxury stay at Nemacolin Woodlands Resort in Pennsylvania raised $22,000 for the organization.
All the shout outs to families and spouses for their support. Greg Baroni, CEO of Attain and winner of executive of the year in the under $75 million category, recognized his wife for her "steadfast support and the things she does behind the scenes that no one knows about. To her, a very big thank you."
Mehul Sanghani, president of Octo Consulting Group, which one as contractor of the year under $25 million, couldn't thank his wife in person – their babysitter fell through. "She made so many sacrifices to make this day happen," he said.
He also talked about his parents. "I came [to the United States] as a three-year-old and I didn't speak English. I had parents who worked jobs at McDonald's and 7-Eleven to support the family," he said.
Also, from Octo – the roar that went up when they were announced as the winner. I never get tired of the enthusiasm of small businesses.
John Hillen joking about being the Susan Lucci of the GovCon awards because either he or his company, Sotera Defense Systems, have been finalists multiple times and didn't win. This year, Sotera won as contractor of the year in the over $300 million category.
It's not Sotera's management team that deserves the accolades but "what makes us great are the direct-bill employees working with our customers," he said.
And the topper of the night was Jack London, CACI International's executive chairman, being inducted into the hall of fame.
2012 was a big year for London; CACI celebrated its 50th year. He also celebrated his 40th year with the company – he started as a program manager in 1972. And 50 years ago this week, he was serving in the Navy during the Cuban missile crisis.
London mentioned all those things in his acceptance speech, but for all his sense of history and its importance, one of the things I've always admired about him is that he looks forward, and that was on display last night.
"The future is exciting," he said, referring to the role that technology can play in improving productivity and the quality of life. "It's been quite a ride, but in many ways it is just the beginning."
In these tough market times, that's a philosophy everyone should adopt.