Cureton brings social media expertise to new NASA role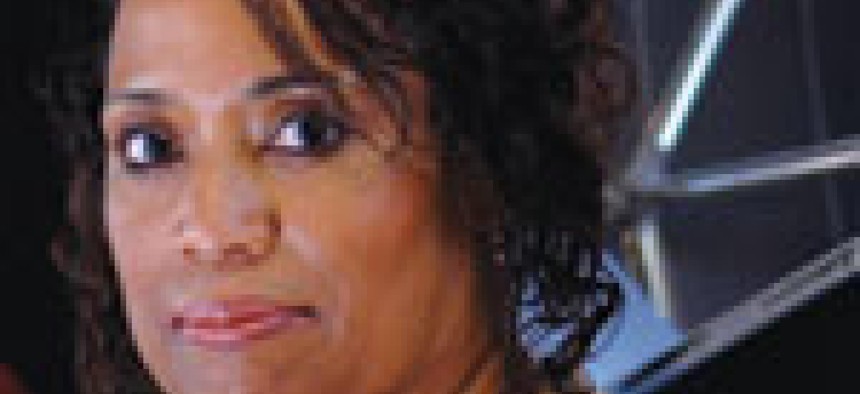 NASA selects Linda Cureton to be new CIO after nearly year-long search.
Editor's note: This story was updated with additional information at 5:06 p.m. 
Linda Cureton, the new chief information officer of NASA, brings social-media experience to bear on her new role.  

Cureton, who comes to the post after serving as CIO at NASA's Goddard Space Flight Center, is also a prolific blogger and avid user of Facebook and Twitter to enhance the agency's public profile, according to observers.
Cureton's extensive tenure in government will serve her well in her new position, said John Slye, principal analyst at the market research firm Input.
"She already knows the organization, and already has instant credibility in the organization," Slye said.
Prior to working at Goddard, Cureton held technology positions at the Alcohol, Tobacco, and Firearms Bureau, and the Energy Department, according to her bio.
Cureton's support of new technologies, including social media, fits well with goals set by the White House, Slye said. Cureton could turn NASA into a model of how to use these new technologies across government, he said
"She is a prolific blogger and proponent of the whole social media movement at NASA," Slye said. "She hasn't shown any indications of stepping back on being a champion of these types of technologies. This new position will give her new opportunities to spread the awareness of the various ways to use new technology."
Other experts agree Cureton has emerged as an important leader for the adoption of social media in government.
"She's been an innovator," said Andrew Krzmarzick, who is a senior project coordinator at the Graduate School -- a continuing education institution that was originally part of the Agriculture Department -- and chief blogger at Generation Shift, a blog geared toward improving the government's use of Web 2.0 and social media technologies.  
Cureton's blog and Twitter feed illustrate her commitment to the emerging technologies, he said.

NASA has been without a permanent CIO for about a year. Bobby German was named acting NASA CIO in January. Jonathan Pettus gave up the NASA CIO position last year to return to his previous post as CIO for the Marshall Space Flight Center in Huntsville, Ala.

Cureton was a driving force behind the creation of NASA's Spacebook, a Facebook-like tool designed for internal collaboration.
In a recent post on her blog, Cureton discussed the pressure on CIOs to manage risk.

"As we continue on in our mission to inspire, discover, and explore, we will do so by balancing the sometimes competing forces of intellectual judgment and intuitive possibilities," Cureton wrote. "Too much risk aversion yields little reward. Too much innovation could be wasteful or even dangerous. It's amazing that we are so creative and innovative in our youth and as we mature and gain experience, life beats it out of us."
Krzmarzick considers her the "quintessential social CIO," one who understands it's important for a CIO to get out of the office and network with like-minded professionals—both virtually and in person. In this way, she can be an effective bridge between traditional IT management, who may still warily view social media, and the new Web 2.0 tools. 
She understands the philosophical underpinnings of social media technology, and knows how they could be used to enhance communications, raise visibility for the agency and even save agency dollars, Krzmarzick noted.

One of Cureton's first tasks will likely be to oversee the open competition for a series of information technology services contracts at NASA estimated to be worth more than $4 billion.

NASA's agency-wide Information Technology Infrastructure Integration Program acquisition includes five projects to consolidate the agency's IT and data services, according to NASA.

The total estimated value for the five contracts, based on NASA's draft request for proposals, is $4.28 billion, according to Stephanie Sullivan, an analyst for federal opportunities with INPUT, a market research firm. The services contracts will also consolidate current NASA contracts such as Outsourcing Desktop Initiative for NASA and Unified NASA Information Technology Services. The contract awards are expected during May and June 2010.

Integration of the services to be completed through the different contracts will be done using ITIL, a widely accepted approach to IT service management based on best practices, Cureton said at a breakfast hosted by INPUT on Sept. 17.