Oceans of opportunity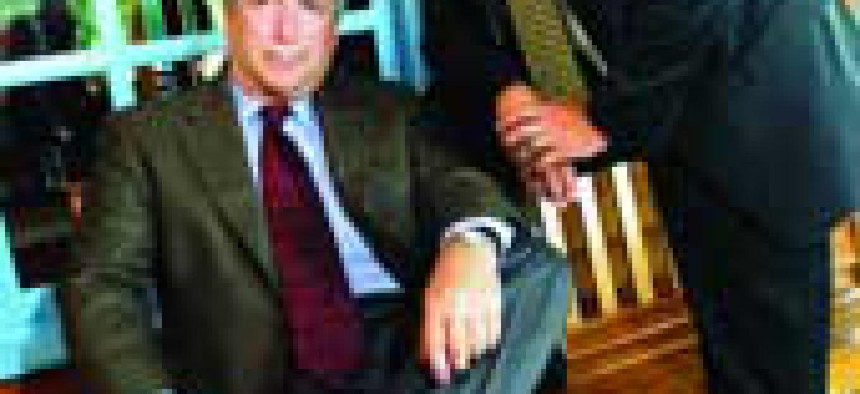 Start-up consulting firm sails on, minus a founder at the helm.
In spring 2006, entrepreneurs Jack Neal and Howard Seeger gathered several retired federal officials and former corporate executives and formed Deep Water Point LLC, a niche consulting company, to help clients identify government contracting opportunities."My role would be to assist Howard in building the company and provide advice and counsel," Neal said. "Howard would capitalize and expand upon my experience, since I had built a similar company before, the AIH Group," which he sold in 2002.Seeger brought to the table a lengthy corporate career that included executive positions at SafeNet Government Solutions, Qwest Government Systems, Wang Government Services, and Science Applications International Corp.One way the new company would distinguish itself from other consultants was by focusing on information technology legislation in Congress ? from the time an IT bill is drawn up and introduced until it is signed into law or voted down. Such close scrutiny over the long-term, Neal said, would give Deep Water Point's clients unique contracting insight and perhaps a leg up on their competitors.But now, one year later, Neal is no longer at the helm. Neal has sold his interest in the company to Seeger, but remains onboard as a part-time consultant."Howard and I formed Deep Water Point together with the understanding that I would sell him the complete ownership within a year," Neal said. "Of course, we assumed our effort would be successful [by then], which it was."While Neal went on a three-month, around-the-world cruise, Deep Water Point sailed on to new successes in government consulting, going head-to-head with a handful of competitors, notably Topside Consulting and the Flyzik Group. In addition, the federal consulting space is crowded by the many one- and two-person operations usually comprised of recently retired government employees hoping to use their agency connections to pad their federal annuity.Neal said small, specialized consulting companies, or boutique firms, face special challenges, especially in their infancy. "They need to hire and retain the right personnel who will display unique agency and program knowledge, and establish a trust/reliability factor among clients. In addition, they need to quickly build a reputation for success by significantly assisting clients obtain new business."Deep Water Point attracted business because of its cadre of 11 high-profile partners. They, in turn, were attracted to the company's concept of working independently ? from home in most cases. When necessary, principals can meet clients at office space the company has leased in McLean, Va.In October 2006, the company recruited Scott Hastings, who had just retired as chief information officer of the Homeland Security Department's U.S. Visitor and Immigrant Status Indicator Technology program, known as US-VISIT."Most of us have worked in several agencies over our careers," Hastings said, so clients learn first-hand how individual agencies and officials function and how to respond to government requests for proposals that most closely meet agencies' needs and are most likely to win contracts.The company's newest additions include Bob Haycock and Steve Kalish. Haycock was chief architect at the Office of Management and Budget and led the National Business Center at the Interior Department. "The reason most people know him in Washington is he was detailed to [OMB] for about two years and was the key government executive who did the first federal enterprise architecture," Hastings said.Kalish, who joined Deep Water Point in July, was a veteran executive at Computer Sciences Corp., where he was president of its civilian government sector, working primarily with the Transportation Department, Federal Aviation Administration and NASA.Company officials won't say precisely how many clients Deep Water Point has, but they are candid about why the company targets those that seek to work with the Homeland Security Department and the civilian agencies."One answer is that's where there is a greater degree of discretionary spending," Hastings said. In other words, that's where the money is. "This may sound a little hokey, but many of the companies we deal with are very interested in helping with the [DHS] mission, so that's an easy one for us to gravitate to," he added."We have a civilian agency focus in part because we're not interested in becoming a large company," Seeger said. If a client needs specific intelligence or a Defense Department specialist, he said, Deep Water Point will bring in outside expertise rather than take on new partners."We feel we can go to trusted colleagues and bring them in as needed rather than grow beyond the consultancy model that we have," Seeger said. "We will not have a huge number of clients, we will not have a huge number of principals. We're all very comfortable with that.""We're very conscious of growing to our [appropriate] balance and not exceeding that boundary so that individual customer service declines," Hastings added. "This is a challenge all consultants face."Deep Water Point initially offers clients broad, overarching consulting advice about the federal sector, often by including several partners in the first meetings, whether the client is a Fortune 500 company or a minority-owned 8(a) start-up. "Our first session is really to understand in greater detail what the company has to offer," Hastings said. "And it offers the company a chance to see face-to-face the mix of skill sets that we offer.""They're really about being part of your business development organization," said Mike Kelley, vice president of business development at Abacus Technology Corp., of Chevy Chase, Md. Kelley said he brought in Deep Water Point when he wanted to increase the company's federal footprint, and he has been pleased with results."They brief you on [government] programs that are coming up, and then they'll help set up the [agency] meetings," he said, adding that having a cadre of former senior officials on hand to advise and guide the client is a big advantage. "That's not how most government consultants operate in Washington," he said.Seeger said he believes the large vehicles, such as DHS' Enterprise Acquisition Gateway for Leading Edge (EAGLE) solutions contract, offer a great deal of potential business over the next few years. But to compete on a large indefinite-delivery, indefinite-quantity contract such as EAGLE or General Services Administration's forthcoming Alliant, he said, companies must be fully prepared to respond properly when task orders are issued."Having the contract is essential, but it doesn't guarantee revenue," he said. "We dive down as deep as they want and help them."For example, large contractors may want strategic consulting about a specific governmentwide acquisition contract or a large vehicle such as Alliant and Alliant Small Business awards. "They may want to talk over the next several budget cycles and get some advice on how to position their company," Hastings said."We'll also sit down with a small 8(a) [company] perhaps who's just trying to figure out how to get to the next level," he added. "They tend to be more tactical in nature, looking for teaming advice or much more discrete opportunities.""We are really focused on the revenue," Seeger said, "helping clients gain morerevenue in this interesting, tough, confusing ? whatever word you want to use ?fiscal '07."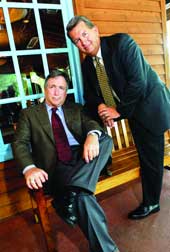 Scott Hastings (left) and Howard Seeger, both of Deep Water Point LLC, have kept the niche consulting company clipping along after the departure of co-founder Jack Neal, who remains onboard as a consultant.
Rick Steele
ALL ABOARD CHASING OPPORTUNITIES
Associate Editor David Hubler can be reached at dhubler@1105govinfo.com.