2006 Greater Washington Government Contractor Awards: Partnership takes center stage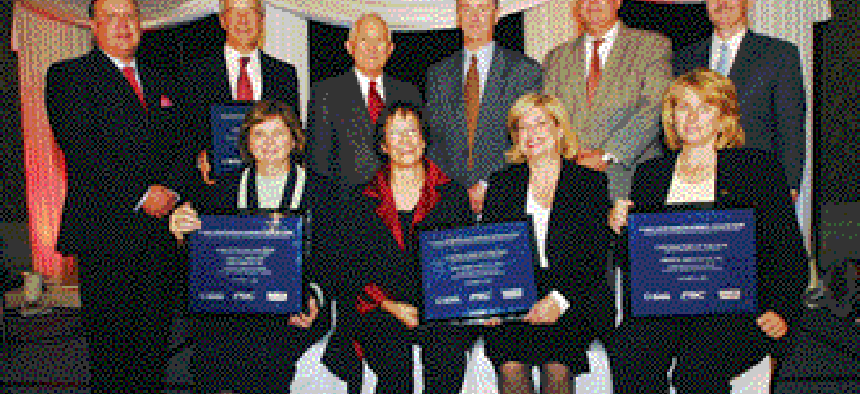 Winners cite collaboration as a key to success.
Partners, entrepreneurs and heroes were on display as the fourth annual Greater Washington Government Contractor of the Year awards were presented Oct. 11.The Fairfax County Chamber of Commerce's Government Contractor Council, the Professional Services Council and Washington Technology sponsor the awards.John Toups filled the role of hero for the evening as he accepted the Hall of Fame award. Toups, former president and CEO of PRC, has served as mentor and friend to many in the government IT market during a career that stretches back to 1958."If I had a complex problem involving business and government, and I couldn't solve it, John is still one of the first people I'd call for help," said Tom Hewitt, founder of FedSources Inc.The entrepreneurs included small businesses such as JBS International Inc. and Oberon Associates Inc., each of which was recognized.Industry heads such as James O'Neill of Northrop Grumman Corp.'s IT sector and Linda Berdine of G&B Solutions Inc. were recognized as executives of the year for the leadership of their companies. In all, nine awards were given: Four for companies of the year in different revenue categories, two executives of the year, two public sector partners and one hall of fame winner.The public sector partners, Jim Williams of the General Services Administration and Jeffrey Brunner of the Joint Forces Command, also were recognized."This is an award for partnering ? not personal recognition, but how collectively we were able to bring government and industry together," Brunner said.That theme is often repeated as these leaders of the government IT share their lessons and their experiences.XXXSPLITXXX-The morning after Oberon Associates Inc. was named a Contractor of the Year, Jodi Johnson's home phone rang. It was her father, George McCormick, calling to tell her again how proud he was of her."He was the first to call that day to congratulate me," said Johnson, chairman and CEO of Oberon of Manassas, Va.Johnson and David Young, company president, founded Oberon in 2002, after working together for nearly two decades at various companies that had been bought and sold and bought again."We are both very much small-business people," Johnson said.Oberon was picked as Contractor of the Year from among five finalists in the category of companies with less than $25 million in annual revenue. One thing Johnson likes about running a small business is that she and Young can interact with staff and customers. They wanted to build a company with a strong ethos of customer service, she said. For Johnson, her father was her primary teacher of that ethos. "I've learned more about business from my father than from anyone else," she said.George McCormick ran a pool service in Connecticut for 35 years. Even before she could drive, Johnson helped out with the business, going out on calls on which her older brother made her call him "Sir.""My dad says that he doesn't understand what I do, but I tell him it's just like the pool service, only slightly different," she said.The essence that the two businesses share is trust and customer service. Johnson's father built a strong, loyal clientele, even counting Martha Stewart as a long-time customer."People trusted him on their property; they trusted him in their homes," she said. "I grew up in a very entrepreneurial environment. You had to be accountable and responsible."Those lessons have paid off for Oberon, which specializes in enterprise data management, communications engineering and biometrics. As a subcontractor to Science Applications International Corp., Oberon furnished communications support in Iraq for U.S. Ambassador Paul Bremer.Before assigning the project to Oberon, SAIC said it wanted Oberon to "own the work," Johnson said. SAIC has no regrets. The company in 2005 named Oberon its small-business partner of the year.Oberon's success also is reflected in the steady rise in its employee head count: 46 in 2004, 168 in 2005, and 266 in 2006. By the end of this year, it likely will top 300."We have six full-time people working on recruiting," Johnson said.Because both Johnson and Young had worked for large companies, they knew the importance of having the right infrastructure in place to manage growth.For example, Oberon issues an annual report, even though it is not required to. It also undergoes an annual audit."It provides a sense of security to our shareholders, our bank, our employees and our customers," she said. "We don't have partners who are worried they won't get paid." ? Nick WakemanXXXSPLITXXX-People often talk about feeling that "entrepreneurial itch." Some do nothing about it; others, such as Jerri Shaw and Gail Bassin, choose to scratch. The itch began in the mid-1980s when they worked together at a consulting firm. They decided to take the plunge in 1985 and launched JBS International Inc., a consulting firm focused on organizing and analyzing government health and social service programs. Since founding the company with Raymond Johnson Jr. and Michael Stempler, JBS has grown to 300 employees and $46 million in revenue. It's a level of success that the two women didn't expect."We didn't start out to build a big enterprise," said Shaw, president of JBS. "We started out to do the work we love."Shaw and Bassin for six months ran the business from Shaw's living room, with one computer and one phone and some savings to let them survive without a salary for awhile. One of the firm's first wins was a $100,000 contract from the Health and Human Services Department to develop publications on the mental health aspects of AIDS. The Silver Spring, Md., company continued to win state and federal contracts in the $100,000 to $200,000 range, bringing in revenue of about $400,000 in its first year. JBS in December 1987 won a Labor Department contract worth more than $1 million to operate the national health program for the Job Corps. "That gave us the ability to create a real office and hire staff," Shaw said. The company's success is driven by employees' desire to help people and gain the satisfaction that comes with positive results, she said. The Job Corps program, for example, offers training for young people with limited financial resources. The company has also worked with 600 to 700 alcohol, drug and HIV/AIDS treatment programs throughout the country, she said. After acquiring the Aguirre Group in 2005, the company started working internationally. Today, JBS is in Europe and Latin America, and is monitoring and evaluating educational programs in Afghanistan. "We have people who have been going in and out of Afghanistan, working in the trenches," Shaw said. "It's not an easy thing to do, but they really believe in rebuilding that educational system."One of the company's main challenges derives from its size. Being at the low-end of medium-sized businesses means that it's too big to benefit from small-business contracts, but compared to some of its competitors, it is still small.The zone within which you must distinguish yourself is very narrow, Bassin said. "You're competing against the brands of large companies, and it gets increasingly more difficult to do that," she said.The company, whose largest clients are the Health and Human Services and Labor departments and the U.S. Agency for International Development, likely will double in revenue in the next five years through acquisitions and organic growth, Bassin said. "We are focused on building a strategic leadership team, and looking to strengthen in some of the markets we're in and adding some new markets," Shaw said. "It's expanding the platform in a lot of different ways." ? Tania AndersonXXXSPLITXXX-Disenchanted with the corporate environment under Raytheon Co. ownership, and seeking to return to a family-oriented working environment, three executives at E-Systems Inc. struck out on their own in 1997 and founded Argon Engineering Inc. Terry Collins, Tom Murdock and Vic Sellier had joined forces while working for Engineering Research Associates Inc., a startup company that E-Systems acquired in 1989. E-Systems, then a decentralized company, allowed the small engineering firm to keep its collegial atmosphere, Collins said. "It was a culture of openness and honesty, and really caring for the employees and being concerned about their future, not just their performance at work," said Collins, now CEO and chairman of Argon ST, Fairfax, Va.But when Raytheon in 1995 bought E-Systems, it imposed a steely corporate environment. The change was not for the better in the view of Collins, Sellier and Murdock, who nevertheless stuck with the company until 1997."You can have companies that are success-ful in all different ways. It was just different than what we had all been used to," Collins said.That discomfort led to the creation of Argon, a combination of Argon Engineering and SenSyTech Inc., which merged in September 2004. The company develops signal intelligence systems and sensors for defense and intelligence customers.At the October Greater Washington Government Contractor Awards, Argon was named midsize contractor of the year with between $75 million and $300 million. The company had 640 employees and annual revenue of $271.8 million in fiscal 2005. Although, it will not announce its fiscal 2006 revenue until December, Argon has grown to 850 employees and expects growth of 5 percent to 10 percent.A pair of 2006 acquisitions, San Diego Research Center Inc. in July, and Innovative Research, Ideas and Services Corp. in August, gives Argon new capabilities in network communication and management and interoperability between networks and sensors. The acquisitions did not bring more than a few million dollars to the company's revenue for 2006, but likely will lead to greater growth, Collins said."We feel confident about the future," he said. "We can grow in the 20 percent to 25 percent range."A challenge for Argon is keeping its specialized workforce. It instituted a policy of equal benefits for employees, no executive perks, and matching contributions to retirement plans. It was named by the Principal Financial Group of Des Moines as one of the "10 Best Companies for Employee Financial Security."Still, finding new employees who have security clearances is an ongoing, but essential, struggle."It's really the people who have done the heavy lifting," Collins said. "They come up with the creative ideas, and they put in the long hours on the weekends to make it work." ? Ethan ButterfieldXXXSPLITXXX-Whether it is rebuilding farm tractors in Iraq or revitalizing banks in other financially strapped nations, Development Alternatives Inc. remains focused on its mission to provide economic development services around the globe. "We tend to be active where clients are on the transition back into longer-term economic growth," said Tony Barclay, CEO of DAI of Bethesda, Md.DAI was named Contractor of the Year in the greater than $300 million annual-revenue category at the Greater Washington Government Contractor Awards.Agriculture work the company has in Iraq is characteristic of its projects. For three years, DAI has managed a reconstruction program that includes bringing in improved wheat seed and repairing and overhauling almost 25 percent of the nation's tractor fleet.Another DAI project is similar to Muhammad Yunus' Grameen Bank microcredit program that won the 2006 Nobel Peace Prize. Yunus' program provides small, no-collateral loans to impoverished people. The DAI project involved turning around a once nearly insolvent, state-owned bank in Mongolia."The new owners, some Japanese, some Mongolian, retained us as the management team, and it's really a remarkable success story," Barclay said. "It's now banking more than 50 percent of the families in Mongolia, and it has branches all over the country. It is the most profitable bank, and the striking thing about it is the average loan size is around $1,000, sometimes lower." The International Finance Corp. invested in the bank since it became privately owned, and the bank now is considering expanding outside Mongolia.Working overseas in developing nations presents various challenges to success. Employing experienced people is one key, Barclay said. The company also must take a flexible approach toward its work to take into account institutional, environmental, cultural and security conditions.That makes it crucial for the company to recruit employees who have what it takes to succeed in such conditions. "The ones who are successful combine a very pragmatic, hands-on approach with a fairly idealistic view of what is possible," he said. A project that exemplifies DAI's flexibility is CitiStat, an accountability tool DAI developed to help measure the effectiveness of city governments. It was developed under Mayor Martin O'Malley (D) in Baltimore, Barclay said. The system tracks and measures response times, service delivery times and efficiencies for every part of city government, from emergency services to basic services such as licenses and permits. DAI is adapting the tool to work in republics of the former Yugoslavia. Government officials came to Baltimore to observe CitiStat and get training. "It has been adopted in the Balkans because it is suited to what these mayors are trying to do," Barclay said. In a project in Macedonia, DAI's lead advisor is a former president of the U.S. Conference of Mayors and a four-term mayor from a midsize Pennsylvania city."He constantly tells me [that Macedonia officials] are facing the same kinds of issues that mayors and city councils face everywhere in the world," Barclay said. ? Doug BeizerXXXSPLITXXX-When Linda Berdine seeks inspiration, she looks no further than her office wall, where a small plaque featuring a portrait of President Abraham Lincoln hangs."Lincoln failed in business," Berdine said. "He ran for vice president and lost. He ran for Congress and lost. They underestimated him, and in the end, he succeeded."It's hard to resist a comparison to her own meteoric career. Now president of highly successful government IT firm G&B Solutions Inc. of McLean, Va., Berdine started out 32 years ago in a job that charitably could be called one of the low rungs on the ladder of success: data-entry clerk."Entering the IT field in the mid-1970s, I was the only woman in the IT classes," Berdine said in an interview. "It was a first job."While Berdine entered data into computers for the House of Representatives, she also trained for a higher position as a programmer. She subsequently left government to pursue business development in the telecommunications industry, eventually becoming vice president of Cincinnati Bell's telecom and IT services business. Berdine returned to the House after 14 years to become its director of information resources, the precursor to the CIO position. Consulting work as well as more senior-level IT industry positions followed. In 2001, she founded G&B, a designated woman-owned small business offering management consulting and IT solutions services. The company today generates about $27 million in annual revenue and employs 250 people."Linda is a serious player," said Bob Woods, president of Topside Consulting Inc., McLean, Va. "She stays focused on the business, she's no slouch in technology, and she's very community-minded."Berdine said she owes her success to an ability to build relationships and to envision what is needed to drive growth. Sharpening her political and management skills through overseeing IT systems for Congress was a big boost."Having been in government as a CIO, there are commonalities you experience shared by other government CIOs," she said.When founding G&B, Berdine chose to focus on enterprise architecture and information security as core competencies. The move shows some prescience; enterprise architecture at the time was far from a buzzword."It was not popular, but it was obvious to me that this area would be recognized," Berdine said. In her personal life, Berdine shows a strong philanthropic bent. She founded an annual fundraising event for the Children's Inn at the National Institutes of Health. Even her hobby is a demanding one: She trains horses for riding competitions.Berdine will need that competitive spirit. G&B is now on the brink of graduating from the small-business designation, which is a difficult transition because of the loss of the government's support system, Berdine said."If you're getting near the ceiling, [eventually] you have to drop off. You really drop off to nothing," Berdine said. To face the challenge, she is considering acquisitions, public financing and other options for her firm, as well as chasing more contracts, she said."I'm paddling harder," Berdine said. ? Alice LipowiczXXXSPLITXXX-By now, you've heard a thousand stories of "surviving Hurricane Katrina." And by now, they may all sound alike. Then you hear James O'Neill's story. "The initial reaction was the business will take care of itself, at least in my mind," said O'Neill, president of Northrop Grumman Corp.'s IT sector. "The real danger was not having communications and not knowing where our people were. If they didn't have communications, they couldn't communicate with our company. ? We had thousands of employees who literally had no homes."O'Neill told the story of one employee who escaped rising flood waters at 1 a.m., in pitch darkness, with her husband, two children and two dogs. They cut a hole through the roof of their garage, got onto the roof, then swam about a mile to level land. One possessions she remembered to take: her BlackBerry."That's the type of professional" we have, he said. "We had thousands of people who communicate on a daily basis via BlackBerry and PC and e-mail and telephones, and all commu-nications were shut off."O'Neill's first order of business was to send IT professionals to the region, armed with cell phones and portable satellite dishes to get basic communications back, he said. Being able to communicate with the company ? where employees could go for shelter and food, and what to do next ? was of the utmost importance. Communications were back up within 48 hours. "We lived through a disaster recovery. Not just a physical one, losing our servers and mainframes, but the total devastation of that area plus the displacement of our employees," O'Neill said. "IT played a big role, the people of the IT sector, in working with the rest of the company."His efforts for employees in the Gulf Coast region helped O'Neill become the 2006 Executive of the Year in the fourth annual Greater Washington Government Contractor Awards. With a career that spans about 25 years, O'Neill said he's learned that a solid route to success comes from hiring the best people and working for a company that is ethical and has great purpose. "At the end of the day, technology comes and goes. It changes so quickly," he said. "As your span of control gets larger, the more you depend on your people. When you run an organization with 20,000, it's impossible to be successful unless you have a great staff that are dedicated, and they, in fact, have great people working for them. The higher you go up, the less in control you are, the more you need great people."Katrina unwittingly ushered in the shipyard of the future for Northrop Grumman's facilities. A huge wireless network was put in place to reconstitute the shipyards, so the infrastructure wouldn't be as vulnerable should this happen again, he said. And so those employees who lived through this know he means it, there are posters in key facilities of the award with commentary from O'Neill that he shares it with all them."I was privileged to get the award only because I have this job," he said. "It's really the people who work in the IT sector, all 20,000, who deserve it." ? Evamarie SochaXXXSPLITXXX-,br>Jeffrey Brunner knows both sides of public and private partnerships; He's spent a career working to ease the tensions between contractors and their customers."More requirements, less money and fewer people in government acquisition work are forcing the public and private sectors to work together," said Brunner, the Joint Forces Command's contracting and acquisition command officer in Tidewater, Va. "If we don't work together to do things smartly, we won't help the warfighter. Collaboration is the key."His efforts were responsible for his selection as one of two Public Sector Partners of the Year at the 2006 Greater Washington Government Contractor Awards banquet."I find this to be extremely gratifying, and it's a reinforcement of what we've done," Brunner said. "This is an award for partnering, not personal recognition, and how collectively we were able to bring government and industry together.""He is being recognized not just for excelling at procurement processes, but for building partnerships and driving change," said Stan Soloway, president of trade association Professional Services Council, Arlington, Va. "He's the real deal."Recognizing a need to bring together the private and public sectors, Brunner and several government colleagues in 2005 formed the Federal Acquisition Council of Tidewater. The council is a forum for government contractors to talk about process improvements and collaboration.The council members created a Contract Requirements Guide with directions and templates for contract requirements packages. Any regional Fleet and Industrial Supply Center around the country can use it, he said.After creating the guide, the council also developed training material for each requirement package. The materials became part of the guide."We're seeing positive change and improvements in processing," he said.The formation of the council continues Brunner's decades of work to foster partnerships between the public and private sectors. In 1987, Brunner started the Tidewater Association of Service Contractors. The association welcomed private sector members to talk about common issues faced by industry.Another partnership group sprung up in 1992, when Brunner and others formed the Tidewater Government Industry Council, which encourages government and industry to talk openly about policy and processes."This allowed us to know what everyone does as far as procedures and processes," Brunner said. "It worked because before, government and industry didn't understand how the other's policies and processes worked."The group meets once a month to talk about contracting and acquisitions, he said. "We don't speak about specific contracts," he said. "We talk about government and industry policy and processes, and how we can improve joint processes."Based on their success with the Tidewater model, Brunner and Al Diaz, director of Navy Exchange Service Command, will speak in April at the National Contract Management Association conference in Dallas. They will give a presentation on government and industry partnerships and the templates for the three Tidewater charters."This will give others the opportunity to use our template as a possible model," Brunner said. ? Kerri HostetlerXXXSPLITXXX-James Williams had one day's notice that the Homeland Security Department needed him to manage one of its top projects.At the time, in 2003, he was deputy associate commissioner for program management in the Business Systems Modernization Office at IRS. After the call, he walked out of his office, leaving pictures of his children on his desk, and started at DHS the very next day.Williams was eager to join DHS as its first director of the $1.1 billion U.S. Visitor and Immigrant Status Indicator Technology program. He oversaw the creation and rollout of the immigration and border management project that uses biometric technologies to collect information on visitors and shares it with other relevant departments and agencies.The project's goal is to stop criminals and terrorists from illegally entering the country, while making it easier for legitimate visitors to come in."I loved the mission, I loved working with the people, I loved what we were trying to do and the results we accomplished by trying to bring together different parts of DHS and different agencies across government," said Williams, who is now commissioner of the General Services Administration's newly created Federal Acquisition Service.Williams was honored for his DHS achievements at the fourth annual Greater Washington Government Contractor Awards and named one of two Public Sector Partners of the Year.From the start, U.S. Visit was a complicated and controversial program. Despite internal competition for resources and shifting priorities in DHS, Williams managed to quickly assemble his team and engage both DHS stakeholders and industry in the program, said Stan Soloway, president of the Professional Services Council.Williams made sure that DHS shared with other agencies the biometric data, such as fingerprints and photos that U.S. Visit collected, while at the same time protecting the privacy of personal information.Williams worked with different agencies across government, including the Commerce, Defense, Justice, State and Transportation departments, and GSA, as well as Interpol, the international criminal police organization. On U.S. Visit, Williams also worked with prime contractor Accenture Ltd. and its team members and contractors at the other federal departments.The team first "set the tone from the government standpoint that we were partners, we were going to get this thing done together and we were not going to let turf battles or petty differences stop us," Williams said.The threat of more terrorists getting into the country and "the urgency of what we were trying to do really caused people to break down the barriers," Williams said.One of William's greatest accomplishments at DHS was that U.S. Visit made the country safer by catching criminals and would-be terrorists. Williams estimates that when he left the department, the U.S. Visit program had processed about 50 million people and detected more than 1,200 murderers, rapists, drug traffickers, sex predators and terror suspects."As former DHS Secretary Tom Ridge said, 'We changed the world,' " Williams said. "What we accomplished was introducing better identity management into immigration and border management systems, and beyond that, we got people across the world to accept the hange." ? Roseanne GerinXXXSPLITXXX-After hours of research, a three-hour lunch and discussions with colleagues who have known John Toups for decades, there's a lot about him that cannot be told. Toups wants to see nothing in print about his childhood on Chicago's South Side during the Great Depression. Irresistibly, however: At 12, he sold newspapers for three cents a piece."I knew which of my regulars would give me a nickel for the paper and tell me to keep the change, so I made sure they got their paper first," Toups said.Despite the fact that "his military history is worth taking a look at," said Tom Hewitt, founder of FedSources Inc., Toups said nothing more than: "I went to Europe, and I got shot, and then came home."Hewitt wouldn't elaborate, either. "John wouldn't be comfortable with it being published," he said. "He's very modest."There'll be zip about his extensive support of George Mason University. "Don't write about that, there are a lot of people giving their time and money," Toups said.On the record: Toups earned his degree in civil engineering in 1949 from the University of California at Berkeley, founded Toups Engineering Inc. in 1958 and sold it in 1970 to Planning Research Corp. He was president and CEO of PRC from 1978 until 1987, when Emhart Corp. acquired it. "He presided over PRC during difficult times," said Wayne Shelton, who worked under Toups there. By 1978, the company had bought about 25 companies all over the world, Toups said. "It was very difficult to manage," he said. The companies operated independently, and sometimes competed against each other. For each company, Toups drew a detailed schematic that strongly resembles Gartner Inc.'s Magic Quadrant chart to compare performance and help him decide which to keep. Toups said there were some tough choices."He had to divest the civil engineering teams, including part of the company he'd founded," Shelton said.Toups "always believed in the importance of ethics and of dealing ethically with clients," Hewitt said. "He knows banking, housing, civil engineering as well as IT, but the most important thing he knows is business," Hewitt said. "He has a gut feel for business and for people. There are a lot of people around town who are successful because they worked with John and learned from John."Surely, over the years, there were times when Toups' measured and taciturn style was grating?"You know, I've thought about this," Shelton said, "and I don't know anyone who really got angry with John."Today, at 80-something, Toups continues to keep a hand in the game, serving on the boards of IT companies GTSI Corp. and Halifax Corp., of homebuilder NVR Inc., and as chairman of the not-for-profit Inova Health Systems hospital in Virginia."If I had a complex problem involving business and government, and I couldn't solve it, John is still one of the first people I'd call for help," Hewitt said. ? Sami Lais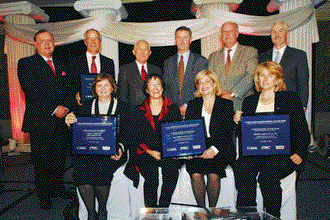 Award winners (back row, left to right): James O'Neill, Tony Barclay, John Toups, Terry Collins, Jeffrey Brunner, Jim Williams; (front row) Linda Berdine, Jerri Shaw, Gail Bassin, Jodi Johnson
Rick Steele
Oberon Associates Inc.JBS International Inc.Argon STDevelopment Alternatives Inc.Linda Berdine, G&B Solutions Inc.James O'Neill, Northrop Grumann ITJeffrey Brunner, Joint Forces CommandJim Williams, Federal Acquisition ServiceJohn Toups, CEO, PRC Inc.