Author Archive
Ross Wilkers
Senior Staff Reporter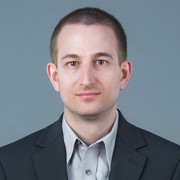 Ross Wilkers covers the business of government contracting, companies and trends that shape the market. He joined WT in 2017 and works with Editor-in-Chief Nick Wakeman to host and produce our WT 360 podcast that features discussions with the market's leading executives and voices. Ross is a native of Northern Virginia and is an alumnus of George Mason University.
Companies
The Federal Aviation Administration is looking to move toward a more modern network environment that is less defined by copper wires.
Opinion
Beware of thinking too narrowly about that certain rule coined by the late Gordon Moore. Whether he intended it or not, the idea of Moore's Law is more about what makes innovation and investment go than it is transistors on a chip.
Contracts
The service branch prioritized commercial software offerings and current accreditations for the awardees' products.
---
Companies
Aaron Weis joins the global tech giant to lead its public sector technology strategy after four years as the Navy's lead IT official.
Companies
Existing and new limited partners have committed capital into Bluestone Investment Partners III for backing lower-middle market companies.
Contracts
The National Geospatial-Intelligence Agency is looking to build upon and expand ongoing work on further iterating technologies.
Companies
The emerging tech investment arms of Lockheed Martin and Raytheon Technologies share their newest backings.
Contracts
The Office of Personnel Management is looking to upgrade the USALearning environment used by federal employees.
Podcasts
Both the new chief executive of BigBear and head of its federal business join the 360 conversation to lay out the company's pathway it believes is the right one to become an artificial intelligence integration leader.
Companies
The company has a new set of three-year financial goals for investors to consider as it continues on the path of blending the digital with the physical.
Companies
Digital operations and identity management are among several national security tech areas of interest for this contractor.
Companies
New business wins are the company's priority to get it back on a growth trajectory for 2024.
Contracts
All three of the U.S.' major wireless carriers are involved in this nine-year program focused on connectivity at health care facilities.
Contracts
The service branch runs this contract for the deputy assistant defense secretary for counter narco-terrorism/global threat.
Opinion
The Federal Trade Commission asking L3Harris Technologies "tell us more" about the acquisition of Aerojet Rocketdyne carries on the norm of lengthy antitrust reviews involving large defense industry transactions.
Contracts
These are for the satellite-focused domain of the National Oceanic and Atmospheric Administration's $8 billion professional services contract vehicle reserved for small businesses.
Companies
Both newly elected members have worked in the role of chief financial officer during their careers.
Contracts
A final request for proposals is now live regarding this contract called NCAPS, which is also a consolidation effort by NASA.
Podcasts
Aeyon's chief executive Sunny Singh joins the podcast to explain the company's focus on robotic process automation and how it picked its private investment partner.
Companies
The artificial intelligence company wants to be a conductor for all the varying AI models that customers are looking to adopt.